I'm staring at this blank page and thinking: This is one of the most important things you'll ever write. Be kind and brave, Glennon. Steady. Clear. Shameless. Gentle. True.
Pretend it's just the two of us here in my kitchen. I'm making us chamomile tea. I pass a mug to you and ask you to sit down on the couch with me. You follow me into my family room and and we sit down and I look at you. I can see that you're nervous because you've figured out I'm about to tell you something important. I quickly say: It's okay. Everyone is healthy. All is well. We are all okay.
We are. And yet.
Craig and I are separating.
What happened? I am still looking for the words. While I am smack dab in the middle of the unfolding, here is my best explanation: As you'll read in Love Warrior, Craig and I endured serious trauma a few years ago. We suffered. My God, we suffered. I was broken, just completely shattered. And then we healed. It was beautiful.
And this is what I learned: You can be shattered and then you can put yourself back together piece by piece.
But what can happen over time is this: You wake up one day and realize that you have put yourself back together completely differently. That you are whole, finally, and strong – but you are now a different shape, a different size. This sort of change — the change that occurs when you sit inside your own pain — it's revolutionary. When you let yourself die, there is suddenly one day: new life. You are Different. New. And no matter how hard you try, you simply cannot fit into your old life anymore. You are like a snake trying to fit into old, dead skin, or a butterfly trying to crawl back into the cocoon, or new wine trying to pour itself back into an old wineskin. This new you is equal parts undeniable and terrifying.
Because you just do not fit. And suddenly you know that. And you have become a woman who doesn't ignore her knowing. Who doesn't pretend she doesn't know. Because pretending makes you sick. And because you never promised yourself an easy life, but you did promise yourself a true one. You did promise – back when you were putting yourself back together – that you'd never betray you again.
And so one day you sit down with your beloved, wonderful, kind, brave, warrior husband and you look at him and you say: Honey. We have worked so hard, for so long. We have been warriors for each other and for our children and for this marriage. And yet. I don't fit here anymore.
And your husband looks at you and, eventually through his tears, he says: Four years ago you gave me the most selfless love I've ever received. It healed me. And now I'm going to return that kind of love to you. The kind of love that only wants truth and wholeness and peace for each other.
For the next several weeks, you do nothing but cry and talk. Sometimes it feels like that's all you ever do—because, it turns out, you have been grieving your marriage for years. But still, you cry and talk more. You close the bedroom door and sit on that bed and you talk. You talk about how hard you've worked together, how you stayed on your mats and didn't run from each other. Since you didn't run, you discovered together that fight or flight aren't the only options. There is a third way: heal.
You talk about how broken you each were when you met, and how whole each of you is now. You say to him: You've been my healing partner. He says: And you have been mine. You talk about how you can forgive someone and love someone and at the very same time know that you cannot be with them anymore. You get more honest than you have ever, ever been before. You talk about how hard, how very brutal it's all been for the two of you. Since day one. And you talk about how beautiful it's been for the two of you. Since day one. There is a moment in every conversation when one of you says: My God, the kids – and neither of you can go on. That's the black hole. Still is. I can't write more about that right now. Someday. Not today.
You sit in a therapist's waiting room to discuss how to handle this with as much peace as possible for the kids.
You sit with your children and you create a new family mission statement: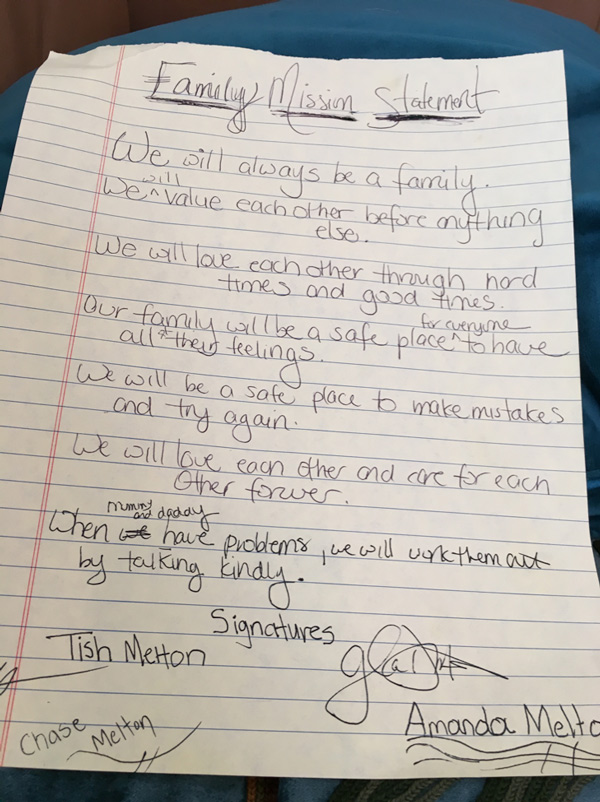 Then you help your soon-to-be-ex-husband-forever-life-partner move into a rented house a few doors down. You have family dinners, plan your family summer vacation together, and you look at each other and realize you've never loved each other more, bigger, truer.
And then you tell your team. You tell the people who are invested in your career. And hot damn, this is bad timing. There is fear and panic. Because you are about to launch the biggest project of your career, the book you finished a year ago, and so many have been working so hard for its release. And it's all about your marriage. And the advice from many is: Wait, G. Just wait till after the book has launched to reveal this. This is a MARRIAGE book – you can't break up before it even comes out! Glennon – it will affect sales. It will affect your career, your success.
And you will listen to this advice. And you will decide: No.
Like Mama T said: I was not called to be successful. I was called to be faithful.
I was called to be faithful to truth and vulnerability and to YOU. I never promised anybody I'd get it all right; I promised I'd keep showing up forever. Today. Whether I'm in the valley or on the mountaintop.
Please come close when I say this next part, it's important: This next step is not a departure from the path of the Love Warrior. This next step is the fulfillment of it – for me, for my particular journey. Love Warrior is a book about self-trust. It's a book about a woman who has painstakingly learned that there is a still, small voice guiding her through this brutiful life one next right thing at a time. And that the only thing she cannot do – not ever again – is betray that voice. Self-betrayal is allowing the fear voices to drown out the still, small voice that knows what to do and is always leading us home to ourselves and to truth and to love. Love is the boss of me, not fear, and certainly not "success."
And by the way, success to me is not staying in a marriage — it's staying in my own peace. At all costs. And so, even when it's highly inconvenient – even when it feels CRAZY – I will listen to the voice, and I will obey it. And I will be messy and complicated – and I will show up anyway. Because I've fought too hard for my sobriety, sanity, integrity—and for your trust—to give it up now.
So I said to the team: We tell our people now.
And they said: Okay. Should we clear your schedule then? Revealing yourself in your writing about this is one thing, but do you want to be on stages with it? Won't that feel too vulnerable?
And I thought about that for a while. Lord have mercy, cancelling the tour sounded good.
And I decided: No.
My family is here, now in two houses. But my family is also you.
I will not hide from you, not now. I will show up in your cities, in your churches and theaters and on stages and I will say: HERE I AM. A little busted up, but not destroyed. I will be at my weakest, but when we are weak, then we are strong. If I'm this weak, can you imagine how strong I'll be? Damn.
Listen: Love is not a victory march. It's a cold and it's a broken hallelujah. So I might be cold and I might be broken but I am still gonna scream HALLELUJAH all over this country. I am going to stand in front of you with my medicated little head held high and I am going to be so busted up and broken that the light is going to pour out of me like stained glass. I know this.
Here's what else I know: Some loves are perennials—they survive the winter and bloom again. Other loves are annuals—beautiful and lush and full for a season and then back to the earth to die and create richer soil for new life to grow. The eventual result of both types of plants is New Life.
New life. Nothing wasted. No failure. Love never fails. Never, never. Love is messy and beautiful and brutal – and Love is the whole point. So, I am not afraid, I was born to do this.
I'm asking you, please love me through this. Be my people. The world will have opinions and I need this Love Warrior Army. Please stay close.
Sister On, my beloveds. We can do hard things. We belong to each other. And LOVE WINS.
G
P.S. Since I publicly announced the trauma in my marriage four years ago, I have become a soft place to land for women in marriage trauma. I have listened to what kind of responses from people are helpful and which are hurtful. So many of us want to say and do the loving and supportive thing, but we sometimes don't know what that looks like. So, with humility, love (and a healthy dose of defensiveness on behalf of my heart and the hearts of my warrior sisters), I offer the following thoughts:
If I don't mention something, it's not because I forgot to. It's because I desperately have to find the balance here between honesty and a tell-all. Between transparency and responsibility. What I owe you and what I owe myself. There will be parts of this story I (try to) keep for myself and Craig and the kids. If you can, please resist assumptions, gossip, or asking for details I haven't provided. I can tell you this: I feel defensive of Craig here. No one could have worked harder. There is no better father or man on earth. Craig is a hero. He is a Love Warrior. I am fiercely proud of him.
Try to avoid lamenting how sad it is that people "throw away their marriages these days." Try not to generalize. I have met hundreds of divorced women who didn't throw their marriages away. Most of us fight like hell for our marriages until we realize that we can either save our marriages or save our souls. So please, I'm not looking for advice. Just love and support.
Please don't pretend to know what God thinks of us. Please think deeply about the chasm-wide difference between leaving a man and leaving God. Please remember that when a woman leaves, she just brings God with her. Nothing separates a woman or a family from God's love. Not death, and certainly not divorce. Jesus taught us that sometimes death is necessary for there to be new life. And that God loves us far more than any institution God made for us. When someone suggests otherwise, it brings shame to us. But we won't let that in. We are women who have become far too wise to believe in shame.
Sometimes, when people make decisions about marriage, it evokes strong feelings in others. If my news does that to you today, please look inside and get curious about whether those feelings have more to do with you and your life than they do about me and mine.
I will repeat this last one: Please stay close. I need you more than I've ever needed you.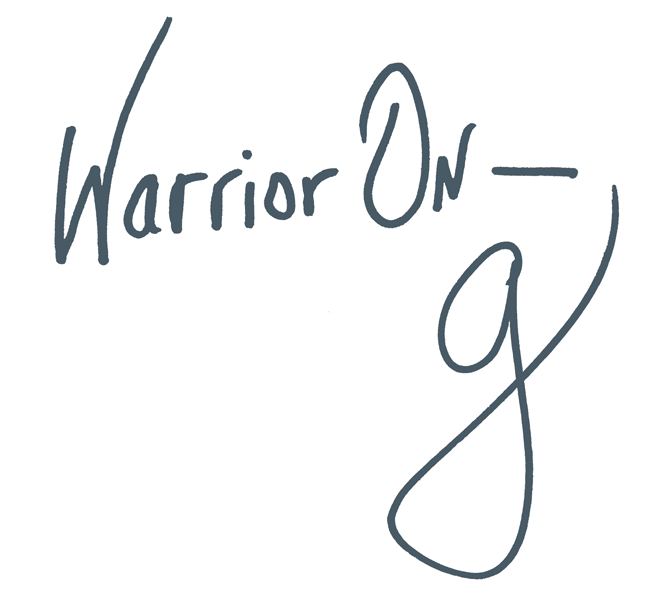 Author of the #1 New York Times Bestseller LOVE WARRIOR — ORDER HERE
Join Glennon on Facebook, Twitter, & Instagram