One of my greatest gifts of 2016 is a new friendship.
My favorite thing about writing is that it helps me gather my tribe. I wrote a love letter to the world called Love Warrior and sent it out into the abyss. Life is a tunnel and we writers call our truth out loud and then we get really quiet and wait and listen. The waiting is a little scary, but then the echo comes. Our tribe calls back… I hear you. Me too. Me too.
So this new friend read my love letter—she heard my call—and then she called and asked me to come talk about it with her. We sat in her backyard and we talked for a while about God and hope and love and betrayal and service and redemption and miracles. Sometimes, when she was speaking to me I felt a little bit stunned. YES, I'd think. YES, that. Please keep talking. Lord have mercy. You are saying all the things in my heart. We talked for a long time. We talked about the mistake of placing our identity solely inside roles that can change or be taken from us—and how we don't do that anymore. I told her the only identity I claim these days is Child of God. That's the name I came in with and that's the name I'll go out with. That's the only role nobody can take from me. That's the only solid ground I've got. Her eyes opened wide and she said: Since I was little I've called myself God's Girl. That's my name: God's Girl. I was so sure I was God's daughter that I always assumed Jesus was my brother.
We didn't want our talk to end so we walked around her yard for a while and I played with her dogs. And then we sat on her back porch and laughed 'till we cried. We sat down for dinner together with four of her daughters and several people who live with her that she treats like honored family. She asked me to say grace and I was nervous. We held hands and I worried because my hands were sweaty. We prayed together. Then we talked about the best moments of our lives. She talked about a project she did to bring children in South Africa Christmas gifts. She said that she spent a month ordering every black doll in America and examining each one, making sure it was beautiful enough to give to a child. She told us how there were thousands of kids who received gifts and her team researched the communities where they lived to make sure that every child had his or her name on their gift. That was the best part, she said, saying each of their names. This isn't just a gift, she'd say: This is a gift for you. For YOU. And then she would look in each child's eyes and say her name. Names are so important, God's Girl said to me. Yes. Yes they are, I said.
After dinner she invited me into her office and walked me over to some pretty bookshelves. She pointed at two white frames with ledgers inside of them. They were ledgers from slave auctions. On them were handwritten names with numbers next to each—corresponding to their age and how much each was sold for. Ruby, 12 years old, $5. My friend got quiet and then she said: Sometimes I come here early in the morning and I just say their names aloud. Just to hear them.
Names are so important.
I nod. Yes, I said. Yes.
After that day, we started corresponding a bit. I address her emails: Dear God's Girl, and I sign them: Love, God's Girl. We make each other laugh and we remind each other that life is really hard and really beautiful and that sisterhood is just one of the best parts of the whole damn thing. When we don't know what to say she tells me something Dr. Angelou would have said.
Names are so important. My new friend's name is Oprah. Oprah is one of us. She is a truth teller and a hope spreader and a Love Warrior. Oprah was one of us long before we were us. She is us.
And here is the interesting thing about how I feel introducing her to you here, about bringing my new beloved friend to this space. I feel nervous. I feel so protective of her. Because sometimes it feels like we have guidelines for how we respect each other but we throw them right out the window when it comes to celebrities. I love my new friend. She is truly one of the most loving, giving, beautiful souls I have ever met in my entire little life. I want my friend to be safe here with us just like you are safe here with us.
Sister Oprah, meet my people. My people, meet Sister Oprah. Please welcome her to our fold with all the love we've got.
ALSO: In case you want to watch our backyard conversation, it's going to be ON THE TV! APPARENTLY THE REVOLUTION WILL BE TELEVISED!!  You guys: If you'd like to, please tune into Super Soul Sunday on OWN on September 11.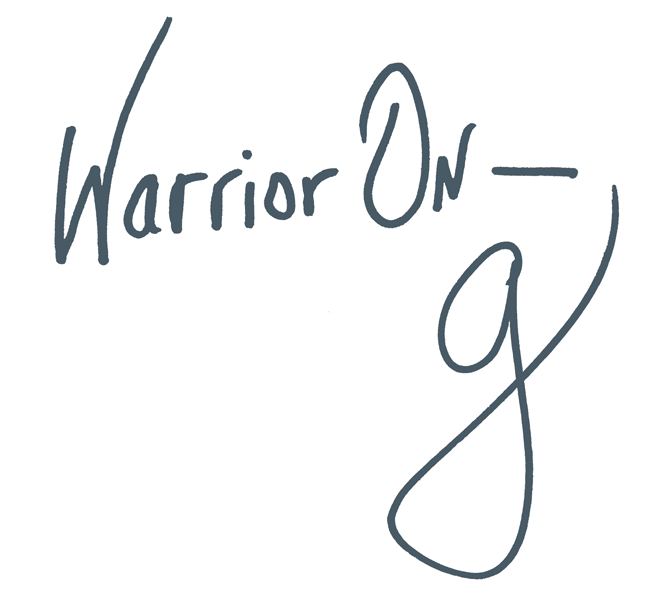 Author of the #1 New York Times Bestseller LOVE WARRIOR — ORDER HERE
Join Glennon on Facebook, Twitter, & Instagram