WARNING:  Contains profanity & triggering language.
Got this message on my public Facebook page last night.
I get these kind of messages often. It is not possible to be a woman who speaks up about anything and NOT receive messages like this. Misogynists have threatened to rape me, come to my home and kill my family, and silence me in myriad violent ways — and more often than not, when there is this kind of hateful message the word they call me is: Cunt.
Cunt is a hard word. It makes us cringe right? It feels scary. Words feel scary when they are MEANT to feel scary. Misogynists call women cunts when they are trying to instill fear, trying to put us back in our place, trying to remind us that what our identity boils down to is: our cunt. And our cunt is really all we're permitted to use, not our brain or heart or voice or passion or anger or even body, really. And so when a man calls me a cunt, I know what he is saying: Know your worth — you are nothing. You are here for no other reason than for me to use. So lie down and shut up. There is violence implied and that's not an accident. There is a snarled lip and maybe a knife, even.
I went to sleep after reading that message.  I woke up to this screenshot from Sister: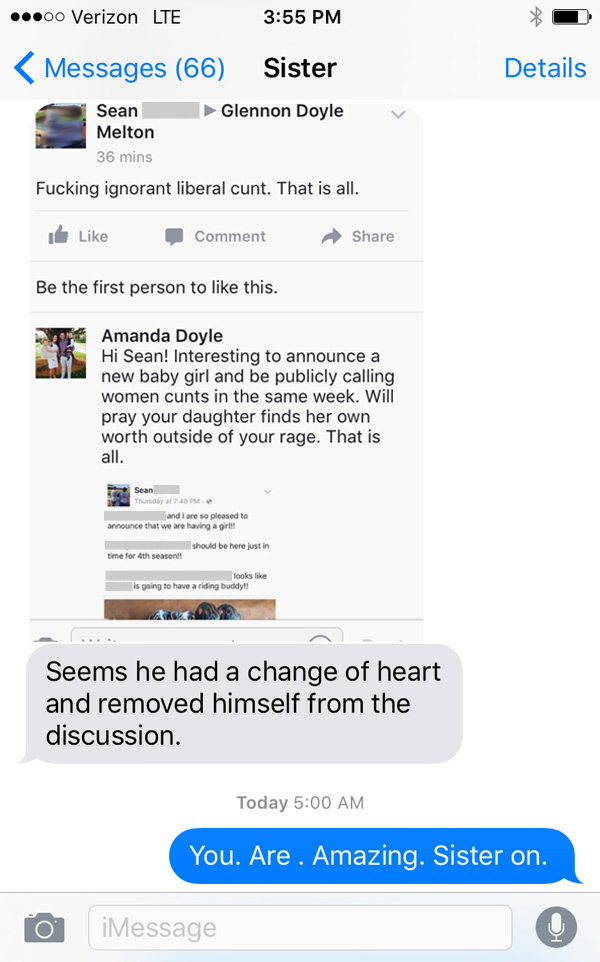 Here is the thing that misogynists need to keep relearning:
If you call a woman a cunt, you are calling your sister and your mother and your infant daughter a cunt also. You are actively creating a world in which it is okay to call those women cunts. You are releasing poison into the air that the women in your life WILL BREATHE BACK IN. You are poisoning your own people. You cannot hate a woman for speaking her mind without hating all of us. Women are a package deal.
There are not two of you, sir. There is not you, the father – and you, the internet misogynist. The internet you IS YOU. If you are a misogynist on the internet, you are also a misogynist in your daughter's nursery. While you are holding her. While you are whispering to her your dreams for her: That she uses her heart and her mind and her passion to live a big life of purpose.
That's what you want for her right? That's what all women want. To be able to be fully human without the threat of violence.

Quit hating your daughter, sir. She's a Warrior.
When we know better, we do better. You know better now. Step up. For her.
All Best,
US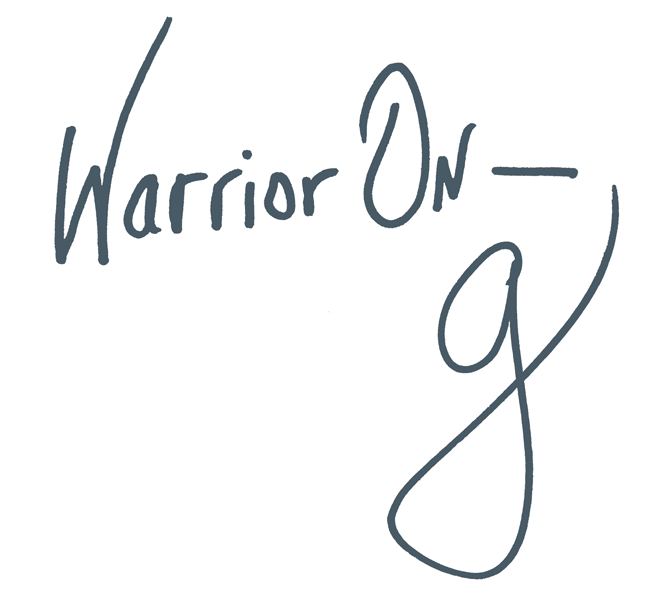 Author of the #1 New York Times Bestseller LOVE WARRIOR — ORDER HERE
Join Glennon on Facebook, Twitter, & Instagram