I just want to write to you this morning. Nothing fancy, just me and my coffee and you. Like this. It's 5:45AM. I love mornings so very much. Everything is so simple and peaceful and I always feel like: everything's fine. What was I so worried about yesterday? Then everybody starts waking up and I start remembering.
I'm good over here, you guys. A little overwhelmed, maybe. I've got the book coming out in a few months and I have two fears about that. First, there's gonna be a lot of hoopla. It's unavoidable. It makes me feel jittery to think about. My plan is to ignore it all and stay grounded in service with you and honesty to you. As my dad says, When you get to the party: dance with the one that brought you. Service and truth: that's what brought us. The other reason I'm scared is that the book is so honest. It makes everything else I've ever written seem like I was holding back. I mean, I wrote much of this new book thinking no one would ever read it. And it's about my marriage- not just me- and secrets that no one talks about. And I've learned (sort of) how to take public exposure and criticism (cry and eat) but Craig hasn't. I feel scared for us. So I keep reminding myself that shame is either true or it isn't. And that truth either sets us free or it doesn't. I'm banking everything on: Shame isn't true and the truth sets us free. I just keep whispering to God: I hope you know what you're doing, Sister.
About our project to Take Back Mother's Day, here's what I think about that this morning:
You guys, here's why I'm most grateful. Because I need something to DO. Ironically—I'm so sick of words. I'm sick of meaningless words coming out of people's mouths on the television and I'm sick of words words words on the interwebs and I'm sick of arguing arguing arguing—I'm even sick about arguing about important things—like people's rights. Because it's all starting to feel like a show to me. Like the arguing is more about the arguers' egos than the defense of the folks they're arguing about. It's like we're all trying to win instead of serve. Like we're all trying to be right instead of good. It's all just KILLING me. How are we going to make it till November?
The other part that kills me is that while everybody keeps talking and arguing on the news there is actually REAL NEWS happening.
We get in real time direct updates every day from Help Refugees, you guys. So while the TV is telling me that that THE BIG NEWS is what Trump just said, I'm looking at a message from Dani telling me that our volunteers have found a little 9-year Syrian boy wandering alone on the streets of Athens, a boy who lost both his parents when they drowned on one of those damn boats trying to get to Lesvos. And so we've found him and we've taken him to a shelter for unaccompanied children—a shelter that we are funding—so that he'll have a safe place to sleep tonight. And so I'm thinking about that message while I'm looking at the TV, thinking about the fact that there are tens of thousands of more kids like him in Europe right now, and I feel scared. Because why aren't we hearing about this? Why is the breaking news another Trump quote?
And then I log onto the internet and see twelve think pieces about bathrooms and Target and where transgender people can and can't pee—but the thing is that I just got off the phone with a volunteer at a homeless shelter for transgender youth who told me that she's turning kids away because there are no beds left. So we are yelling at Target boycotters while so many of the kiddos we're defending are cold and hungry and alone. I know it's all related: but to me the arguing and bravado feels dangerously distracting. Because we can SAY something and mistake that for DOING something. Isn't providing one meal for a transgender youth at least as helpful as twelve think pieces? I just wish we could dedicate at least ten percent of our news coverage to our hurting brothers and sisters and at least ten percent of our activism to ACTING. Our addiction to info-tainment is scaring me. It's tricking us into believing that we are more polarized than we actually are- and that we have time to be offended and to bicker but we actually don't – because our children are starving and freezing and dying. It has been said that religion is the opiate of the masses but I think it might be the news.
I just want to stop arguing and talking you guys. I was watching some politicians yell at each other last night and I thought: I'm not mad at you. I just don't have time for this. I need to spend my life in a different realm than this. Maybe the answers and solutions aren't even in the political realm. Maybe the answers are in everyday people like me and you just quietly choosing love and service.
I don't want to argue about walls and borders and bathrooms. Today, I just want to feed some hungry children. And it's not hard. When we put down the need to be right and we just love—the burden is light.
So today, I'm going to feed ONE. I'm going to shelter ONE. That's a good use of a day, of a life.

And of course, I'm gonna vote–I'm gonna activate when it's necessary. But mostly I'm going to serve and give. Fewer words, more action. Love is a not an argument. It's not necessarily what you say on your Facebook page but what you do with your time, your talent, your money.
And also, this: We've raised $380,000 thousand dollars since yesterday. When we get $150,000 more—that will mean that you and The Compassion Collective will have raised a total of 2 million dollars together.

You cannot even image how far this will go. I am so excited about the good this will do for our refugee partners—and this time I am also so, so excited to go meet some of these homeless youth here in America. I just feel this POTENTIAL for us there. These kiddos filled with hope and talent and promise- these artists and geniuses and poets and athletes and future activists living on the streets. Nope. We NEED them. So we've got to help. I'm excited to get to know them. To make new friends.
But—listen. I'm going to take a different approach as we continue this effort. Last night, before we went to bed, I was fretting. Craig asked me how much we're raised — and I told him I was stressed. Told him I was worried we were knee deep in refugee fatigue, compassion fatigue. I couldn't sleep. And he said: just don't let your ego sneak in.
And I thought. Whoa. Wait. THAT'S RIGHT. It is so weird how even LOVE can be poisoned by ego if we don't watch carefully. And so today: I will not think about GOALS I will think about GRATITUDE. About how unbelievably lucky I am to have the trust and love of you- of this community, of this movement of doers and lovers and givers and laughers and criers. We are a beautiful, beautiful mess and I love us. I am I in this with you for the long haul. Let's never leave each other.
"Someday, after mastering the winds, the waves, the tides and gravity, we shall harness the energies of love, and then, for a second time in the history of the world, man will have discovered fire."
~Pierre Teilhard de Chardin
Let's always remember that today is someday. Let's continue to harness the energies of love to ignite a worldwide wildfire that will provide warmth and light for millions.
Nations of people will see our flames rising and they will say: Who lit that fire? Curiosity will draw them closer and they will see us huddled around, faces lit up, shoulders touching shoulders, hands extended to the center– and they will stand and watch and wonder who we are. And eventually they will get brave ask one of us: May I join your circle? And our answer will always be the same: YES, Sister. YES, Brother. Come out of the cold and warm yourself. Everyone, everyone, every last one of God's children is welcome in our circle. And the circle will grow bigger and wider and the fire will grow with us because each will add her flame. We will grow until we have collected every last one of us. Until there is simply no one left out in the cold. Until we are finally gathered. And we will sing.
Thank you for warming and lighting the word, Love Warriors. We will keep this effort going until Mother's Day. Then we will rest and love and feel grateful. We will feel hope rising. We will feel the warmth of the fire we built.
G

 CLICK HERE TO GIVE NOW OR, you can Text the word COMPASSION to 91999 and you will immediately get a secure donation link sent directly to your phone.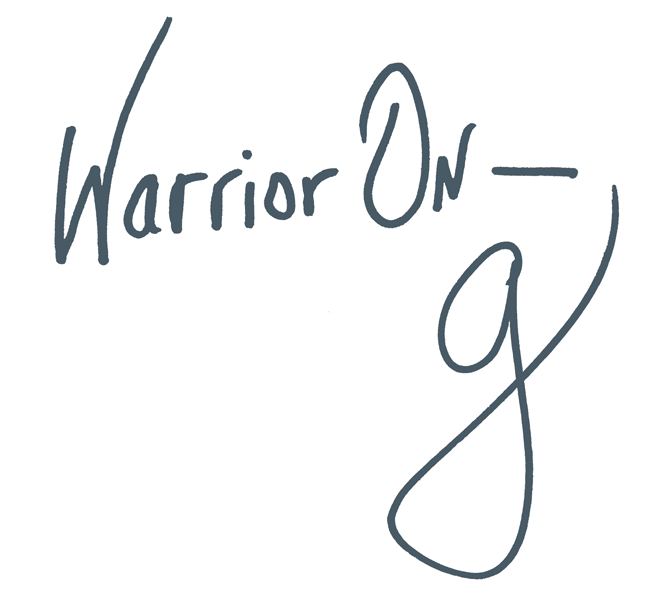 Author of the #1 New York Times Bestseller LOVE WARRIOR — ORDER HERE
Join Glennon on Facebook, Twitter, & Instagram