TEAM LOVE WINS! TEAM LOVE WINS!!!!!! YOU GUYS!!!!  Let's talk about what happened during the past 24 hours. SWEET FANCY MOSES. YOU DID IT.
One day, while planning  this Love Flash Mob, I found myself on the phone listening to Liz announce the board's intention to include EVERY SINGLE ONE OF THE 176 SHEROES NOMINATED. As I listened to Liz- I sensed two things. First: panic rising in my chest. Second: this verse rising above the panic: Give to all who ask of you. Give to all who ask of you, Give to all who ask of you. Then my brain kicked in and patted that sweet thought on the head and said to it with a patronizing smile: "Well, aren't you precious, little verse? That's impossible. GIVE TO EVERYONE. HA! Sit down, you ridiculous audacious verse."
And then I heard from God. For me, hearing from God is really just like hearing an internal voice that's a little calmer, braver, truer, more certain than my typical incessant, maddening Minnie-Mouse-Without-Her-Anxiety-Meds  inner chatter. It felt like what this truer voice was trying to say to me was: Sugar, step out of the way, please. You are not the boss of me.
And so I swallowed hard and said: Okay. Okay- Liz. Let's do it. Let's choose them all. And we worked and planned and plotted because we believe in both faith AND SWEAT.
And then I woke up yesterday morning and it was  LOVE FLASH MOB time. No turning back now. And I said to God what I say to God everyday: "Okay, I showed up. Your turn. Love you. Good luck with all this." Then my doorbell rang and it was Amy. She came to hold hands and stare at the computer with me all day. When I opened the door Amy was standing there wearing a dress and fancy earrings and holding a bag of Twizzlers. She said: "Since I don't go to many parties, I decided to get dressed up for this one. Also, this party is a potluck. Unfortunately, I ate most of my offering on the way over here. Sorry about that. "
And then we settled in together—Amy and I in Florida—Liz, Sister, and Allison in Virginia—and we watched God show up to our party BIG TIME. THROUGH YOU.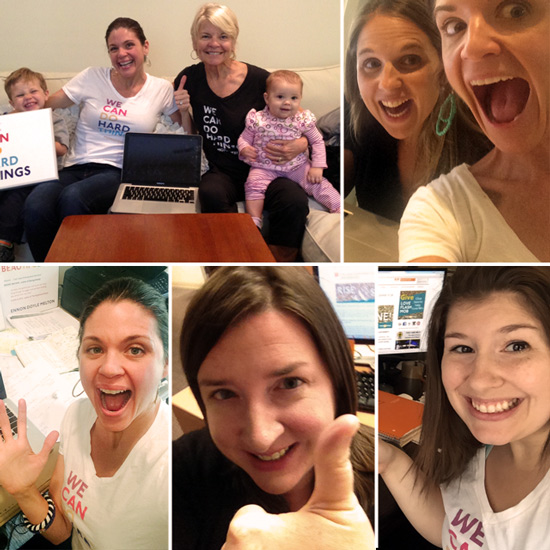 We posted yesterday's essay at 9. By ten we had enough for Jennifer's family's van.
By 11 we had enough for Ellie's legs.
By 12 we had enough for Joline's car.
And then you kept giving.
And we had enough to give Hailey money to build 10 more shelters, and to lift up all the other Activists she represents.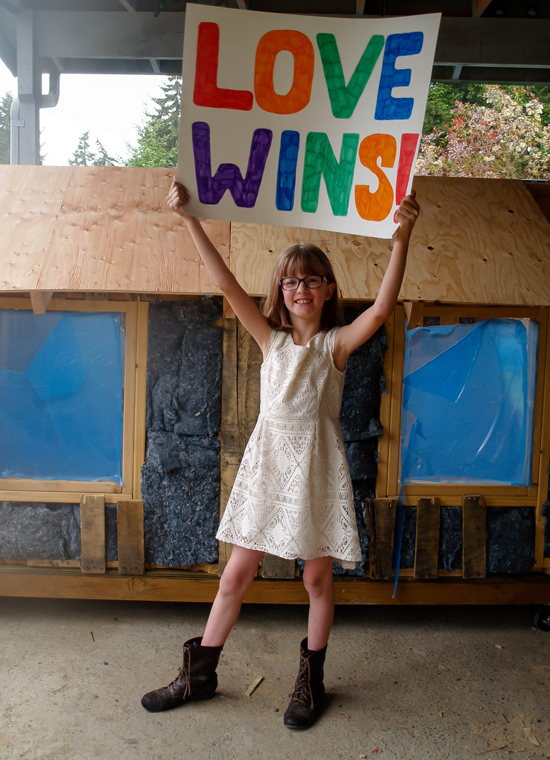 The ACTIVISTS are the Sheros who, in many cases, have lived through the fire of hardship and tragedy and channeled their pain into service and outreach for others. Those of you who wrote to us about this group told us, almost without exception, this one thing: I know that my Shero wouldn't want anything for herself. All she wants is for more people to know about her work so that she can keep caring for others. 
And then you kept giving.
And we raised enough to buy the swing set for Erin, and to raise up all the other Light Givers she represents.
Light Givers are the awe-inspiring women you've seen carrying on with love in the face of sometimes overwhelming obstacles. Some of you asked for specific things for your Light Givers — strollers or housecleaning or air conditioners or a weekend of respite care–offerings of love to ease the weight of the world that many of these warriors carry. We're in. We're on it. We're gonna help with the lifting.
And you didn't stop. By the time I went to bed we had enough to shower those sheroes who needed to be  Seen, Loved & Appreciated. Some of the most wonderful applications we received were from those of you who just wanted to write in and tell us about your remarkable friends. You wanted us to hear their stories and be witnesses to their courage. For this group, we are going to send YOU a gift card to spend on your Shero. Take her to lunch, get her a massage, buy her groceries or do something that will simply make her smile. We trust you to know how to honor her.
And let's just say Mrs. B and her kiddos are gonna have themselves a PAR-TAAAAAY.
So I went to bed last night knowing we had enough.
And then I woke up this morning.
And there was more.
My goal—my BIG HUGE DREAM was $230,000. With that amount, we would have enough to give something real and meaningful and HELPFUL to each and every one of the 176 sHEROs.
Within 24 hours we had $259,245. That number went up to $268,248.15 in 26 hours. We raised over a quarter of a million dollars together.

These sheroes are going to be taken care of. Because of YOU. Because you showed up. And because you showed up, we can do more.
SURPRISE!!! SURPRISE SURPRISE SURPRISE!!!!!! We're doing MORE THAN I WANTED TO DO BECAUSE APPARENTLY MY DOUBT IS NOT THE BOSS OF GOD.
1. YOU ARE NOT ONLY GETTING ELLIE HER LEGS BUT YOU ARE ALSO SENDING HER TO HER DREAM CAMP: Camp No Limits!!!! Test out those legs, ELLIE!!
2. YOU ARE NOT ONLY GIVING JENNIFER AND JOLINE NEW CARS- BUT 5 THOUSAND DOLLARS EACH…SO SISTERS CAN BREATHE A BIT. DRIVE AND BREATHE, SISTERS!!!!!!
AND AND AND….We'll do MORE for all our 176 Sheroes, and we'll do MORE  for the precious people who continue to write to us for help—people like Lorenzo and Jonathan and Clarissa and Stephanie and Jessica.
We'll do more together, and we'll do more for each other, because we believe with our whole hearts that when ONE OF US RISES, WE ALL RISE TOGETHER!!! And now I'm crying again. Again, again, again!!! How is it possible that I have ANY LIQUID left in me after all the tears and sweat??? Ahhh. Yes. The forty gallons of coffee. Right.
I wish we were all in the same place right now to celebrate. I wish we could just all sit together and talk about the miracle of it all. I wish we could snuggle up on the floor in sweatpants with bowls of chips and maybe edamame beans or something for our healthy lovies. But I want to sit closest to the chips. We will also need cupcakes. Lots of icing. Vanilla. Sprinkles. I feel like I'm getting off track here maybe.
Anyway-for now- this will have to do. Please feel my love through this screen. Not even for donating but just for believing with me. You make me less afraid. Life is brutiful, no? No way to thank you for doing life with me, and each other. We are not alone. We Belong To Each Other.
Love Wins. Ba-BAM.
Thank you, God. I promise not to doubt you for at least another thirty seconds.
Love you forever,
G and Amy and Sister and Liz and Allison and Katherine and Erin and Nicol and EVERYONE ELSE IN THE WHOLE WORLD.
PS: These gifts take time to give, and we have a whole lot of people to personalize and send gifts to. If you are a nominator and you don't receive a personalized email from Together Rising by June 30, please email us at [email protected]. We are a 5-person all-volunteer Board, so please do give us until June 30th to work on these gifts before reaching out. Even though we LOVE to hear from you, we'd rather be fulfilling needs and gifts than emailing you back – that's how much we REALLY LOVE giving gifts.
PPS: You are NOT too late. Love is never too late. We have needs we meet all year long everyday. Click below to donate.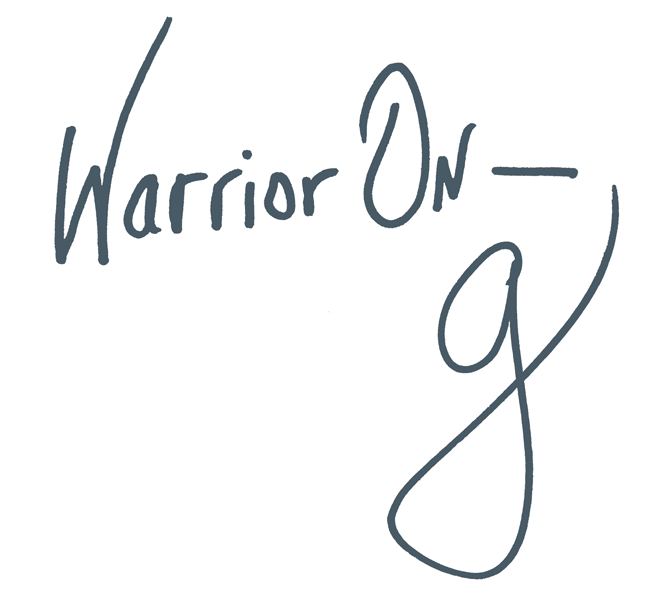 Author of the #1 New York Times Bestseller LOVE WARRIOR — ORDER HERE
Join the Momastery community on Facebook, Twitter, Instagram & Pinterest