Friends. It's here. The day has finally arrived. TODAY IS OUR SIXTH LOVE FLASH MOB!!!!!
Several weeks ago Together Rising asked you to write to us and tell us about your sHERoes. You gathered your friends and your courage and you sent us story after story of the warrior women in your life. The Together Rising board inhaled these stories. There was much crying and mouths hanging open and "YOU ARE NOT GOING TO BELIEVE THIS ONE!"
I truly believe this community is the most giving, fierce, brilliant group of truth tellers and hope spreaders on the web.
And then the hard part came: deciding who we'd choose for this Love Flash Mob. We made our calls, our diligence team poured their hearts into vetting the candidates, and then we spent hours on the phone talking candidates through. This process is brutiful and hard on every board member, so together we acknowledge the hard, remind each other that We Can Do Hard Things, and Carry On.
Which is why it was so interesting when one afternoon, Liz (heart of the board and my sHERo) called. I picked up and said, "HEY! Have we narrowed down the pool?" And Liz said, "Yep!" And I said, "Great! How many sheros are we down to?" And she said: "We are currently down to 176 candidates." And I said. "Um, wow. Okay. Wait. How many did we begin with?" And Liz cleared her throat and said, "We began with 176 candidates."
And I sat there for a minute in the quiet and I thought: Waaaaiiiit a minute. I know I'm a writer—not a math-er—but even I know that 176 and 176 are VERY, VERY CLOSE.
But before I could speak, Liz carried on. "Glennon, listen. These women are amazing. Every single one is a WARRIOR. Every single applicant is lighting up her community or family or world and so the Board…well, we think every last one deserves to be raised high. We realize this might sound impossible but the Board asked me to gently remind you that you're the one who doesn't believe in impossible. You're the one who always says: WE CHOOSE ALL. And so we propose that we find, big, medium, or small ways to choose every single sHERo for the Love Flash Mob. EVERYBODY'S IN, BABY. YOU say that. Right G?"
Right. I do say that. I should maybe stop saying that.
HERE'S THE DEAL. We chose ALL. EVERYBODY'S IN, BABY.
If you took the time to write and tell us about your sHERo – your sHERo is IN. Every last one. (You can catch glimpses of many of their precious faces in the Rise & Shine collage above.) If we raise enough money today, Together Rising will send every single sHERo some love to help meet at least part of her needs—from a gift card to help ease a burden to fulfilling your entire request for your sHERo—we want to make sure that every single sHERo knows that she is SEEN and LOVED.
Here's how (PLEASE, GOD!) this is going to work:
We have chosen three sHERoes to share with you specifically and to Mob BIG today. These people are going to explode your heart so big you will not be able to fit your heart back inside of you. You will need a bigger SELF for your new heart. But no worries: After Love Flash Mob Days, we are ALL BIGGER SELVES. That's the point.
HERE GOES! 
Meet Jenny. Julie wrote to us about Jenny, who she calls, "her constant inspiration." When Jenny was 22 she set her sights on getting a degree to work with special needs children. She needed to earn money for school, so she opened up a daycare in her home. When a resource coordinator in her town asked if she'd be willing to open up her daycare to children with special needs, Jenny said: "Yes." So many good stories start with "Yes."
Enter Malcolm.
Malcolm, a beautiful little two-year-old boy with significant disabilities, began coming to Jenny's daycare. Malcolm's mama was a brutiful woman with her own challenges, and Jenny ended up caring for Malcolm not only during the day but through the nights, too. And in the extra evening hours, the long days, the early mornings—Jenny fell in love.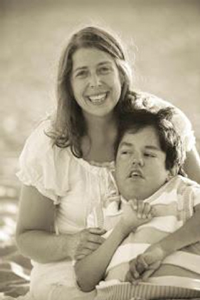 One day a state social worker called Jenny  to deliver some news: Malcolm's mother had relinquished him to the state. With tears in her eyes, Malcolm's mama had asked the social worker to call Jenny and ask her to become Malcom's foster mother. The state told Jenny that, even though she was not yet an official foster parent, they would give her the proper training and put Malcolm in her care if she would accept his placement.
And Jenny heard herself say: Yes. Yes, I will.
At 22 years old, single, not sure what the future would hold, Jenny gave up her dream of going back to school so that she could say yes to the dream of being Malcolm's mother. "Malcolm made me a mama," she told us.
Jenny has been a foster mother for 17 years now. Her precious Malcolm died from complications of his condition three years ago, but not before he was loved well and unconditionally by his second mama. His second mama was a gift to Malcolm from his first mama. Jenny is still grieving Malcolm, but she works while she grieves. You see, a few years after Jenny adopted Malcolm, she also adopted Dana, an infant with cerebral palsy. Dana just graduated from high school. Next she adopted Hannah Joy and Mackenzie, and raised them alongside Tobias, her biological son. With these 5, Jenny believed her family was complete.
But then Jenny met another mama in her special needs community who was dying of cancer. This mama's greatest fear was leaving her daughter Nikkia behind without the special care she needed. Jenny looked at Nikkia, looked at her new friend and then looked at her family. She said: "I will raise her. I will love Nikkia well for you."
Several years ago, in the midst of caring for her six children, Jenny went back to school. She will graduate in December with a special needs education degree. Her children will be there to celebrate with her as she accepts her diploma.
Julie told us that Jenny's greatest need right now is adequate transportation for her family. Jenny often has to make two trips to get her family to the doctor and church. Two of her children weigh over one hundred pounds each, and Jenny has to lift them herself to get them in her car.
THIS IS HOW WE ARE GOING TO GET JENNY AND HER WARRIORS RISING: We will buy Jennifer a fully equipped handicap-accessible van. We will make sure that they can safely travel through this brutiful life together.
Friends, meet Miranda and Ellie. When Miranda started looking into fostering a child, she met Ellie.
Here is what Miranda has to say about Ellie:
"Here's the thing about my sHERo. She's four and she's my daughter. A genetic disorder caused her legs to be amputated to her knees and her hands to look different, too. Every day she receives stares and questions from other kids, but her visible challenges are not all she faces. Ellie was in seven different homes before the state sent her to me. She has so much residual pain over her early life. She is healing on the outside and the inside. We are healing together—and she inspires me to carry on every day. She is my warrior baby. Even though she's stared at wherever she goes, she refuses to stay home. She answers other children's questions directly and kindly and holds her head high. She even joined a kick ball team this year and she kicks and tries to get to the bases with the short upper legs she has.
My wildest dream for Ellie is new legs. Ellie loves to run. All Ellie wants to do is run, but she is constantly left behind. I don't want my warrior baby left behind. The legs are incredibly expensive, though, so it's just out of the question. I can't give my baby what she needs the most."
Well . . . obviously—WE ARE GOING TO GET MIRANDA RISING BY GETTING ELLIE RUNNING!!!
We spoke with the incredible folks at the Hanger Clinic, the maker of the running legs that Ellie wants with her whole heart. They want to help her too. If we raise half the money for the legs, they will match it and Ellie will have her legs PRONTO. I cannot handle talking about this. Let's do it. Let's DO IT.
And finally, meet Joline and Shawn.
These two lovies met working at Pizza Hut.  When they got married, Shawn got a desk job and Joline started art school. She'd dreamed of becoming an artist since she was a child, so she drove herself three hours each way to art school. Shawn was thrilled to support Joline's dream. Money was tight but they made it work. Life was good.
Then the recession hit and Shawn was laid off. Even though Joline took a night job, there just wasn't enough. Joline found out she was pregnant. One night Shawn found himself dumpster diving. Shawn joined the military the next day. They had two precious baby girls — Isabelle and Addie, whose special needs require extra care from Joline and Shawn.
A few years into his military service, Shawn was in a horrible accident. After 9 surgeries, the doctors had to take Shawn's leg in order to save his life. Joline withdrew from art school and she and the girls moved to San Antonio to get the best treatment for Shawn. Then Joline's brother was killed in Iraq during a military operation. She says, "I didn't have time to feel any of it. I had to be the rock." If that's not the battle cry of the military spouse, I don't know what is.
Shawn told Liz, "I don't feel sorry for myself, but I do worry about how losing my leg affects my little girls. You know, having the dad who's different. And my wife—my wife is absolutely incredible. What she's gone through for my sake—she sacrificed everything. She's my everything."
What can we do, Liz asked? What can we do to get Joline rising?
And this is where Shawn was unsure. This family is used to SERVING. And so he said: "Well, we could really use a washing machine. Joline can't get to the laundromat because I have the car for my doctor appointments. She's stuck all day at home, so she washes our clothes in the tub right now."
"Listen," Liz said. "Trust me when I tell you that I CANNOT GO BACK TO GLENNON WITH A REQUEST FOR A WASHING MACHINE. For so many reasons, that's not gonna fly. Let's keep dreaming."
WE ARE GOING TO GET JOLINE RISING BY GETTING HER RIDING. This family has fought for our freedom and now we will make sure that they have theirs. Joline loves Hondas, so we want to buy them a brand new Honda Civic.
And also. The washing machine. Fine. The washing machine.
A van for Jennifer, legs for Ellie, a car for Joline. Freedom. Today, we are giving freedom. Let's do this.
And Do Not Forget: The introductions have just begun. As soon as we get these three rising, you'll meet more of our stars. Stay tuned on Facebook, Twitter, and Instagram.
Friends, pity is feeling without acting. COMPASSION IS FEELING AND ACTING. Let's ACT. Let's not just say LOVE WINS—Let's DO LOVE WINS. What you DO with your next five minutes will determine whether or not Love Wins for Jennifer and Ellie and Joline today. Let's make Love Win. HERE'S HOW:
DONATE. You can make your tax-deductible donation by clicking here or on the Love Flash Mob button at the bottom of this post. Give what you can—small gifts of $5, $15, or $25 max. We can't do great things, but today we're making miracles happen through small gifts given with great love.    REMEMBER THAT EVERY DONATION MATTERS. Click here to see the miracles you have made through prior Love Flash Mobs. Because Together Rising is an official 501(c)3, every penny of your donation is tax deductible.
SHARE. PLEASE SHARE THIS POST. We have danced NO FLASH MOB BEFORE with a HIGHER GOAL. Share on Facebook, Twitter, Instagram and the other ones I don't know about. Mass e-mail your friends, call your parents, stand in your yard and read the essay loudly – whatever it takes. We need all the whos in whoville – the tall and the small. It's going to take the entire village for us to give toward every need.
DEDICATE. Every single one of us knows a sHERo. If you'd like to donate in honor of someone you love, please leave his or her name in the comments here or on Facebook. Thousands will be reading and so if you didn't send in her name, get her rising right on this page.
Okay. It's time for me to let you go and trust. Your board will be busy trying to breathe and calling each other and refreshing our screens one million times, sacred scared to death.  In a few hours, we will give you an update. CMMMMMON LOVE: WIN!!!!
Love,
G and Your Together Rising Board & Volunteers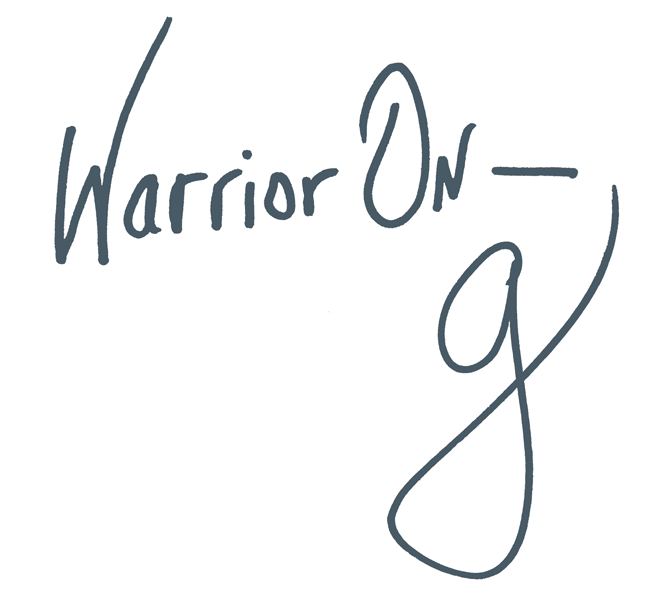 Author of the #1 New York Times Bestseller LOVE WARRIOR — ORDER HERE
Join Glennon on Facebook, Twitter, & Instagram