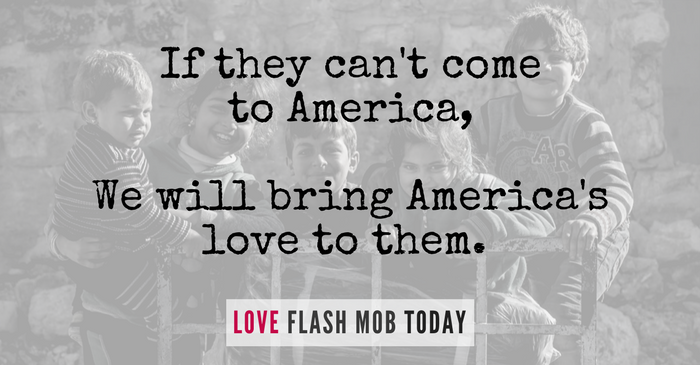 Fear is loud. Loud things tend to get our attention. When we allow loud fear voices to steal our attention we feel shaky, paranoid, hopeless.
Love lives in the quiet. Love requires us to stop what we're doing and drop in. Is this why it's called falling in love?
Fear would have us keep talking and yelling and arguing so we never hear love whispering. Love is patient, and it beckons us to be quiet and still. We can only hear love speak to us when we stop speaking and start listening.
Listen is the call of our times. Listen before you speak. Listen before you act. Listen. Seek first to understand, then to be understood. Breathe. Quiet. Listen.
I need for us to get still and quiet for a moment so we can hear love calling us back.
Today, I do not want to get into the weeds of the travel ban. Soon, many of us will continue to be AND/BOTH — serving those already hurting AND working to change the systems causing the hurt.
But today: Let's stay out of the weeds and go back to our roots. We are not a like-minded community. Our beauty is and has always been that we are a like-hearted community. We believe in the power of love to heal our own hearts, our families, our communities, and our world. And love is non-partisan. Politics is a realm of ideas – but Love is the field beyond our ideas of right and wrong. I'm asking you to meet me in that field today. Please breathe deeply, step away from the people arguing about love and together let's DO love. Everyone is invited.
If they cannot come to America, we will bring America's love to them.
Today: Let's love like Samir.
Meet Samir and his beloved grandmother. Since there is no such thing as other people's children, Samir is ours.
(All photos courtesy of Preemptive Love and Esther Havens.)
Samir was 10 years old when the black-clad men arrived with their guns. He'd heard of them. He'd seen their flags and heard rumors of what they were doing to people.
Samir's family prepared to flee ISIS, but there was not enough room in the truck for everyone to go at once. Samir's grandma couldn't leave, so Samir volunteered to stay back to watch over her until his father could return to save them.
A whole day passed. With the sound of gunfire getting closer, Samir decided to try to walk to safety with Grandma. They had to stop to rest often. Grandma was seated near a grove of trees when Samir saw the trucks coming toward them.
They tried to hide, but it was too late—they'd been spotted. The ISIS fighters climbed out of their truck and approached Samir's grandma. They began bullying her, ridiculing her, taunting her and prodding her.
Ten year-old Samir stood up.
He placed his small, fierce body between the armed militants and his grandmother – and he shouted back at the fighters defiantly to leave her alone.
In response, they lurched forward, grabbed Samir and pinned him to the ground.
Another went for a can of gasoline.
Samir struggled, smelling the gas as it spilled out, soaking his pants.
He kicked and flailed even harder.
The sound of a lighter.
Then, with Samir's grandmother watching, the lighter fell, igniting Samir's small, fierce body.
They threw Samir and his grandmother into the bed of a pick-up truck and drove away. Samir felt every bump. His entire right side, from his hip down to his toes, was charred. In some places, his pants had melted into his skin.
The ISIS fighter driving the truck eventually threw the truck into park and got out. He pulled Samir and his grandmother out of the bed. Samir recognized the little town—it was on the way to ISIS's stronghold of Mosul.
"Come to the shower and we'll wash you," a militant told Samir.
Samir refused.
"We are going to take care of you now," the fighter said. "We will teach you to fight."
ISIS held Samir and his grandmother captive for several weeks before freeing them in a suspected secret prisoner exchange. They were reunited with Samir's parents at a refugee camp and live there still. They want to go home. They hope that there is a home to return to.
When Samir's grandmother was asked what she thought of her grandson who'd stood up for her, she said loudly, for the whole tent to hear, "He's a good boy. Yes, he really is such a good boy."
Samir's body is still severely wounded and he is in pain when he walks. Samir's father said, "A lot of people come here with their cameras to hear the story, but then they leave and we never hear from them—it doesn't do us any good. What are you going to do?"
Here is what we are going to do: We are going to be GOOD, like Samir. We are going to stand up, like Samir.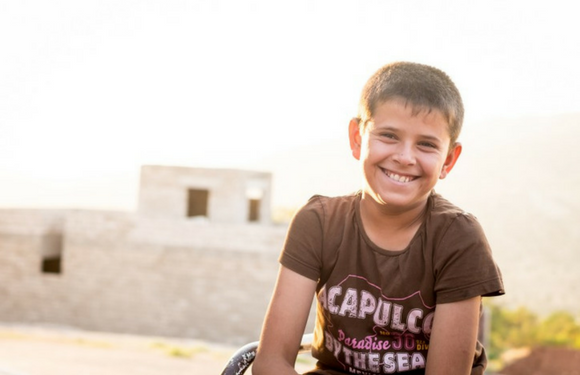 There are those who would teach the children of the world how to fight. We must interrupt that cycle and teach them how to love instead. Or rather, we must let the children of the world, like Samir, teach us how to love. Love stands up. Let us stand up for Samir like he stood up for his grandmother.
There is a hospital in the U.S. that offered to perform the surgeries that Samir needs for free. But, after the first travel ban barred him from entering the U.S. because of his nationality, we were forced to immediately look for other ways to get him the help he needs quickly.  Although this second ban eliminates the total bar to Iraqis, the uncertainty and fear resulting from reports of Muslims detained at U.S. airports, and the delay entailed with getting Samir a visa to travel here, means we must take urgent alternative action.   Here's where our friends Jeremy and Jessica Courtney come in. Jeremy and Jessica are fierce love warriors who have lived in Iraq for a decade within a couple of miles of the ISIS stronghold, raising their family and waging peace through the breathtaking work of Preemptive Love Coalition. They introduced us to Samir, and they are going to make it possible for us to help Samir. Jeremy and Jessica are finding doctors in the region to perform the surgeries that Samir so desperately needs, and together we are going to do everything we can to fund his travel and medical fees. We will love like Samir. We will help heal his wounds with our love so he can keep healing the world with his love.
Meet our sister Um Nizâr. Her husband – the father of her three children – was beheaded by ISIS.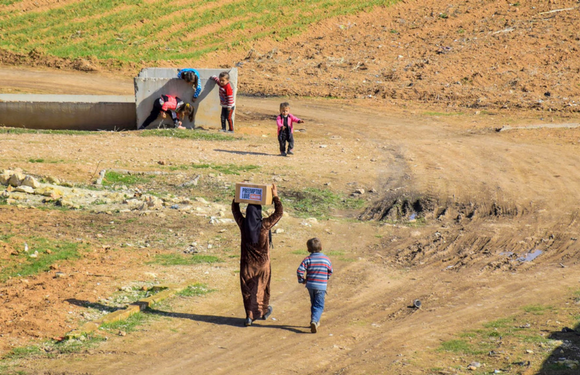 She now raises her babies on her own. It is not easy. There is no money. There is very little food, very little safety, very little hope.
Like mamas everywhere, she uses her sheer will to turn very little into enough for her children.
We call her by her local, honored name, "Nizâr's mom." Her eldest is a five-year old boy named Nizâr. When she heads out to walk to the fields each day to find food, Nizâr insists on accompanying her. When he was asked why he is so committed to following his mama on these long treks everyday, Nizâr said, So nobody can hurt her.
If anybody comes near his mama, Nizâr shouts at them: "Go back, go back!"
Love protects. Let's Love like Nizâr.
Meet our sister warriors- the widows of two brothers –women boldly and bravely leading their families through horror.
The fathers of these two families were killed by ISIS. The two men were brothers and when ISIS invaded their town and demanded they join the militants, these fathers refused. They insisted that they would serve their community instead of fight.
For this refusal, ISIS publicly hung them.
In the wake of the hangings, their two warrior wives assembled enough money to find a smuggler who helped them and their five fatherless children flee the ISIS frontline by night.
Now they live altogether in a destroyed house with such little hope: no education for the children, no work for the adults, no income to feed their babies – and, in their hearts, the pain of knowing they could not even bury their brave husbands.
Love perseveres. Let's Love like our warrior sisters. In honor of these families, today let us serve instead of fight.
Nizar's mom and her children, and these warrior widows and their children, have been part of a food program that we at Together Rising have been funding since our last Love Flash Mob. They and 25,000 other moms and children are alive because of your love.
In a confusing, divisive, scary time, this community will STAY THE COURSE OF LOVE. We will stay the course of love, together.
Love stands up like Samir. Love protects like Nizar. Love perseveres like the Warrior Widows.
They are our teachers today: Let's follow their lead and give back to them what we have to give. Let's raise enough money so that next week Jeremy and Jessica and their team can sit down with Samir and his family, and families like his, and say: "Your sisters and brothers around the globe have seen your courage. They have gathered together to honor it and raise funds for your future. We belong to each other…So let us begin again, together."
My promises to you:
I promise that 100% of what we collect today will go to families who desperately need it. These families need our help rebuilding their homes, getting the electricity running again, and continuing to provide food, warmth and jobs while they try to get back on their feet.
I promise you that we will move heaven and earth to get Samir the help that he needs. We know where he lives and will get your love delivered to him with speed.
I promise you that we will make every imaginable effort to provide Nazir and the Warrior Widows with refuge, food, blankets, shelter, relocation, medical support, job training – whatever they need. We met these two families when they arrived to the food distribution site that Together Rising is funding to feed 25,000 people daily each month. Right now, we do not know where these two families sleep – most families in the region live in destroyed shelters in the Aleppo countryside. As Jeremy says, "These are transient people—both in Iraq and Syria—and we cannot, and should not, control their movement." We agree. And the team has vowed to do everything in their power to bring your love and relief to these particular families.
I promise you that if we are not able to locate these two families, or if we raise more than these families need, every penny we collect today will go to help other families like theirs – the thousands whose stories and names we have never heard – but who are standing up, protecting, persevering for their children through more horrific desperation and devastation than most of us can imagine.
I promise, as always, to report back to you about how every penny is spent. There will be nothing, nothing, nothing wasted. Also, because Together Rising is an official 501(c)(3), every penny of your donation is tax deductible.
Love Stands Up. Love Protects. Love Perseveres. Let's do love today, friends.
In Hope and Grace and Strength and Solidarity,
G & Together Rising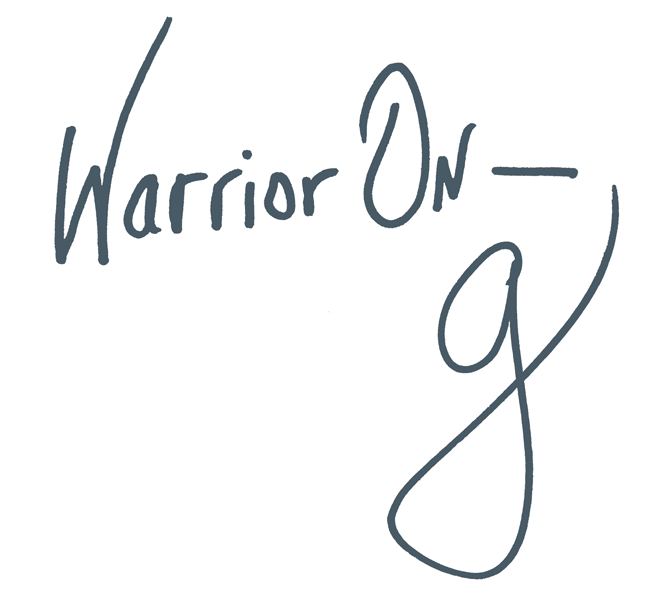 Author of the #1 New York Times Bestseller LOVE WARRIOR — ORDER HERE
Join Glennon on Facebook, Twitter, & Instagram