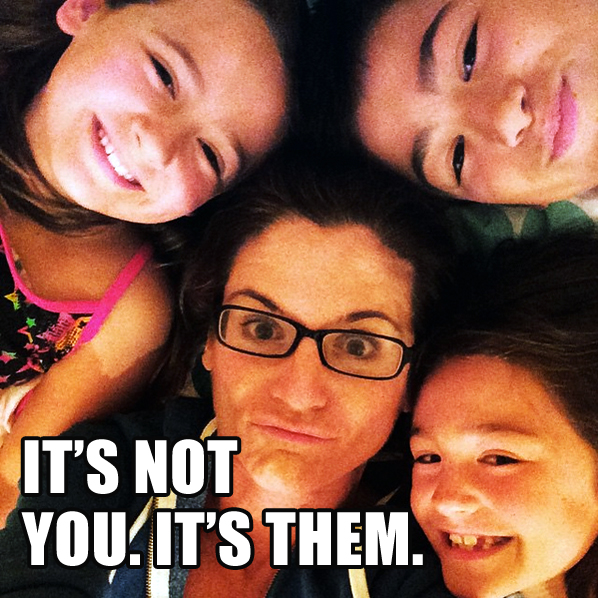 I wrote when I was losing my mind. No, I take that back. I was not LOSING my mind — my people were TAKING it. Difference. Anyway, so many people have requested copies of this rant that we decided to let it live on the blog. Here you go. Listen: there are two ways to approach parenting: CHOOSE THIS WAY AND YOU MIGHT JUST SURVIVE.
Love,
G
***************************
Kay. At 2 am Child 3 shook me awake from a dead sleep to report with terror that: MOMMY! I JUST OPENED MY EYES AND IT WAS ALL DARK AND I WAS ALONE IN MY BED!! Once again, I explained that this was not a description of some shocking, unique horror but THE NORMAL PROCESS OF SLEEPING. "That's just SLEEPING," I said to my girl as she stared at me with a face that asked: "what is this "sleeping" of which you speak???? Is this something people DO?"
At 9 am I sat across the kitchen table, bleary-eyed, listening to Child 1 present a serious case for why he should get PAID by ME for, basically, breathing. Just breathing is what I gathered from him. Existing. Something about human rights. I don't even know. I don't know. What I do know is that I was so freaking tired from Child 3's Breaking Sleeping News that I just picked up my coffee and said: "I need you to stop talking. Just stop talking. Now, please."
At 10 am I took Child 2 with me to the store. There was a bird in a cage at the store. Child 2 spent ninety seconds with this bird. Upon leaving the store, Child 2 looked at me and said, "Mom, instead of buying me a horse, I'd like you to buy me a bird." I stared at Child 2 and eventually said, "WHAT THE? I am not buying you a horse, or a bird, or even a popsicle. WHAT ARE YOU TALKING ABOUT, child? Get in the car." It has been one full hour and Child 2 has not stopped talking about this bird. Apparently, I have ruined her life because — and I quote: "You say you value family, Mom. That bird was my family."
I do not know. I just do not know.
Listen to me. Every time I go to speak somewhere — tired, worn out, wild-eyed mamas raise their tired hands and say to me, "Glennon, I feel like I'm losing it at home. I feel CRAZY."
HOLD. UP. Okay: for obvious reasons, I am no parenting expert. But I know a helluva lot about crazy. And I want you to trust me on this one. I want you to write this down and put it on your fridge for me:
IT'S NOT YOU. IT'S THEM.
IT'S THEM.
Listen: I spent time in a mental hospital and I am here to report that everyone, every single one of the beautiful folks I lived in there with was more reasonable than the small people I live with now. All of them.
YOU ARE GOOD AND NORMAL AND REASONABLE. IT'S THEM. The crazy is not in your head. It's IN YOUR HOUSE. We have to wait them out. We just have to smile and wait them out. We have fought too hard for our sanity to lose it now.
Repeat after me: It's not me. It's THEM.
I love you. 10 hours till bedtime. Godspeed.
G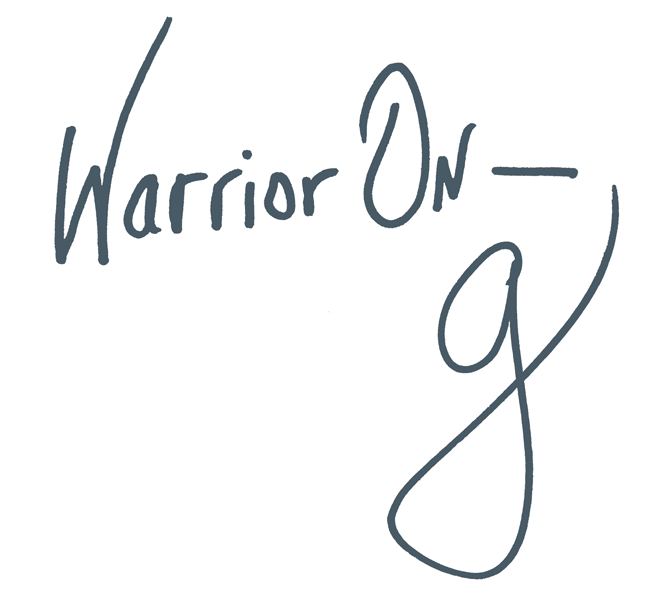 Author of the #1 New York Times Bestseller LOVE WARRIOR — ORDER HERE
Join Glennon on Facebook, Twitter, & Instagram