Monkees, meet the newest love of my life.
Theo Cutie-Pie Melton.
He's so fluffy I'm gonna DIE! (Have you seen Despicable Me? If not, please do.)
When Craig and I started looking for a dog, I wrote on Facebook that I needed advice "for a friend" who was considering dog adoption. I couldn't admit that the friend was actually me because I didn't want anyone trying to talk some sense into me.
In response to my request, my old friend, Mandy, sent me a long email with lots of wonderful advice about rescue dogs. Mandy is a dog trainer and spends most of her time and heart taking care of homeless doggies. Mandy asked me specifics about what kind of dog we were looking for, and I told her that I wanted a near-comatose dog. I wanted a semi-stoned dog. I wanted a dog that likes the couch as much as I do. I told her that basically, I wanted an adult, hypo-allergenic love bug. She promised to keep her eyes open as she visited the local shelters.
Last week Mandy emailed me and said something like: "I may have found your dog. Just did a behavior evaluation on a stray Lhasa Apso that was the chillest, most gentle dog I've ever seen. He's white, probably about five years old, and he's got a Brando-like underbite that makes him so ugly he's cute."
When I read the ugly thing, I knew he was mine. With the exception of husbands, I always choose the ugly one. Craig won't let me choose our Halloween pumpkins anymore because I always insist that we purchase the ugliest one in the patch. It is extremely upsetting to me to consider that if ignored, the deformed pumpkins might perish without ever having fulfilled their pumpkin potential. It's just so unjust. Who decides what deformed or ugly mean, anyway? Tears me up, those different pumpkins. I can almost hear them whispering to me "Pick me! Please, Pick me! You are our only chance!" We've also had a number of extremely rough looking Christmas trees in our home for this very same reason. I love a Charlie Brown Christmas Tree. So obviously I fell in love immediately with this Charlie Brown dog.
When I told Craig that Mandy found our dog, he said, "NO, Glennon. I am not feeling a dog right now. No. No way."
And I looked at him for a minute and then said, "That's cute, honey. Are you done now?"
And he paused and said, "Yeah. I'm done. When can we visit him?"
So the next day we told the kids we were going to visit some homeless doggies and love on them for awhile.
When we arrived, the shelter people led us through a huge room of kennels. Every single dog was barking like mad. It was a little chaotic and intimidating. Amma was scared.
But then we got to the very end of the row of kennels, and in the very last cage . . . this little fluffy guy quietly walked toward us, peeked his head out, wagged his tail and licked Chase's hand. No barking, no jumping, just wagging and kisses.
Craig later said that Theo seemed to be saying, "Well . . . there you are. I knew you'd come. What took you so long?"
We walked him outside to the shelter's courtyard and played and played and played together.
After an hour we decided to apply to adopt him. We knew we couldn't get the kids' hopes up, so I kept my poker face on.
The next day the shelter called us and said that our doggie was very close to becoming our doggie. And they also said that we could pick him up as soon as they sent him to be groomed and neutered. They explained that since Theo was a stray, we was quite matted and dirty and needed to be freshened up.
I called Craig and said:
Husband -We have a problem. No way are they grooming him before he comes home.
Craig: Why, honey? (A little too wearily, I thought.)
Me: Because! I don't want him to think that he has to be all cleaned up and pretty in order for us to want him! No way. He comes home just as he is. We'll clean him up. I love him all jacked up. He comes home all jacked up.
Craig: I can't say I really understand that.
Me: Well, that's fine because I understand it enough for the both of us.
Craig: Silence.
*Sister beeps in on call waiting*
Me: Gotta go, husband, sister is calling.
Husband: Sigh of relief.
Me: Sister! They want to groom Theo before he comes home and this is unacceptable!
Sister: Why, sister?
Me: Because I don't want him to feel like we didn't love him enough as he is to bring him home.
Sister: Oooooookay. Let me try to understand. You …..don't …want….him…to…feel….like…you…didn't…love….him…..enough.
Me: Why do people always repeat what I say verrrrrrrrrrry slowly and make it sound all crazy???
Sister: It doesn't sound crazy because it's being repeated slowly, Sister. That's not the reason. The things you say sound crazy before they're repeated. We are just hoping you'll hear the crazy if we repeat it back to you.
Me: Whatever. Listen, Amma's pretty now, but do you remember what she looked like when we got her? We didn't insist on a make-over before she came home.
Sister: Silence. You are unreasonable, Sister.
Me: Silence back. Well. Hm. While we are on the subject of unreasonable, Sister, I feel obliged to tell you that I find it completely unreasonable that you continue to try to reason with me after having known me for THIRTY THREE YEARS.
Sister: Hm.You have a point, Sister. Yes, you do. Go get your dog. We'll groom him later.
Me: Kay. Thank you. But I'm taking him back to the shelter next week so they can send him to get neutered. I don't want Theo to think that part was my idea. That's on them.
Sister: Silence. Fine, Sister.
So I went to pick him up at the shelter on Thursday night. I was extremely nervous for this final meeting. Let's just say that I don't always have the best luck with adoption interviews. So I called one of my bffs, Christy, because she fosters dogs and often facilitates interviews with potential families. When she answered I said, "Oh my god I'm on my way for my final interview and what if they ask if I take anti depressants and what if they read the blog and what if they ask me if I ever inhaled and just oh my god."
And Christy said, "Glen. Breathe Deep.This is not like adopting a person. Just don't mention Michael Vick and you'll be fine."
So I took a deep breath and walked into the shelter. And I began my interview with a lovely dog trainer named Feather. And as soon as she started talking, I knew I'd be okay. I mean, really – anyone who dedicates her life to helping animals or young children is okay in my book. It seems to me that these are two of the only vocations for which there can be no other motive than gentleness and love. Because when you are working with animals or children, there are usually no grown-ups around to give you kudos or respect or much money. It's just you and the powerless ones and God.
So, as you would expect, Feather was good to me. And half-way through the interview, Sister showed up at the shelter. Because, well, because Sister always shows up. And now since she is John's, he's gotta show up, too. Which he doesn't seem to mind too much because he is wonderful.
Sister was so excited she looked like she might pee. A new nephew, you know. The previous night she had arrived at my house with a doggie car seat and a zebra striped doggie bed and thirty dollar Bed Head strawberry banana doggie detangler spray. I know. But that's sister. When they brought my doggie out, Sister held him first.
When Tish was born, Sister was the first one of us to touch her. She held Tish's hand first. Before me, before Craig. It's natural for us. My babies are her babies.
And then I left the shelter with my doggy. Just me and him. And he sat in my lap the entire ride home. He was a little shaky. But that was okay, because so was I. I cried a lot.
Because God finally let me adopt somebody. I am going to take such good care of my precious somebody.
When we got home, Craig was waiting on the floor in the foyer and Theo walked straight over to him and laid down in his lap – belly up, ready to soak up some love.
Then we gave him a bath. That was interesting. Moving right along.
The next morning we let Theo wake up each child, one at a time. The kids didn't know he was coming home the previous night, so when they woke up to their very own doggie licking their cheeks – well . . . it was a good morning.
We decided to name him Theo because Mandy's maiden name was Theobald…and since she found him for us, Theo seemed right.
Theo is so chill that yesterday I got worried that maybe he was sad, so I took him to the vet.
I have since learned that you don't take your dog to the vet just because he looks sad.
Anyway, the vet assured me that Theo is perfectly healthy, just extremely calm.Theo doesn't mind if you pull his tail a little or mess with his food or even if 15 children at the playground surround him and squeal and pet him all at once. He can't be rattled. We hadn't even heard him bark. Until . . .
. . . yesterday evening when we were sitting outside and one of my neighbors brought over her very large, very sweet Labradoodle. And this Labradoodle calmly walked over to sniff me. And Theo went nuts. He leaped out of my lap and all thirteen furry pounds of him started barking like mad at the dinosaur-sized Labradoodle and I had to pick Theo up to carry him inside. On the way in, Craig said: he was protecting you. And so I acted embarrassed and apologized to my neighbor and then scurried away and took Theo inside to the couch and cried and snuggled and kissed him for an hour.
My knight in white furry armor.
Look, I don't know what this life is doing to me. But with every new love experiment, of which Theo is one, my heart just gets smooshier and smooshier until I worry I'm going to lose all form and turn into a blob of goo. It's like one of these days I am just going to melt into this beautiful world.
I think I just really, really love my dog. Thank you, God.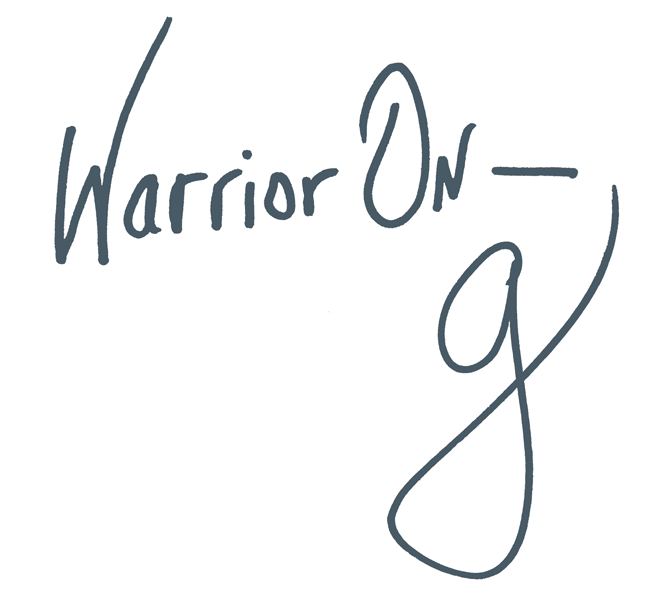 Author of the #1 New York Times Bestseller LOVE WARRIOR — ORDER HERE
Join the Momastery community on Facebook, Twitter, Instagram & Pinterest