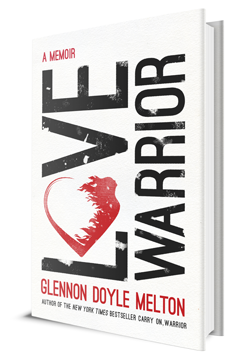 I need you today.
Thirteen and a half years ago, I found myself on a cold bathroom floor–shaking from a ten-year hangover–staring at a pregnancy test like it was an eviction notice from my life. It was the end. It was the beginning. I got sober. I created a family I could love and a self I could live with. I stayed sober by crushing shame daily through living out loud with you.
Three and a half years ago, I found myself in a therapy session with my husband, watching his mouth say terrible things about infidelity—things that would destroy my ideas about marriage, myself and God, and send me to my second rock bottom. After that therapy session, Craig packed while I laid with my children in bed until they fell asleep. Then I locked myself in the bathroom again, staring at my shocked, shaking hands once more. How would I survive this?
This wasn't a story I could live out loud because it belonged to my whole family. My sobriety strategy wouldn't work this time. I resolved to tell enough to be honest, but keep private enough to be kind. I did what women do: I gritted my teeth, smiled, and held it together for my children. I said to the world: Yes. I'm fine. I'm FINE, thank you.
But in one place, I admitted I wasn't fine. Every morning, before the kids woke up and my exhausting life as a newly single mom began, I'd go into my cloffice, open a secret file on my computer and write it all out. I wrote in the dark—more like a detective than an artist—desperate to see my life in black and white in front of me. I was hoping to find patterns, clues. I was using my own words like a map to try to figure out where to turn next. I wrote like a prayer. I wrote like a howl.
My beloved friend Amy read every word, because I needed one witness to my life. But other than Amy, the file never saw the light of day. I couldn't even show it to Sister. It's hard to tell the people closest to you how heavy it all is, isn't it?
But as I wrote I started to notice something— this writing was healing me. It was leading me through the darkness. And that still small voice inside me started to whisper that maybe this writing wasn't just for me.
This terrified me.
I thought: Why AM I so afraid to tell this story? There was only one answer: I'm ashamed of what happened to me. I'm ashamed.
And so I looked hard at myself and said: Precious Self: No No NO. Nope. Shame is a lie and if you're letting it make decisions for you—you're following the wrong leader. Your leader is TRUTH. Do you believe that the truth will set you and your family and your readers free, or don't you?
Craig and I began endless talks. We enlisted experts to help us talk to our kids about this and walk us through every possible outcome of making our story public. Then we decided:
This story is for the world. Let's use all this pain for good and share what we've learned. Let's do it. Let's offer it up. 
But it's one thing to decide and another thing to actually follow through. One day, long after I first opened that file and started bleeding into it, I realized I was done. I let the file sit there for a while. I knew I needed to reach out to some fearless writers—women I love and admire, artists who share their lives and their hearts with the world. First I sent my pages to our Liz Gilbert, who I respect madly. She read it and wrote me back:
This is epic, Glennon.
Thank you, I wrote, relieved and grateful. But I'm afraid to publish it. It's going to freak people out. It's going to make some people angry.
Liz wrote this back to me — but I believe it's to you, too:
My brave Glennon, if you sense a storm gathering, don't fear it — because you ARE it. You are the force of nature here. You are the storm that's going to sweep through people's neighborhoods and knock over a bunch of lies and myths and imprisoning structures built out of centuries of women's silence. Everyone else will just react, but you're the one who created the powerful thing that people will be reacting TO. Don't forget this, I beg you. They (the reactors, the critics, the observers) don't have the power. You have all the power here now, because you claimed your power and you spoke it. So don't trick yourself into thinking that you are weak or small, or that you can be victimized by anyone. There will be a part of you that says, "But I'm still just the old Glennon — afraid and tiny and overwhelmed", but that's not who you are anymore. That's an old version of you. You might not even quite realize yet how much of that you have left behind — but I can see by this writing what you have left behind, and what you have become. 
I began to feel braver. I sent the file to Sarah Bessey, who I trust with my entire heart.
I wrote: My Sarah. You know how hard it will be to publish something like this. I just have to know if it's beautiful enough to make the brutal worth it.
Two days later Sarah wrote me a letter that included this:
So here is what I think: yes, it's dark and painful and raw. So the light and the beauty and the love is even more dazzling and beautiful. It's your best work yet.  I feel like God has anointed you, called you, to this work. It will be a hard road to send it out there and many will misunderstand or minimize or explain it away but the pain will be worth it because this writing is a giant battle cry of surrender.
As I read this – I felt like I have was standing on holy ground, Glennon. I don't say that lightly. It's a hard read, really hard. I cried and I felt split open by your pain and your suffering, by Craig and his suffering. I felt like I was right there with you in it and I remembered so powerfully my own loneliness and suffering, my own grief and renewal. It reminded me of a scene in the book of Acts when Peter and John are testifying to a court that wants to kill them and they say, "we cannot but speak of what we have seen and what we have heard." This book is testimony – it's what you have seen and heard. How can we not speak of it? How could we not testify to the belovedness and the healing and the pain all married together? I encountered God here, G, not in spite of the darkness, but because of it.
I love you, I do. Carry on, warrior.
Love Warrior has been Sistered into the world, as have I.
So here we are. And my sisters and brothers, this is what I want you to know—
Love Warrior is the offering I've been working on in the dark every day for the past three and a half years. Love Warrior is about infidelity — to ourselves and to each other. It's about betrayal and redemption. It's about how everything the world teaches us about femininity and masculinity can make it impossible for a woman and a man to actually know and love each other. It's about how to survive rock bottom—how to use crisis as a springboard to a truer identity and a better life. It's about parenting our kids through pain. It's about friendship that hurts and friendship that heals. It's about faith that shackles women and faith that liberates women. It's about shameless sex and God and food and drugs and porn and tenderness—and how the dirt and the divine are so often inseparable. Love Warrior is about how to finally find peace in your own damn skin and your own damn life.
Love Warrior is raw and it's shocking but it's also beautiful. You will lose and find yourself in it. I did. It's everything I know about love and resilience and womanhood and freedom and truth and power and peace. It's the very best I've got. I assume that every writer has one book that makes her a writer. This is mine. Besides my sobriety, my three babies, my gritty, divine marriage, and Together Rising, I've never been prouder of anything in my life than I am of Love Warrior.
Now, about the COVER and about A SPECIAL GIFT CREATED JUST FOR YOU.
I wanted a symbol for our Love Warrior: A symbol to remind us to enter the fire of our lives and transform it into fuel to light the world. A symbol that would remind us that the pattern of life is: First the pain, then the rising. A symbol we could claim and love as ours and that I could tattoo on my own skin as a mark of my brutiful journey. So I called one of my oldest and dearest friends, Joanna – the Joanna who helped me through college and helped me start this blog—and I said: I need you. I don't want some corporation to create my Love Warrior. You know me. You know my marriage, and you know Momastery. Can you create her?
A week later Joanna sent me this. And my chest filled with fire and love and hope and recognition.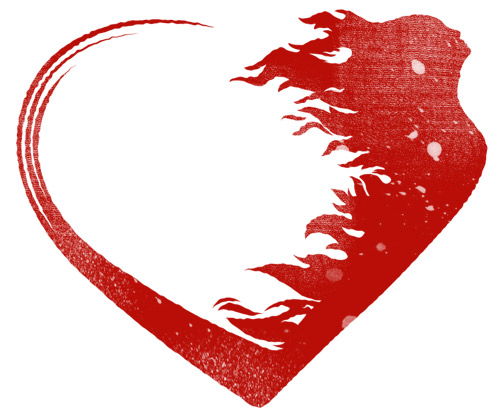 I told my publisher that I wanted Joanna to create the cover of our book. Not a big New York art firm. I said: We Sister each other. That's what we do. Only Joanna.
Joanna designed a cover for my book that literally made me, and the folks in the New York publishing office, cry.
It's bold. It's beat up. It's soft and textured and fierce. It's imperfect and REAL. Human. Like me. Like my marriage. Like you. I love this cover like I love us.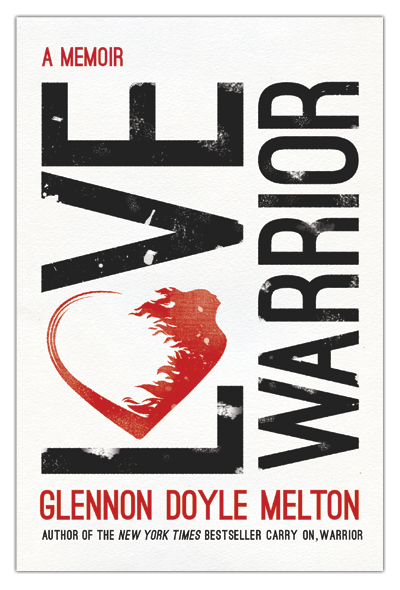 Love Warrior will be born on September 6th. Today is like that day, thirteen and a half years ago, when I announced to my family that I was pregnant with Chase. I believe that when Love Warrior arrives into the world, my life will start again—it will be another new beginning. But for now, I am preparing for the birth. I know it will be a painful and beautiful one. I'm scared. I need my family by my side. I need you with me.
You are always asking me what you can do. Today I have a response.
Those of you who have been doing life with me for a while know that the Momastery community is the great honor of my life. I love you. I asked my publisher what I could do for YOU– what we could make that is extra special, and offer here, to you first. So this is it. We have made an extremely limited special edition first printing of Love Warrior for you.
There is something inside of this special edition that will never be created again.
Joanna created a one-of-a-kind piece of art with our Love Warrior. I wrote a poem to go with the art. To me, this poem and this symbol are the secrets to a life on fire. They remind me to spend my time down here ALIVE instead of just living.
I am going to personally sign each and every one of these special art pages and they will be bound into your first-edition book. I am going to sit and say a prayer of hope and love and gratitude every time I put my signature on one of these gorgeous pieces of art. Then this beautiful gift will be shipped to your door the week of publication (September 6). And because I feel so strongly about supporting independent bricks-and-mortar bookstores, any orders placed through Momastery will be fulfilled by beloved independent bookstores around the country.
Please, right now, click here to order this special signed gift edition of Love Warrior.
Order five copies for Christmas gifts (when the holidays come, it will be too late—these will be gone, and we are not printing more.)
Order 10 for bridal shower gifts (When the head of my publishing house read the book, he wrote my editor this email: Every person on Earth should read this book before marrying. This should be the handbook for relationships).
Order one for your husband and your therapist and your adult children and your church and your library and your book club and your recovery group and a hospital waiting room.
Keep several on hand for friends who receive or deliver the News.
Order one for your friend who was brave enough to stay. Order one for your friend who was brave enough to leave.
I need you to know that if you pre-order this book today, it will mean so much to me. Your love and support matter to me — and matter to our team. Your pre-order of Love Warrior is a vote that says to us and to the publishing world: Yes. We support your work in the world and we want it to continue.
And after you've ordered, please consider tweeting one of these messages:
I just preordered a signed edition of Glennon Doyle Melton's new book LOVE WARRIOR! Warriors, get yours! @Momastery http://ctt.ec/dUZWQ+

[email protected]'s new book LOVE WARRIOR is about shameless sex God food drugs porn & how the dirt&divine are inseparable http://ctt.ec/n1p7L+

I would say that there are no words to describe my gratitude for your presence and support – but there are. I found some. They're in the book. You're in the book.
BECAUSE YOU ARE MY FAVORITE LOVE WARRIORS ON EARTH. Thank you for doing life with me and Craig and our children. You have made me honest and you have made me brave.
Carry on, Love Warriors.
G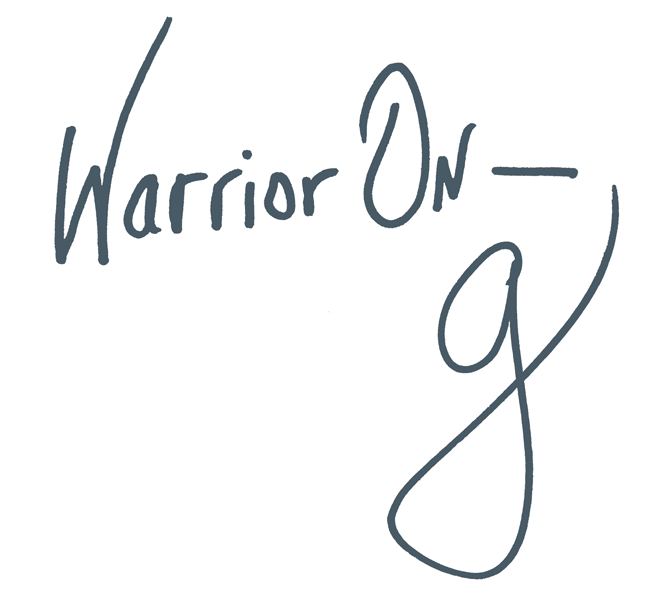 Author of the #1 New York Times Bestseller LOVE WARRIOR — ORDER HERE
Join the Momastery community on Facebook, Twitter, Instagram & Pinterest