Five years ago, the first line I wrote in the Foreword for my friend Rachel Held Evan's breathtaking book Searching for Sunday was this: "Whenever I want to scare myself, I consider what would happen to the world if Rachel Held Evans stopped writing."
Today marks one year since we lost her.
Here is the new Foreword I wrote for Searching for Sunday:
Years ago, I found myself waiting in line at a coffee bar in the lobby of a Nashville hotel. I was there to speak at a conference hosted by a local church with my friend and teacher, Rachel Held Evans. I smiled at the woman waiting with me in line and we started to talk.
She said, "I am here because of Rachel Held Evans. I flew here from two thousand miles away for some event for 'progressive Christians,' whatever that means. I'm pretty nervous. I never in a million years thought I'd show up at one of these things, but I packed myself up, left my family and came here alone. I'm here because I promised myself that once in my life, I'd be in the same room as my hero. And here I am. I am here because of Rachel Held Evans."
The earliest Christians used the fish symbol as their secret call sign. The symbol – called the ichthys – was made up of two intersecting arcs signifying a fish. Because the early Christians were persecuted by the Roman Empire, this symbol served to point believers in the direction of spaces where they could safely gather and discuss their revolutionary ideas, out of view of the religious gatekeepers whose wealth and power were so threatened by those ideas. It is said that during these dangerous times, a Jesus follower could draw the first half of the fish in the sand, and if another person drew the remaining half, the two knew they were in revolutionary company.
Today, nineteen centuries later, the name Rachel Held Evans is our call sign. When her name is spoken between two Christians, it means something. It means that there are some oppression-upending, power-threatening ideas to discuss. It means we are in revolutionary company.
The woman and I sat down with our coffee and she explained that she'd been raised in the evangelical church. She'd never seen a woman lead a service or a lecture or a family. She had been taught that men lead and women serve. This message slowly broke her heart. She loved and trusted Jesus so much. She didn't understand why Jesus didn't love and trust her back. One day, she dared to expose her simmering unrest and anger to a church friend. After she shared, her friend fell silent and left the room. She returned with a book. "This is Rachel Held Evans. Read this," she said. She placed the book carefully in her hands, like a key.
Rachel Held Evans freed herself from the hypocrisy, violence, greed, and bigotry of the religious gatekeepers. Then, she went back to free the rest of us. We followed behind her with our heads held high. And with some swagger, even. We felt safe behind Rachel – even when she took on giants – because Rachel always won. She always won because no one was smarter, braver, or more tireless than she was. When they used their words to scare, shame, and divide us, she stood before them – and with her stunning intellect, her bottomless love, her indefatigable faith, and her unmatched ability to use language, wisdom, and righteous fury as a shield to protect us – she slayed them again and again.
Then, she'd turn to us. She'd promise us that the giants of power, fear, and shame could never prevail because they didn't have truth on their side. Then she'd tell us the truth: that we were made in God's image and fully loved and fully free and that we were to use that freedom to free others. We believed her.
We'd find ourselves peeling off the self-shame and fear we'd been taught to carry and we'd begin to feel God's love once again. The God who has always loved us as we are, who was never locked inside institutional walls, who is inside every last one of us. The God Rachel spent her life loving so wildly. We'd finally look directly at that God, feel the warmth of her light on our skin and in our souls, and say:
"Here I am.
I am here because of Rachel Held Evans."
–Glennon Doyle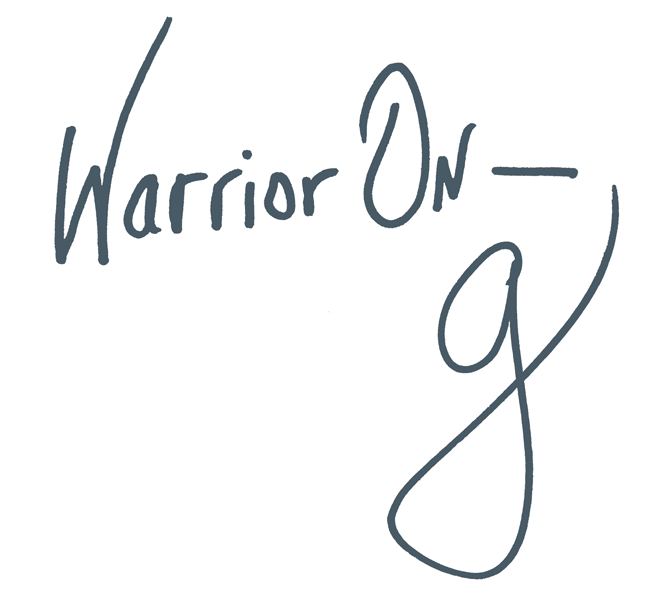 Author of the #1 New York Times Bestseller LOVE WARRIOR — ORDER HERE
Join Glennon on Facebook, Twitter, & Instagram