(photo credit: Teresa Kroeger)
Listen: The darkness has called forth the stars. We the People, we are together. Together we will say: In this country, we are our brothers' and sisters' keepers. Come for any of us, come for all of us. We are not afraid. We are patriots, and we were born to do this.
These are dangerous times. The values that we in this community have held dear for so long- religious freedom, racial justice, education, marriage equality, care for immigrants and refugees, free press – and truth itself – are at stake. If we want to pass a free and just America to the next generation, we will have to fight for it. This is the call of our times. History – and our children – will judge us by how hard and how smart we fight for what matters.
This community has made a major impact on the world – we've raised 7 million dollars of lifesaving aid, $25 dollars at a time – based on the idea that if we each offer our small gifts, and then we bind them TOGETHER, we can make a real difference. We have proven that this model works in the philanthropic world, with our dollars, and now we're going to use it in the social justice world, with our voices.
We will no longer wait for leaders to save us. We are the leaders. We are the ones we've been waiting for.
Every few weeks I will share with you an issue and a simple action we can take together to make our voices heard. Together, we will act. We will ACT with diligence and wisdom and creativity and love and unity.
The government works for us. And We The People will put our government to work. This is what democracy looks like – one call, one letter, one conversation, one meeting, one People's Executive Action at a time.
LET'S GET STARTED:  Our First People's Executive Action will take you five minutes today.
This Matters.
The Senate is voting on Trump's' pick for Secretary of Education, Betsy DeVos, and his pick for Attorney General, Senator Jeff Sessions — on Tuesday, January 31. The votes have already been delayed based on the public's outrage, but the confirmations are likely to go through without more pressure.
Here is background on DeVos and Sessions, and how you can best make your voice heard about whether these two people will run our Department of Education and Department of Justice.
DEVOS
• DeVos has never worked in the public school system or held public office. Her commitment to education seems limited to her advocacy of and financial contributions to religious and charter schools.
• In her confirmation hearing, she stumbled over basic education policy and declined to say that she wouldn't try to privatize public schools.
• She also said she opposes a blanket ban on guns in schools — citing one example of a rural school that might want to protect against "potential grizzlies."
• She displayed a complete lack of knowledge or understanding of the federal Individuals with Disabilities Education Act (IDEA).
• DeVos does not support the equal rights of students with disabilities to receive a Free and Appropriate Public Education as outlined in IDEA
• On the issue of sexual assault on campuses, she said it would be "premature" of her to commit to upholding the previous administration's Title IX guidance.
• Her confirmation vote was delayed due to the congressional ethics review revealing that she has 102 major conflicts of interest, including financial stake in for-profit education (including investments in private charter schools and a student loan company). Her family has donated in the realm of $200,000,000 to the Republican Party.
• The Hill reports, "No Republicans have announced opposition to DeVos. She is likely to be confirmed by the Senate, since Republicans hold 52 seats and only 50 votes are needed to win confirmation, with Vice President Pence breaking a tie."
SESSIONS
• In 1986, President Reagan's nomination of Sessions to a federal judgeship was rejected over racially charged comments he allegedly made as U.S. attorney in Alabama. He was only the second judicial nominee rejected by the panel in its 50-year history. He has called civil rights groups like the NAACP un-American, and has opposed the Voting Rights Act of 1965.
• He has a clear record of supporting anti-LGBTQ, anti-environment, and anti-immigrant policies. He opposes voting rights legislation and criminal-justice reform, as well as marriage equality.
• Sessions is one of the Senate's most hardline anti-immigration lawmakers. Sessions supports a ban on Muslim immigrants to America. Sessions is opposed to amnesty for the 11 million illegal immigrants currently in the US.
• As Alabama Attorney General, his actions banned Gay-Straight Alliances on Alabama college campuses as they were ruled First Amendment violations.
• He voted against the Matthew Shepard Act, which added to the federal definition of hate crimes to include violent acts based on sexual orientation and gender identity. He has supported a constitutional amendment to ban marriage equality.
• He voted against the Violence Against Women Act in 2013
• Sessions supported a complete ban on abortions after 20 weeks, which violates Roe v. Wade. He also voted against federal protections for reproductive clinics against violence.
• Sessions appeared to suggest, after Trump's infamous "Access Hollywood" video aired, that he wasn't sure grabbing a woman by the genitals would constitute "sexual assault."
• He has consistently voted against legislation that would protect equal pay for women, including the Paycheck Fairness Act and the Lilly Ledbetter Fair Pay Act of 2009.
WHAT YOU CAN DO:
IF YOU WISH TO MAKE YOUR VOICE HEARD ON DEVOS:
Today: PLEASE call one of the following Republican Senators (key in the confirmation vote) to express your opinion on the appointment. At least 3 of these Senators need to be convinced in order to block the DeVos nomination.
If you live in one of the states represented below, PLEASE call YOUR Senator, If you don't, pick one and call him/her:
Susan Collins (ME) 207.622.8414..&..202.224.2523
Lamar Alexander (TN) 615.736.5129..&..202.224.4944
Lisa Murkowski (AK) 907.586.7277..&..202.224.6665
Johnny Isakson (GA) 770.661.0999..&..202.224.3643
Orrin Hatch (UT) 801.524.4380..&..202.224.5251
Richard Burr (NC) 336.631.5125..&..202.224.3154..&.. 910.251.1058..&..828.350.2437
Michael Enzi (WY) 202.224.3424
Dr. Bill Cassidy (LA) 202.224.5824
Pat Roberts (KS) 202.224.4774
Tim Scott (SC) 202.224.6121
Rand Paul (KY) 202.224.4343
IF YOU WISH TO MAKE YOUR VOICE HEARD ON SESSIONS:
Call your Senators.
(Here are the Senators' phone numbers.  If you want to find out who your Senators are, look here.)
What you can say when you call: Tell your Senators what you think about the DeVos and/or Sessions nominations. Below are examples of what you can say if a script is helpful.
Here is the script I used when I called about DeVos:
Hello, my name is__________ and I am a constituent. I'm [AN EDUCATOR / A PARENT / AN ADVOCATE FOR EDUCATION]. I'm calling to urge [SENATOR'S NAME] to vote against the Betsy DeVos confirmation as Secretary of Education. There are numerous reasons to oppose her confirmation, but I'm concerned with her complete ignorance around special education. The Individuals with Disabilities Education Act — which DeVos did not know was a federal law — guarantees rights to both students with disabilities and to their parents. So this isn't just about civil rights; it's also crucial to families. IDEA and the ADA were both signed into law by Republican Presidents. Disability rights are not and cannot become a partisan issue, and [SENATOR'S NAME] will lose my vote if [HE/SHE] votes to confirm Betsy DeVos.
Here's the script my Sister used when she called about DeVos:
I'm ____________ a constituent. I'm <an educator / a parent / an advocate for education> and I want <Senator ____ > to stop the confirmation of Betsy DeVos. DeVos doesn't have an education degree or teaching experience. DeVos' skillset is commandeering public funding for private education. She was a key player in shaping the Michigan charter school system, which is severely lacking in oversight, demanding little accountability for how tax dollars are spent or how well students are educated. I don't want to see the same thing happen nationally, and I expect <Senator ______ > to take a stand for quality education. America's students and teachers deserve better than DeVos.
Here is what we said when calling our Senators about Sessions:
My name is _________ a constituent from [CITY AND STATE].
I am calling to voice my strong opposition to Jeff Sessions as the next attorney general of the United States. Senator Sessions has a clear record of supporting racist, sexist, anti-LGBT, anti-environment, and anti-immigrant policies. He opposes voting rights and criminal-justice reform, as well as marriage equality. I am asking Senator [NAME OF SENATOR] to vote against Senator Sessions' confirmation. Americans deserve an attorney general who will fight for all of us and we deserve better. I will be watching the vote closely.
And here is a suggestion from my friend, writer and mother of a son with autism, Nish Weiseth:
As a mother to an autistic son, I cannot think of a nominee more problematic to the protection of the disability rights of children than Betsy DeVos. Too many kids already don't get the services, interventions, and accommodations they need through public schools, due mostly to inadequate funding. Moving to a voucher system (which DeVos has a long and active history of supporting), where public dollars are taken from districts, would strip them of those already-hard-to-access services. This lack of services affects their development, academic scholarship, not to mention it would fail to provide them with a free & appropriate public education according to their need, a right guaranteed to them under IDEA, a law that DeVos proved in her hearing that she is unwilling to enforce. With Betsy DeVos at the helm of our public education system, I am gravely concerned about the future of my child. We can't let this nomination get confirmed.
This is how democracy works – one call, one letter, one conversation, one meeting,
one People's Executive Action at a time. THANK YOU.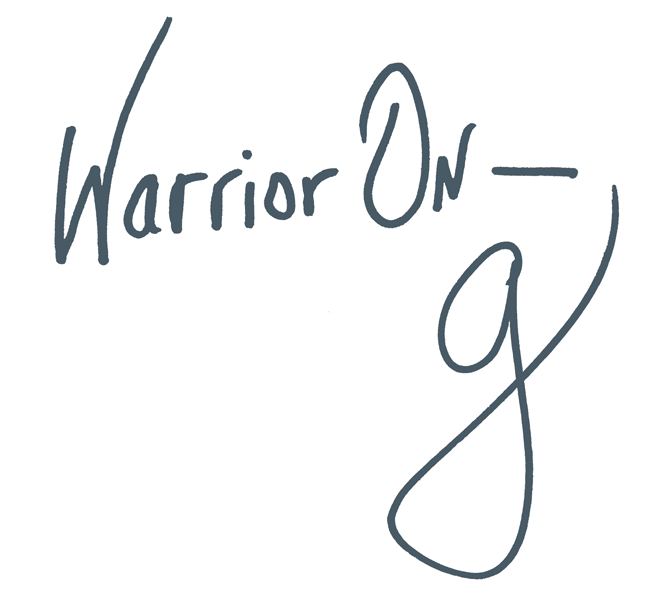 Author of the #1 New York Times Bestseller LOVE WARRIOR — ORDER HERE
Join the Momastery community on Facebook, Twitter, Instagram & Pinterest