For Billy
Hey loves. Look! This is what a survivor looks like.
It's World Suicide Prevention Week. My incredible friend Jamie at To Write Love on Her Arms is leading a brutiful movement to rain down hope on hurting people today. He wants us to take a moment to say to the world's canaries: IT'S OKAY TO FEEL TOO MUCH. Stay with us. We need you. It might not get easier- but YOU WILL GET STRONGER.
And so those of us who have been there- we're pointing to that moment in our life when we considered the exit door and we are saying: I  WAS CLOSE, TOO. BUT I HELD ONTO HOPE. AND SO I KEPT LIVING.
And we need you to keep living too.
YOU ARE LOVED.
So, there was this one night in college when things were really bad. I was so sick and couldn't really function and I felt so lost and broken. I was failing out of school and I'd just hurt so many people, so many times. And there is this thing that addicts think at times like these and it goes like this: This is IT. I've run out of tries. I can't ask for forgiveness again. I'm out of forgiveness. I've used up so much more than my fair share. I should do everyone I love a favor and just disappear.
So that's what I was thinking, there on the couch in that dirty basement alone. And that's when I thought of suicide. That's when I decided that suicide would keep me from having to face my people and my pain and shame yet again. And so I imagined suicide and it felt like scary, sweet relief and the imagining lingered much too long to be safe. It registered with me, kind of like how you find the exit doors in a movie theater before the show starts. Just in case. There they are. Kay. I know how to get out if I need to. Once the exit door registers for you- it never fully unregisters. You always remember where the doors are. Just in case the shame gets too heavy.
Effing shame. It's never the pain that takes us out of the game, loves, it's the SHAME about the pain.
But the thing is: That night in that basement, I imagined it–but I didn't do it.
Apparently the way you avoid suicide is not to become a different person (!) or fix yourself (!) or HEAL (?) or become amazing (!!!) yadda yadda. Survival is actually not that complicated or shiny or exciting. The way you avoid suicide is you don't attempt suicide. You just don't follow Despair's directions. You wait the despair monster out. You let it yammer away and try to scare the shit out of you and then you remember that despair is loud, but it's a LIAR.
Here is the truth: THERE IS NO RUNNING OUT OF TRIES. LIFE IS FOREVER TRIES. Every heartbeat is proof that you've got another try. Listen to me: If your people are tired of you, find some new people. Find a meeting. Those are some good people who know better than anybody that Life is Forever Tries.
This I demand of you: No matter how much you have screwed up, YOU MUST BE FIERCELY ON YOUR OWN SIDE. If you are not, no one else will ever, ever be. You must hold your jacked-up, medicated head high. You must remember that even if it hasn't been pretty, YOU'VE MADE IT THIS FAR. You must tell those shame and fear voices to BACK THE HELL OFF. Life is hard. You are being as brave and as good as you can. Pat your head for me right this very minute and then get yourself a cookie or four. Watch some television. Put on some warm socks. There you go- sweet, strong girl. We can do hard things. Like survive.
And then listen to me. One day, if you let the despair monster come and go and come and go and you refuse to follow his insane directions, you will learn this: Those with the capacity to feel great pain are also those with the capacity to feel deep joy. Those who fall hard, RISE gloriously. Those who are deeply wounded become the greatest healers. Those who come close to death often become those who are MOST ALIVE. You  might be one of the extra bad ones — but that means you are also one of the extra good ones.
See that picture above? Taken a few months ago right before I walked on stage to make a thousand women laugh and cry and Remember Hope. Am I able to do this because I beat the monster? Because it leaves me alone now? NO! Still speaks to me. It's just not the BOSS of me. I just say: Oh, shut up. You lie. Pain comes and goes like clouds. LOVE IS THE SUN.

If you're struggling right now, tell the monster to shut the hell up and listen to me for a minute: You are loved. No matter who you've hurt, you deserve forgiveness and you belong to us. There is a place for you here that was created for you before the world began that no one else on Earth can fill. You are a child of God and everything you have ever been or are or will become has already been approved. Please, please stay. Stay. First the pain, then the rising. You must stay for the rising.

I sent this picture to my friend right before I went out on stage.  There I am. Waiting. Listening to the crowd. Sweating. Feeling unworthy, uneverything.  So this is what the voice says to me at times like this: "Are you kidding me? You're gonna go out there? In front of all those people? And pretend you have something to say? Who do you think you are?" And for a second I panic.
But then I REMEMBER. And I say: "Me?  Who am I ? I am a child of God. Worthy of the space I take up on this Earth. And I have some things to say. So Here I go."
YOU ARE A CHILD OF GOD AND YOU ARE HERE BECAUSE YOU HAVE SOMETHING TO SAY THAT NO ONE ON EARTH CAN SAY FOR YOU. Tell despair to eff off. Don't leave us before we get to hear it.
I love you.
Canary On, Love Warriors.
; G
#IKeptLiving @TWLOHA
P.S. Please check out Jamie Tworkowski's  To Write Love on Her Arms Project — a non-profit organization to help people struggling with addiction, self-injury, depression, and thoughts of suicide.
If you need to talk to someone right now, please call the Suicide Prevention Lifeline at 1-800-273-8255.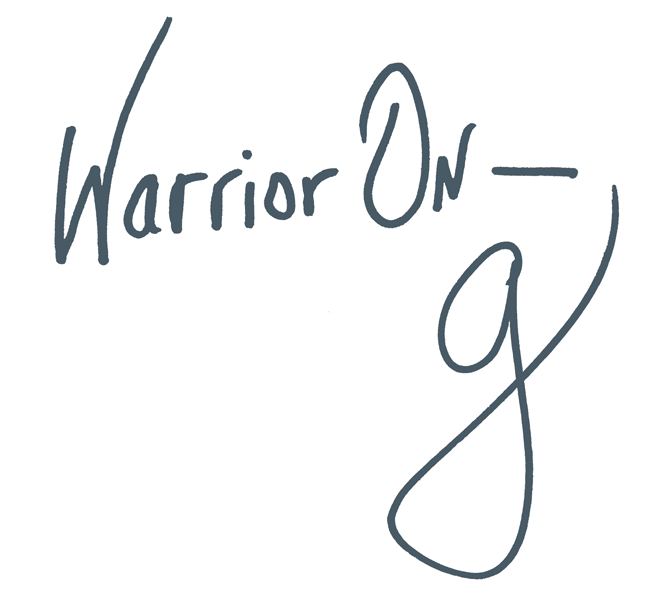 Author of the #1 New York Times Bestseller LOVE WARRIOR — ORDER HERE
Join the Momastery community on Facebook, Twitter, Instagram & Pinterest