The world-changing warrior looks at the world and then she looks into her heart. And then she asks: what is it out there that breaks my heart?
Each day, she runs toward her heartbreak, not away from it. And that makes all the difference.
The warrior knows that her heartbreak is her map. It will lead her right toward her purpose and her tribe. Purpose and connection are all we really need down here, and we find them both by following our heartbreak.
In times like this people see two options. 1. Silence or 2. Rage that adds fuel to the fire, letting it burn unchecked. There is a third way, a third way that we are actively working on making true. I've asked my friend and fellow Love Warrior, Momastery and Together Rising's Amy Olrick, to introduce it to you.
Let's choose the third way, together.
**********************************
I want to tell you a story—a story that begins in the most ordinary, American of places: an ice cream shop in an outdoor shopping mall, on a warm April evening in Florida. It's a story about two sets of white boys, three different choices, and a very distinct decision we are all facing.
On that warm April evening, my husband and I and our three boys piled out of our car and folded seamlessly into a long line of happy people spilling out of the store onto the sidewalk, waiting for ice cream. We nodded at the strangers pressed around us, made easy conversation with the group behind us and watched the people at the front of the line hold the door for each other. After we got our ice cream, we joined a larger crowd in the mall's gathering area, smiling at the kids running in and out of flowing water sprinklers.
Then, a disruption. A lifted pickup truck screeched into view, careening just yards away through the parking lot next to where we stood. We did not have to question the allegiance of the drivers—oversized flags for Trump and the confederacy flanked both sides of the truck bed. Two white boys leaned out the windows of the cab, whooping as they circled our crowd. The chattering conversation ceased. Once, twice, three times these boys circled, jeering with their tires screeching. We many bystanders glanced at each other, looked down, looked away. We were all suddenly quiet—separate in our thoughts, united in our inaction.
Once the truck finally pulled away, my husband and I stood still for a moment, then wordlessly ushered our boys over to a bench to process what had just happened. We asked them what it felt like to stay rooted in place while that truck circled past and if they had noticed the heavy quiet of the crowd. We wondered with the boys what this experience might have felt like for the people around us, especially the people who were not white.
We explained to our boys that, in those two boys, they had just seen what true bullies looked like, and what it felt like to see people be intimidated. That boys like the ones driving that truck want us to go back to a time in our country where people who think like they do have the strongest voice, and they were willing to be bullies to get their way. But we also looked into the eyes of our boys and told them that we are now living in a different time, and we have a choice to live differently. We promised our children that their mom and dad would join with others who were working to make sure that the kind of ugliness they had just seen would not win.
As I lay in bed late that night, I couldn't stop thinking about the events of the evening or ignore my mind's most pressing question: Why does it seem like it is only the bullies who can disrupt? What about the rest of us quieter, more thoughtful people—people who would pick up your children after school in an emergency, who volunteer at the book fair, who shovel each other's driveways when one of us has a bad back. Why don't we feel like we have the right to be loud, too?
And I thought about how I used to get an anxious, itchy feeling after watching a moving performance—I would want to jump up and cheer in gratitude and respect, but instead I just looked around, wondering—does anyone else feel like we should stand up, too? I used to be too contained to start the standing ovation, but I have found a way to let that go. Now, when stand up applause is due, I jump to my feet. And I'd discovered in the process that people follow. Every time I see someone stand up to applaud good work, I've noticed that they are soon surrounded by follow cheerers. But it always takes someone standing up first.
Largely through the incredible work of this community and Together Rising, I've also come to believe some things about love. Love is a present actor. In all the places I'm scared to go, in the situations that feel too big for me, in every suffering, with every single person who is isolated, mistreated, misunderstood, abused: Love is already there. Because love is not an absence. Love is a wise, strong, and courageous presence. Love bears all things, believes all things, hopes all things, endures all things. Love stands true in the midst of—not outside of—trouble and trial and hatred and fear.
Love Stands Up.
The next day I drove over to G's house, and we began to talk this all through together. About the boys in the truck. About the Muslim dad at my preschool who had confided to me that he was watching the news with concern, and that his wife was frightened. About another good friend who told me of the heartache she feels thinking of the discrimination her beautiful boys may face in this life simply because they are black. How this friend had asked me directly—Amy, what are people so scared of? And where is everybody?  Why wasn't she seeing more of her friends speaking out about all that is going on?
And now G and I were the ones looking ourselves in the eye, asking the one question that we knew needed an answer: What would it take to cause a love disruption?
We talked about how we know that being silent hurts us, that giving into fear hurts us, that adding negative fuel to the fire hurts us. But we knew there was another option as well: listening to and sharing the voices of good leaders, and being courageous enough to become those leaders ourselves. We were faced with three choices: Silence, Negativity, or Standing With Love.
It was time to make a decision, and to act.
We started by reaching out to our friend Brian McLaren, who in turn reached out to a group called Convergence. We all began contacting others—putting out feelers. Are you concerned as well? Do you agree that we should join together to do something? We got in touch with brilliant organizations and individuals who have been hard at work for years, spreading light and truth and hope with their words and their work.
Love Warriors, many, many people have seen the storm that has been gathering, a storm that would give hate, fear and racism more power than they are ever due. And so we've been gathering as well, joining our work together, lifting each other up. We are going to answer this storm with love. We believe that the only way we are going to get through this without anyone breaking is by banding together—remembering that we are one human family and that we belong to each other. Remembering who we are, that we were born for this, and inviting others to stand with us, too.
Today we want to introduce you to #WeStandWithLove, a campaign that will officially launch on September 15. Until then, we need your help to spread the word. The leaders of this campaign are a full range of faith leaders and poets and authors and activists, and—we hope—they are also YOU. Over and over again, this community—YOU—have led the way in revolutionary love. Your love has been relentless. Without conversation or overt coordination, you have become leaders of this Love Revolution. Your courage, your willingness to speak up and to act, to give of yourselves relentlessly, has allowed us to work miracles together.
Will you lead with us again?
Over the next three months, we will be using the #WeStandWithLove website and hashtag to highlight organizations, voices and events that speak to the power of love in the face of hate and racism. Churches, synagogues and mosques have joined with us, as well as people from outside the faith community who care just as strongly about these issues as we do. A 10-week curriculum will begin being posted next Sunday, September 4. This curriculum will join content that is already up on the website from a variety of musicians, artists, writers, and thought leaders. From the hip-hop artist 'Nique LoveRhodes to the Franciscan Action Network, from Will Anderson from Parachute to the Global Missions Board of the United Methodist Church, we are joining together with love. We'll have Parent-Teacher Resources and Sunday School lessons and we'll be adding more content as we go to build our communities up, together.
We are going to stand with love the only way we know how: with art and music and laughter and strength. We know that we all care passionately about important issues and we often disagree. But we also believe that we can make a conscious decision to stand up together against hate and racism and fear and violence. To declare publicly that, in spite of our differences, we will still show up for each other and for each others' children. And that, regardless of the outcome of this upcoming election, we will still stand strong, we will still be neighbors, we will still stand with love.
As we begin, we have ONE THING TO ASK YOU TO DO TODAY:
Please, take a few minutes to go to the #WeStandWithLove website and make a personal commitment to stand up for love in your home, your community, and our country. If writing something personal sounds intimidating, don't worry: an incredible group called Not In Our Town has worked with us to create commitment prompts if you would like copy and paste a prewritten commitment.
If you would prefer to compose your own commitment message, we would love for you to do that, too. You can read my own ineloquent pledge here. This project is not about perfect words—it's about raising our hands, together. Make your pledge and then ask your children if they would like to make a pledge as well. It can be a scary time for kids right now—let's empower them by reminding them that they have a voice here, too.
Once you've added your pledge, you will receive an email confirmation with the link to your personal commitment page. Please consider sharing your page across social media to encourage other people to join us in standing with love.
Courage is contagious. Let's show up and stand with love together.
Over the next weeks, please share this post and the We Stand With Love website with your friends and family members. Create posts of how you are reaching out to your community and your neighbors, and tag them with #WeStandWithLove. The We Stand With Love team will be resharing some of your posts on the We Stand With Love Facebook page.
Also consider changing your Facebook profile picture to one that shows you making the "I love you" hand sign. G has written eloquently about the importance of being hand-raisers, which is one of the reasons why we have chosen this symbol for our campaign. We love the idea of raising our hands with love together.
We have a choice. Will we be silent in the face of injustice, will we give in to the negativity, or will we stand with love?

Let's not give up. Let's tell all our friends and neighbors and teammates and colleagues—we see you and we've decided to show up. Together, we can show each other and the world what it means to lead.
Click here to go to the website and make your commitment now. Then please post your commitment on social media and tag #WeStandWithLove.
As for us and our houses, We Stand With Love.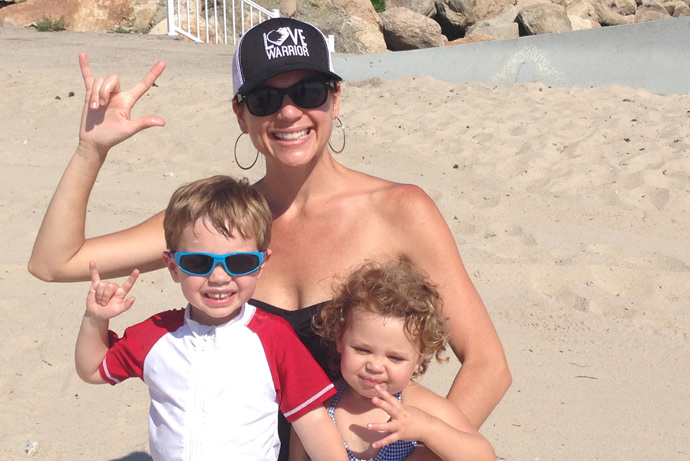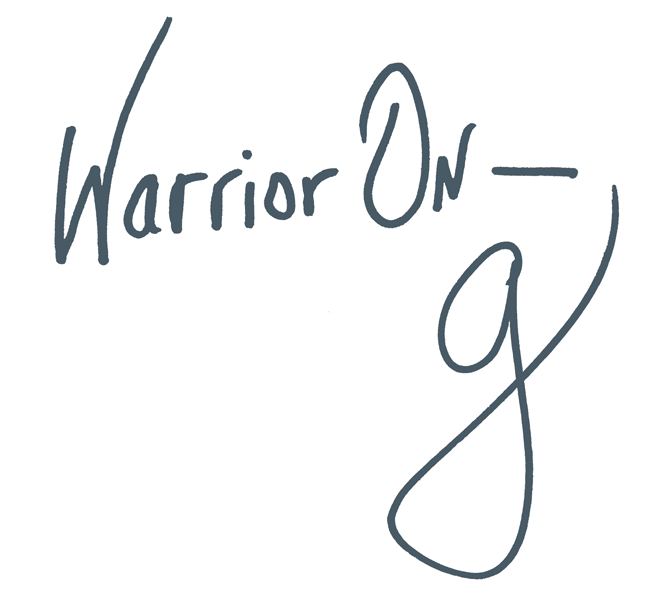 Author of the #1 New York Times Bestseller LOVE WARRIOR — ORDER HERE
Join the Momastery community on Facebook, Twitter, Instagram & Pinterest