I'm a little low and high and woo-woo these days so – good luck with the following sentences.
I've got these four special loves right now. They are teenagers who found me somehow- two are in substance abuse treatment centers, one's in a mental hospital and the fourth is in jail. Canary boot camps, you know. We write to each other because they're scared and achy but hopeful – ME TOO. These are my babies. My best people. They are becoming wounded healers. Aren't we all?
I write to these warriors in the mornings sometimes. I remind three of them to take their meds, damnit. I remind the fourth to do her meditation, damnit. I love them and I like them. They are in great pain and that's because they are paying attention. There is- in fact- much to be in great pain about. Not noticing that, not feeling it all- is no badge of honor we want to wear. So we let ourselves feel it all and we secretly think we're maybe a little more evolved than the average bears. We are a little arrogant about our crazy, honestly.
We remind each other to feel the pain but not kill ourselves about it. That's really the thing. We can't kill ourselves about pain as a preemptive measure. Because I remind them: SPOILER ALERT: pain doesn't kill us!!! So we don't have to kill ourselves first! We don't have to be afraid of pain actually. We can feel it and let it pass. Don't be afraid of pain- I tell them. ONLY be afraid of shame and fear. Shame and fear will take you down- but pain will BUILD YOU. Reject fear and shame: embrace pain-  I tell them. That's the journey of the warrior. And DON'T FORGET, my beloved canaries:  there is GREAT JOY to be felt too. There are zero awards for those who suffer without rejoicing. Cut that shit out, I tell them. It's boring. Noticers see all the colors of the rainbow. It's not DEEP to only notice the darkness. It's not. If you just cry and don't laugh I can't help you. Be everything, please. You'll never be too much for me, loves- but you gotta be ALL.  WHOLE. You can't be half. They giggle. I do see the light too– one said. Are we allowed to say that? It's not basic? Not basic, I say. The light sees you, too.
This morning I got an email from one of my rehab loves and she is hating sobriety. She said to me:
You are lying. Sobriety is not better than wasted. Wasted hurts. Sober hurts. It all hurts and what is the POINT OF THIS LIFE SHIT IF IT ALL HURTS?
How much do you love her? I love her.
I sent her this song. One of my deepest truest most brilliant friends played it for me a few weeks ago and my soul wept about it. "you've got a warm heart, you've got a beautiful mind…but it's disintegrating. From all the medicine."
It's just medicine, love. All the booze and the rage and the drugs and the overspending and snark and denial and war and empty sex and. . .  It's all just soul medicine. It makes sense you'd want to take it but baby- the problem is that your soul is not sick. It's just awake. You gotta let it be.  Medicine works if you're sick but if you're not: it doesn't heal you it KILLS you.
You can still be what you want to be, I tell them.
And listen: this is what I told one love this morning. It will only make sense if you're a canary, too. It will only make sense if you've ever begged someone to tell you: WHAT IS THE POINT OF LIFE IF IT ALL HURTS?
I told her this: Listen to this song baby girl. Listen to the words . . . but also listen to the music. Do you hear that? Honey: if the space around you became visible to you- if you could suddenly SEE the air surrounding you- it would look like that music sounds. The space around you is not empty- it's as full as that music. The space around you is soft and full and as forgiving as cotton. You are held. Cushioned. There is no emptiness around you. The air around you is not empty and it's not silent. Listen to those voices. They're angels. SOUND is surrounding you, honey. Like crystals hanging from heaven.  This is reality: You are not alone and you are not untethered and the space around you and inside of you is not empty. It's full and solid and safe. You are being held and grounded and you will not be let go. Ever. Not ever. Listen. I need to you keep listening till you hear and I need you to keep looking till you see and I need you to keep being still till you understand.
And she wrote back and said: This song sounds like God. I understand. I understand what you are saying and I understand this music. This is the first thing I've ever understood.  
And I said: Good. It's the only thing you'll ever need to understand.
I love you. You are held. There is no emptiness surrounding you. Only words and music and angels.
G
I love you. You are held. There is no emptiness surrounding you. Only words and music and angels.
G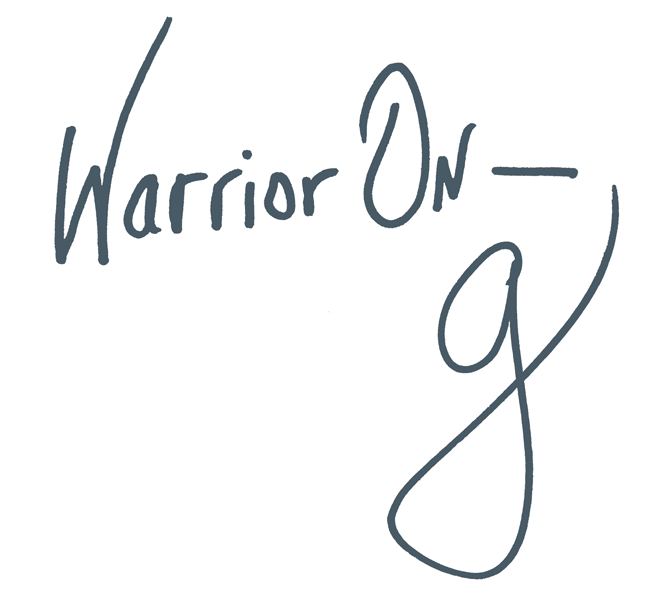 Author of the #1 New York Times Bestseller LOVE WARRIOR — ORDER HERE
Join Glennon on Facebook, Twitter, & Instagram