So, friends — Love Warrior will be released September 6. Love Warrior is the biggest, loudest, wildest truest thing I've put out in the world since Amma. I'm scared. Not just because of the content of Love Warrior — but because of the inevitable hoopla that will surround publication.
I was raised by Bubba, who kept two signs on our family room wall. The first said: Don't Be Humble . . . You're Not That Great. The second said: Don't Get Proud—the Size of Your Funeral Will Likely Depend on the Weather.
So, "Shiny, Look At Me!" times are just not my family's jam. They give me anxiety. Book release is a mountaintop time and I'm just never comfortable up there. On mountaintops the air's really thin and you can lose your balance and tumble pretty easily. I'm more of a valley girl. The valleys are where the river runs, where all the power is. I don't trust life up there, so the last book release was hard for me. Love Warrior is about forty times more raw and controversial than Carry On, Warrior is. So basically, in two months, I'll be BUCK NAKED on the mountaintop shouting LOOK AT ME UP HERE! Lord, have mercy. Deep breaths. I'll need you to stay close, please.
When a hard time is coming, we gotta prepare, right? We canaries cannot just let these times happen to us — we gotta make a plan to happen to them. We've got to be intentional. So I've been thinking what I can do to possibly handle the frenzy coming my way, which brought me to another thing Bubba always says: When you get to the party, dance with the one who brought you.
This is what brought us to the party: Love. Service. Sisterhood. Revolution. No mountaintops. No pedestals. Not Me . . . We.
Then so I asked myself the two questions I ask EVERY TIME I'm creating something new:
WHO AM I – PERSONALLY – IN THIS MOMENT?
WHAT DOES THIS MOMENT IN TIME — UNIVERSALLY — REQUIRE OF ME?
Who am I?
I am an artist. And an activist. And a connector. My art and activism is about love, healing, togetherness, upside-down revolution and introducing people to each other — because fear can't survive proximity.
What is this moment asking of me?
We are in a time of division, fear-mongering, tribalism, war. There is a certain brand of "love" that's being thrown around that calls for religions, classes, nations, and races to back further into their corners, to shut others out to protect what's "ours" from what's "theirs."
This is not the love of the Love Warrior. The Love Warrior believes — not in the kind of love that retreats, that hides — but in a love that reaches beyond. The Love Warrior reaches beyond her fear and her prejudice and her family and home and pain and perspective and neighborhood and borders and race and religion and ability and gender identity and sexuality to embrace the "other."
We are one human family but we are broken. Like a puzzle that's been scattered down here. The Love Warrior pulls all of us back TOGETHER. Because she knows that Love does not retreat. Love reaches beyond.
This moment in time is the moment for the Love Warriors of the world to rise up TOGETHER. We must define love as that which casts out fear of "other" and then let that kind of revolutionary, healing love flow from us to the hurting world like rain. We must love each other or die. That's what I know.
But what does that kind of Love look like? LIKE THIS, Y'ALL. IT LOOKS LIKE COMING TOGETHER. IN REAL LIFE.
There will be no book tour for me. THERE WILL BE A LOVE TOUR FOR US.
I don't want to talk about Love Warrior, I want to BE a Love Warrior among other Love Warriors healing the world in a million fierce, tender ways. You guys . . . here's what I believe: The healing the world needs right now will be found in feminine leadership. Not just women leaders, but in all leaders who believe in leadership rooted in listening instead speaking, learning instead of teaching, communing instead of competing, gathering instead of hunting, healing instead of fighting, We Instead Of Me. Divided we fall and Together,  we rise. So I and my precious, fierce, beloved sister Jennifer decided to plan a traveling rally — a tour that is a Love Warrior Battle Cry and a beacon of hope and a call to love and healing and revolution.
When planning we asked ourselves: What would it look like to ask those who've been marginalized to come to center stage to lead us? And so we gathered all kinds of women: black, gay, Latina, transgender, muslim, differently-abled, Jewish, Sikh, Buddhist, and yeah— me: the white Christian lady. We gathered people who operate with a specific kind of leadership that is unapologetically and fiercely and deeply feminine.
You guys. I want to cry. Look at the other co-hosts we found for you:
MY GIRL VALARIE KAUR.  Valarie became an activist when a family friend was murdered in a hate crime in the immediate aftermath of 9/11. At twenty years old, she set out across America to chronicle hate crimes against Sikh and Muslim Americans. She is an award-winning filmmaker, civil rights lawyer, and a pioneer in multifaith social justice.  She is FIERCE AND KIND AND LOVE AND the best speaker I have ever heard in my life. I kid you not. Watch This.  The BEST. And she is OURS.
And now. Meet the Rev. Dr. Jacqui Lewis.  I want to sit at her feet and drink in her wisdom.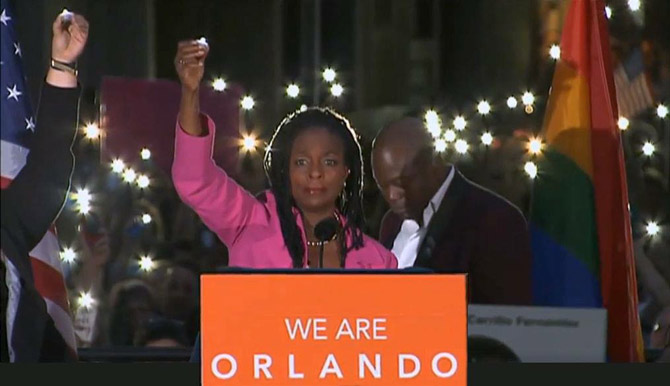 Rev. Jacqui is a pastor at Middle Collegiate Church in New York City, a long-time activist for LGBTQ+ and multicultural inclusion, and a Revolutionary Love Warrior genius. In her words:
"Revolutionary love acknowledges that we are inextricably connected one to the other. Such that when a baby is hungry in Africa, my stomach growls. Such that when a gay person is being transgressed, my straight black behind feels outraged. Such that when children have no health care, we all feel responsible to take care of the village and raise the child. I'm not just talking about love—I'm talking about Revolutionary Love. The kind of love that can fuel our movement. And this movement is built on the backs of ordinary everyday 7th and 8th graders, and mommies and daddies, and teachers and preachers, and lawyers and activists. This movement for love is built on YOU."
After the violence in Orlando, she shared this rap, this prayer, about how one day –when we celebrate our variety of race, gender, sexuality, and faith — we will "delight in the unique ways we see the world, and lavish love on one another. So much love as to cancel out the hatred."
And SEANE CORN. You guys- this one has been an activist since before activism was cool. She is — she is PEACE. She is a yoga ambassador and, with her organization Off the Mat, Into the World, she has worked with and raised millions of dollars for communities in the US, India, Cambodia, Haiti and Africa—teaching yoga, providing support for child laborers, and educating people about HIV/AIDS prevention.
I come into Seane's presence and feel peace: All is well and all shall be well and all manner of things shall be well. She is DEEP but she is also JOY! Look at her:
Valarie and Jacqui and Seane and Jennifer and I will be your hosts for this ride. WE ARE GOING TO RALLY. We are going to weep and laugh and yell and hug and sing together. We are going to pull leaders up on stage. We are going to pull YOU up on stage to to tell us your story and what is burning in your heart. We will share it all.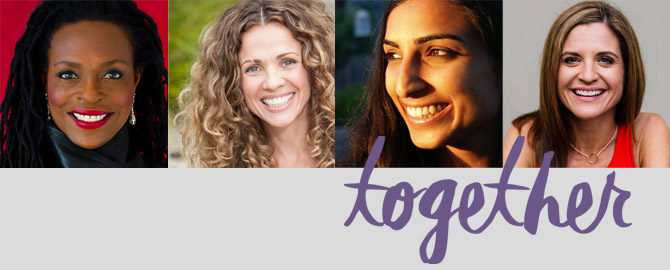 HOW DO WE HEAL? TOGETHER. That's how. EVERYBODY'S IN, BABY.
COME.
Portland, OR (9/28)
Los Angeles, CA (10/4)
Chicago, IL (10/6)
Brooklyn, NY (10/17)
Atlanta, GA (10/19)
Denver, CO (10/24)
TICKETS ARE AVAILABLE FOR US FOR PRE-SALE NOW (the rest of the world can't get them until 7/14). Click here to get yours and join this Love Revolution in person with us. And if you want to load up your car with your friends, neighbors (or your whole neighborhood), you can call Maggie for details on how to get a group discount. Call or email her at 1-888-550-8955 or [email protected]
We will also have very, very special guests joining at each of the stops on the tour — I can't wait to tell you who they are (more on that very soon). And next year they'll be more dates. We have only just begun. We were MADE FOR JUST SUCH A TIME AS THIS.
There is a plan to bring love and unity into this moment of uncertainty and fear, and that plan is us. Together. We are the ones we have been waiting for.

Fear should be very, very afraid.
Because Love is on its way.
G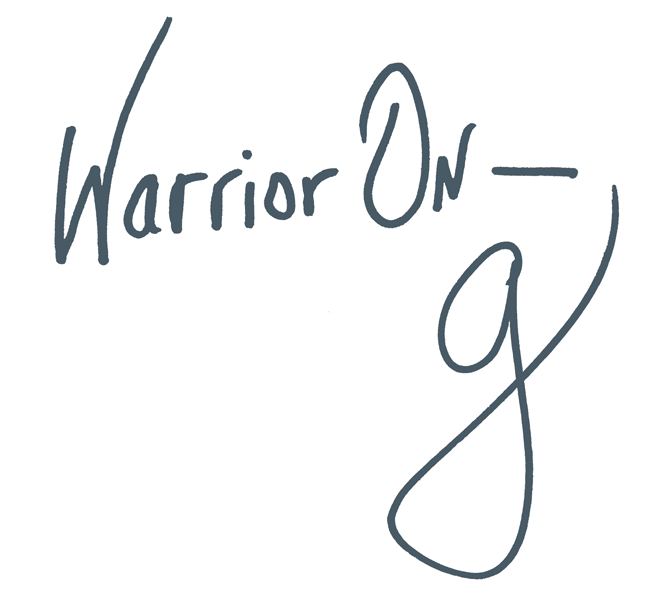 Author of the #1 New York Times Bestseller LOVE WARRIOR — ORDER HERE
Join the Momastery community on Facebook, Twitter, Instagram & Pinterest