A few months ago, Amma got sick. She was sick for a week — the kind of sick that means really high fevers and fear. I held her for days and kissed her hot forehead and all I could think about was how lucky we are. Because it was a hard time, but I knew she'd get better. So as I held my Amma — half my heart was with her and the other half was with you parents who spend your weekends and holidays in hospitals, who hold your babies while they cry and can't promise them: you'll feel better tomorrow, honey. This is how gratitude is for me: always a little bit painful. Because when I am grateful for food, I always remember that someone's hungry. When I feel grateful for family, I always remember that someone is lonely. When I feel grateful for peace, I always remember that a mother somewhere holds her baby in a war zone. I think: I am so grateful I have this. I so badly want this for everyone. I am starting to wonder if love and pain are the same thing. I can't seem to feel one without the other anymore. Life is brutiful.
I kissed Amma, and with one arm still wrapped around her — I wrote this update.
And then I watched as the comments starting coming in. Parents started leaving their babies' names. Name after beautiful, beautiful name. And I sat for a while and cried. I felt such deep compassion. Not pity. There was no pity. You don't pity an army of warriors, for God's sake. You just stand quietly in reverent awe of how hard life is and how brave people are.

My heart just broke open wider with each new name that appeared on my screen.
Heartbreak is not a mistake. It's not a problem. Heartbreak is a holy gift — an invitation from
God.

Heartache is a signal to you that you've stumbled upon something worthy of your life. Do not run, do not turn away: follow your heartbreak. The broken road is the road less traveled. Take it, walk it, it will make all the difference. Everything beautiful starts with a broken heart.
So I just sat and stared and let my heart break for a while. And then — this is what happened: this is what ALWAYS happens when we are still with our pain — it becomes fuel. My hands started to feel restless. I felt the desire to DO something. Ah yes — I remembered: compassion is not Your pain in my heart. That's pity. Pity helps no one. No, compassion is your pain in my heart and back out through my hands.

Feelings are just energy. Eventually — we have to make something with them.
I pulled out a stack of blank paper and started writing. I started writing down every name coming in on the facebook page. Hundreds and hundreds of precious names. I wrote them down 'till my hand cramped and paper covered my office and I was all sweaty and teary. Sister called and said: "Glennon. You're still writing? They have APPS for that. You have so much to do!"
But our work isn't about what we get done — it's about what we become.
Spending a day writing all those names made me BECOME something different. It made me a sister to all of those mothers. A mother to all those babies. It made them kin to me. And the Kingdom of God is that realm in which we live like every last one of us is our family. Like we actually belong to each other.
I have to believe that We Belong To Each Other. I have to. And so every day, I find ways to make that REAL. We have to earn that belief. It doesn't just fall in your lap. We don't really BELIEVE something is true until we are actively making it true.

My friend stopped by five hours after I started this love project and she said: lord. You are so loving to do this for them. And I said No, no, no. I don't do these crazy things because I'm loving. I'm loving because I do these crazy things. Love is not a feeling. Love is the result of hours and days and years of using your hands and heart and mind to show up in a million different ways for other people. We don't wait to act until we feel loving — we act so that we will feel loving. You don't wait for love – you create it.
During hour four of name writing – a message came into my inbox from a woman I follow on IG but have never met. She runs a feed called Liss Letters and she does gorgeous lettering. She'd been reading all the names, too. And her heart broke and she did not run from it – she made something with it. She sent me a beautiful printable with the quote: Life is hard but they are brave. And as I looked at what she sent I realized what needed to be made. A family roster with all our babies names that I could hang in my home. So I started typing up my handwritten list. I typed up every single name and by dinner time I was done. I sent the list back to Liss and asked her to add the names to her art. She did. She sent it back and it was so beautiful. I sent it to Amy and she turned it into a poster for me.

But then, the next day — a woman wrote to me. A woman whose baby couldn't be on our list because she already died. G, Will you make another poster? She asked. With our babies' names? With the names of the babies' who were taken forever from their parents' arms?
So, then — I collected those names. Our team could barely communicate with each other that day.
And Liss Letters helped me make this poster.
The quote is from a mother who wrote four hearts and then the words: I ache. The hearts on this poster symbolize babies who were taken before they were named. And I looked at her four hearts and her: I ache and I thought: There is nothing I can do about your ache. You will ache forever. But there is something I can do about the I. I can make it a we. We will ache with you. Your sisters and brothers will ache with you.
These posters are on my wall now. They are the first things I see every morning. Sometimes when no one's home I say their names out loud. My kids pray for them at dinner. They are with me early in the morning as I write and late at night as I wrap up for the day. These babies are mine too, now. Ours. They have become real to me.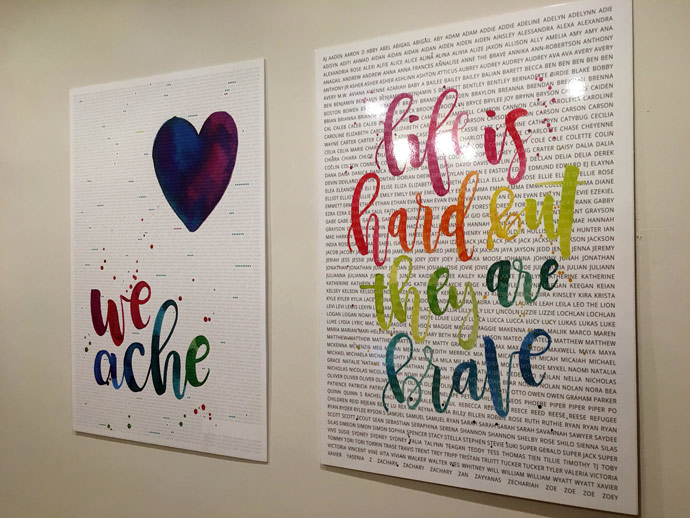 These posters are a sacrament — These posters are a SACRAMENT. Something visible I've made that point to invisible realities I believe in, which are:
We Belong To Each Other
Small Things With Great Love Will Heal The World
There is No Such Thing as Other People's Children.
Your babies are our babies. And I stand in awe of your love and pain. It's not fair that your baby was taken or that your baby is sick. It's not fair. I'm so sorry. Just know that you are seen and you are not alone. We ache with you.
My loves: print these out. Add the names you need to add. Hang them on your wall. Say prayers for them or send energy to them or read them. Teach your children that you hang these names in your home because home is for family — and we are all family. Teach your children what a sacrament is — and build a home full of them. A home that says: this. This is what we believe. So this is what we DO.
What do you believe to be true about the world?? What can you do today to make it real?

On Earth as it is in heaven??
I Love You and your children. For REAL.
G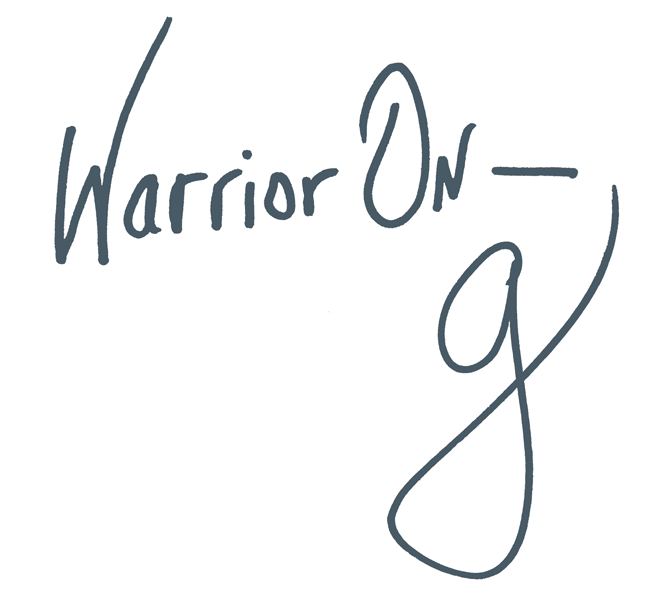 Author of the #1 New York Times Bestseller LOVE WARRIOR — ORDER HERE
Join Glennon on Facebook, Twitter, & Instagram