Hello Friends.
Just received this message:
I am a Christian. It is a basic tenet of Christianity that Jesus is the only way to God. Do you believe that or not? Are you even a real Christian?
Well. First of all, I love you—thank you for caring enough to ask me this question.
Do I believe that Jesus is the only way to God?
Yes and No.
One of my favorite definitions of faith is from William James, who defined faith as: "a belief in an unseen order of things."
The way I think about that is this: There is an order of things that we can see happening around us. A visible, obvious order of things. Turn on the news to get a glimpse. It looks like: war, hunger, division, inequality, pain, separation, destruction. We can see it in front of us as reality but something inside of all of us rejects this order of things. We know it's JUST NOT RIGHT. We know there's another way. A better order of things. One we can't see yet but we know deep in our bones.
The better way, the underneath perfection of things that I feel deep in my bones looks like this: There is no war. All hungry people are fed. All lonely people are loved. All sick people are healed. Our Earth is nurtured instead of ravaged. All homeless people are sheltered. All orphans are cared for. All widows are defended. All cold people are warmed. All children are adored. People of all races, religions, genders, sexualities, cultures, and abilities are valued equally in our one human family.  There is Justice. Peace. Love. Equality.
This sort of unseen order of things — in my view — is heaven on Earth. Christians might call it the Kingdom of God. My Jewish friends call it Shalom while my atheist friends call it Love or Peace. Lovingkindness. Our Buddhist brothers and sisters might call it. ALL PEOPLE who are working to bring the above unseen order of things to Earth now — whether they are atheist, Jewish, Buddhist, Hindu, Muslim, or Christian — THESE people are my faith partners. I don't really care what label you give yourself, I care about the unseen order of things you believe in and are working towards.
So, for example — if you are a Christian working toward an order of things in which the rich get richer and the poor get poorer — in which people of certain races and religions and gender expressions and sexual orientations are denied civil rights — in which war is glorified – in which the Earth continues to be sacrificed for money, well — I have less in common with you than I do with a Jewish person who is working towards the Shalom I understand to be heaven on Earth. We are moving in very different directions, indeed.
I believe that the way of Jesus is the way of Love and the way to God; and I believe that the way of Jesus is humility and service and peace and justice and equality. It feels to me like there are lots of people yelling Jesus' name who are not following his way and plenty who have never uttered his name who are following his way beautifully. Do I think people need to follow the way of love and humility and service to see God? Yes. Do I believe they have to CALL this way Jesus? Do I believe that salvation is a matter of semantics? No.
And yes, I know that fundamental Christian thinkers will be very angry at me for this essay. And that makes me sad, because I love them. But I just don't think fundamentalism is working for our world. Just not on any level. It is not bringing peace. It is bringing war and pain and has always brought war and pain. The only chance we have for peace for our children is to stop preaching and converting and start listening and respecting. We have to stop being so loud and certain and start being humble and meek. We have to stop trying to change each other — by word or by sword. We just have to lay it all down.
But if we want a little scripture to support the idea of disregarding labels — we could look at Matthew 7:21.  "Not everyone who calls out to me, 'Lord! Lord!' will enter the Kingdom of Heaven. Only those who actually do the will of my Father in heaven will enter."
Do I think this scripture is a threat of hell? Hell no. I don't think any scripture is a threat — I think scripture is an invitation into an unseen order of things that is truer than anything we can actually see.

I think likely, the kingdom of heaven Jesus is referring to is here and now as well as later.
Perhaps Jesus is saying: Do you want to see miracles? Do you want to enter the realm of God right now, right here? Would you like to see the perfect unseen order of things manifest itself on Earth as it is in heaven? Then look at my life to discover what that perfect order is – and work to make it so.
Feed the hungry. Clothe the poor. Invite the outcast to the head of the table. Give away everything you own. Beat your swords into plowshares.
Do you believe in heaven? That's an interesting question. This one's more interesting to me:
What KIND of heaven do you believe in and are you WAITING for it or WORKING for it?

My brothers and sisters are all those not only waiting but working for the will of God. Clothing the naked. Bringing water to the thirsty. Freeing the oppressed. Laughing. Crying. Paying attention. On Earth as it is in heaven.
G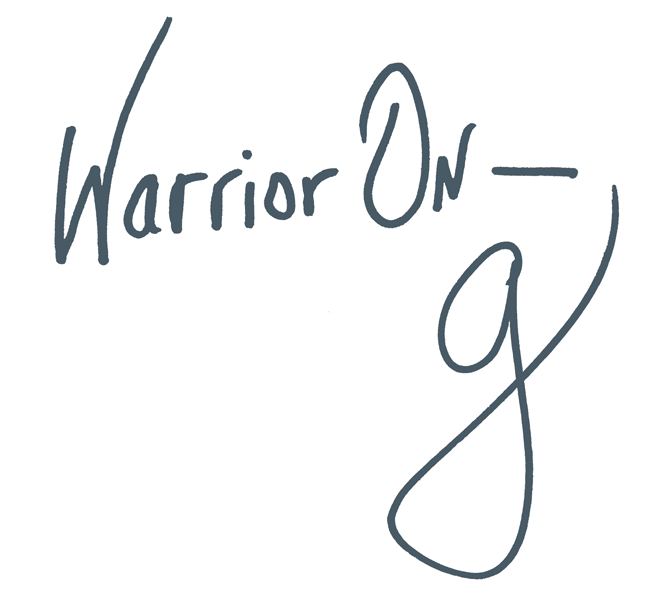 Author of the #1 New York Times Bestseller LOVE WARRIOR — ORDER HERE
Join the Momastery community on Facebook, Twitter, Instagram & Pinterest