As I was preparing to travel to Mars Hill Church in Michigan, I checked our page and saw this message, from Sheila.
I started digging in. I learned all I could about Flint—and then all I could about the conditions of the Detroit Public School system. I felt heartbroken and angry—which is how I knew I was on the right track. Heartbreak is my map and anger is often my fuel.
I started an email chain with Sheila and Amy and Liz and Sister and Allison. We began Love Ninja-ing together. We made a plan. Amy found some of the teachers from the articles I read. She asked these teachers to make wish lists for their schools and told them Together Rising would fulfill them. We invited the teachers to come to the Mars Hill event as my guests.
Sister and I got to Mars Hill.
Two thousand of us came flooding through the doors.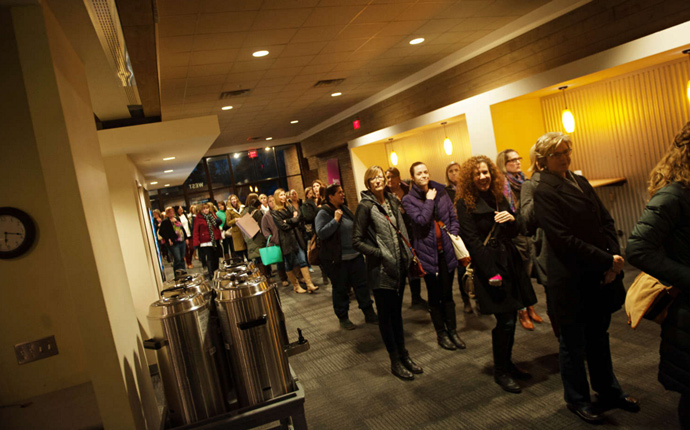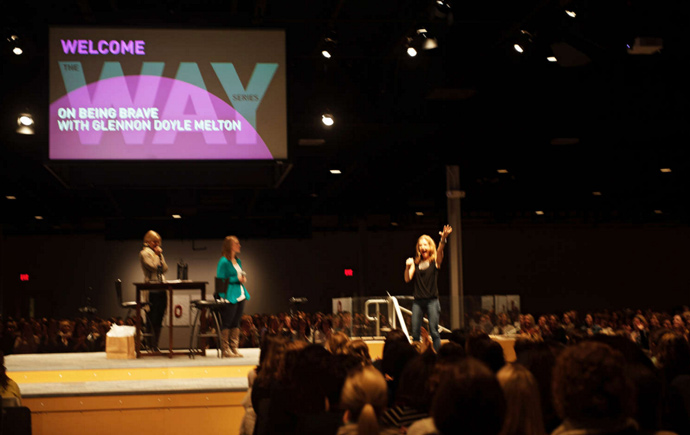 We talked about life and love and loss and we laughed so hard that one lady in the front almost choked and her friend had to beat her on the back to revive her and I had seven heart attacks.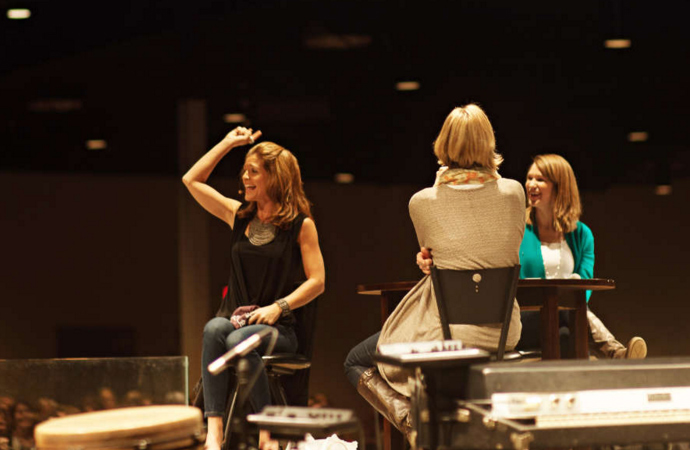 And then, near the end of out time together—Christine, the minister said:
G: Tell us about your faith. How does Jesus make you brave?
And I looked out at my 2000 beautiful, beloved, divine, mostly white sisters. And I saw Shelia. And I saw Lakia Wilson, the Detroit guidance counselor in the video Sheila had sent to us. Along with Lakia was Sheila Turner and Samantha Hoskin, two social workers from Spain Elementary-Middle, their school in Detroit. These were teachers and counselors striking—holding a Sick Out to bring attention to the deplorable conditions in their school. Lakia, Sheila, and Samantha told me that they'd taught at Spain for decades. They told me with fierce, steady, tender eyes that their students try to learn while getting nosebleeds in their heavy coats because of the cold. No heat, no air conditioning, no water fountains. The pipes are insulated with asbestos. There is black mold in the gym. Students write with pencils that are nubs. There are cockroaches and mice running across the floors of the classrooms. They haven't had new text books for years. If they want to teach from books—teachers are told to photocopy old ones. They can't copy old ones because there is no printer ink. They have less and less personal money to buy printer ink and new pencils and books for their students because the staff is just constantly, just constantly taking pay cuts. The teachers at Spain do what they can with nothing, because they love their children. And then folks from the state come to scold them about their students' test scores.
"I love these kids so much," Lakia told me. "I've stayed for twenty years for the kids, and now I have to leave for the kids."
And I looked at these three women sitting there in the audience—true heroes in every way to me.
This was the moment I  was supposed to tell them that the wish list they made for their school—thousands of dollars worth—would be fulfilled by Together Rising. Because, of course Together Rising is fulfilling Spain's entire wish list. And Lakia and Sheila and Samantha were supposed to be surprised and happy and say thank you and everyone was supposed to clap and we were supposed to have ourselves a feel-good moment.
But as I sat up on stage and looked at these three warriors I realized: Wait. A feel-good moment is not what is needed here.
An uncomfortable moment is what is needed here.
And I took a deep breath and said:
"One way Jesus makes me to brave is that He keeps sending me to places I don't know well to talk about hard things. To start uncomfortable conversations. And I think I'm going to do that now. I'm scared and I'd rather keep things easy and personal and funny because I'm sure I'll mess this up, and I'll probably lose some of you. But I think this is what I'm here to talk to you about—and I hope you'll stick with me.
My faith tells me that the kingdom of God comes to Earth when we treat each other like one family. Like Kin. And I think a family can only be healthy if there's open dialogue about tough things. I think a family can only be healthy if it's a safe space to ask questions, to screw up and hurt each other and forgive and try again.
And most importantly—I think a family can only be healthy if all its members are equally valued, cherished, validated, seen and loved.
My job is to look hard and listen closely and then to tell stories about what I see and hear. So if I'm doing my job well tonight—I have to tell you—that when I listen to the Flint community, when I look at the Detroit Public school system – the story I see unfolding is one in which entire communities, entire cities filled with our children and sisters and brothers are being forgotten.
Worse than forgotten, in the case of Flint. Actively hurt.
I just can't for the life of me imagine how those kids in the Detroit Public School system could look around their decrepit, dangerous classrooms and believe that WE BELIEVE they are equal. Worthy of all the good things we demand for the children in our immediate families. If our kids' classrooms looked like theirs—we'd be up in arms. We need to be up in arms, then. Because OUR kids' classrooms DO look like this. The Detroit kids ARE our kids. There is no such thing as other people's children.

We need to focus on serving those FIRST who have been served LAST—or not at all. The last shall be first. That's the kingdom. That upheaval is counter cultural and so it can make us uncomfortable—but that's the truth of what Jesus called for. That's heaven on earth. The Christian faith demands that we find God's children who are not being valued and stand with them in dangerous, bold ways. To level the playing field. That's the work.

"If we have no peace, it's because we've forgotten that we belong to each other."

We can tell who we value by looking closely at schools. When there is such a blatant difference between one school system and another just twenty miles away—we can be sure that have lost our way. We have forgotten.
The two most repeated phrases in the Bible are: Fear Not and Remember. I love the word remember. Remember can mean to recall an old idea but it can also mean the opposite of dismember. It can mean to come back together. We are one human family and we need to come back together. We need to remember. Maybe, like most places—Michigan is dismembered and tonight is about remembering.
I'd like to introduce you to three of your sister heroes.
Lakia Wilson. Samantha Hoskin. Sheila Turner.
These are your heroes. These are the ones who are working every day to get our undervalued family members valued. They need you to join them. They're doing the work and its hard and scary and they can't and shouldn't be fighting this fight alone. They need their sisters beside them. And more importantly—you need them. Without them in our lives we are not whole. They are role models and leaders for us. When I go—ask them to help you remember.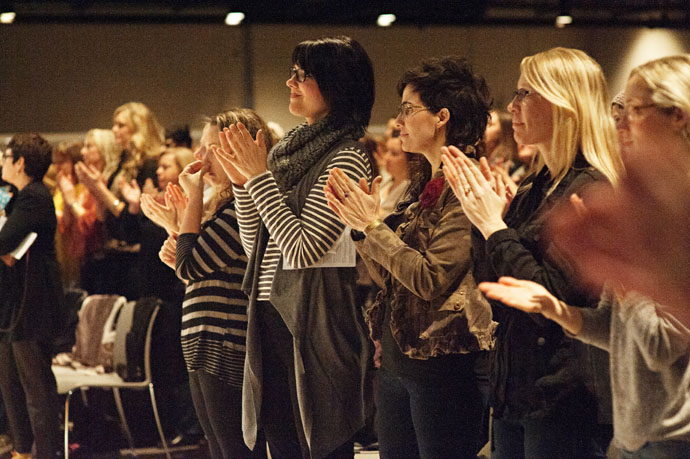 I love you Michigan. I miss you already. Thank you for being so brave and so kind.
**Photo credit for all images, with gratitude, to Lisa Ruff.**
FEAR NOT. REMEMBER.
G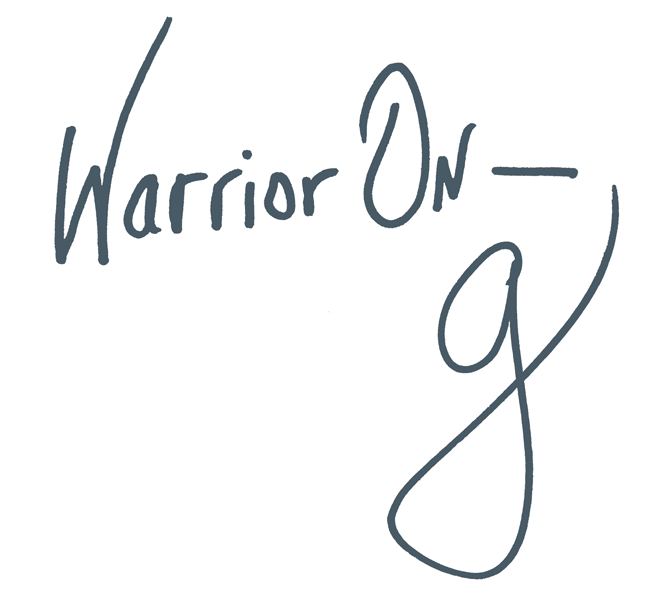 Author of the #1 New York Times Bestseller LOVE WARRIOR — ORDER HERE
Join Glennon on Facebook, Twitter, & Instagram