Dearest G,
I need advice. I'm a writer and a year ago I started a blog. Now I want to quit. It's not what I thought it would be. I feel like my writing is either ignored or criticized. The criticism is what's getting to me. It feels like every time I put myself out there—every time I show my heart—somebody criticizes it. And I just feel tired. I don't know if it's worth it. I'm asking you because you get so much more criticism than I do, but you never stop. How do you keep going? I don't know how much more I've got in me.
Love,
Exhausted & Jaded
Dearest Jaded,
Sister, I know this one!!!
Okay. I went to your blog and your social media platforms. BEAUTIFUL WORK. You are, indeed, an artist.
Here is the problem. Here is why you are so tired and you want to quit: You are doing more jobs than the jobs you have as an artist.
This is what I noticed about your creation rhythm: You write a beautiful, you-filled piece—you create. Then you post it—you give it to the world. So far so good.
But actually, Jaded—you don't really give it. You don't release it.
You hang around your art. You follow it around and make sure everyone is being nice to it. When someone comments negatively, you argue. You defend your art. You become your art's lawyer, or its babysitter, or maybe its secret service agent. THAT is what's making you tired. Because you are not a lawyer or babysitter or armed guard, you are an artist. You have taken on too many jobs, Jaded. No wonder you're exhausted.
When I started Momastery eight years ago—I made a few rules for myself. One was that I would never defend my art. I would not follow it around and babysit my writing. I already had three kids, Jaded. Children we must look after. Art is a big girl. Bigger than we are. So for eight years, I have never spent my limited time or energy defending a piece of my writing. Even when my work is misunderstood, even when I've felt attacked, even when I wanted to fire back at somebody so bad that my fingers ached and I had to take deep breaths—I didn't sit down and argue. BECAUSE I HAD THIS RULE. My rule was, as our precious Liz would say: ONWARD. And that's why I'm still writing. Because artists have limited energy. If we use that limited energy doing jobs that aren't ours, we'll quit. Artists quit all the time and it's not because they weren't meant to be artists: It's because they weren't meant to be lawyers.
I noticed a strong Christian theme in your writing. I'm a Jesus freak, too. Maybe we could think of it like this: You know Genesis—the creation story? If we look at that story for hints about how the ultimate creator creates, we find this.
The Rhythm of the Creator:
God created the seas. God called it good.
God created the land. God called it good.
God created the animals. God called it good.
God created light. God called it good.
God rested.
What if this is a guide to the creative life, Jaded?
What if the rhythm to the creative life is: Create! Call it good! Rest!
God did not create the seas, then poll the internet about it. God did not create the land, then stand by the land making sure nobody looked sideways at it. God did not tap folks on the back asking them to "like" God's light. God did not ask anyone outside of Godself if the creation was good enough. God made it—so GOD called it good. Then God moved on and created more good things.
Here we learn that the one who decides whether the creation is good enough is the creator.
The way my art works is this:
I get an idea. It feels like a little seed inside of me, taking root.
It start growing and growing and maturing and gets so big it starts pushing out of me. I love this part I love, I love, I love this part. I feel so FULL. Kind of like I really, really have to pee. Ready to explode. This is the BEFORE.
Then, when I can't take the beautiful pressure anymore—I sit down at the computer and it comes out. It pours out onto the screen and the good news is: Now it's out. The bad news is: It looks like crap. So I have to work. Hours and hours of work is what turns a pouring out into actual art. THIS IS THE DURING.
When it's finally art, I read it. I see that it's good, because I answered the call. Then push it out into the world. I give it away.
That's it.
THERE IS NO AFTER.
It's not time to follow my art around, making sure everyone gets it. It's not mine to protect. I gave it away.
Now it's time to REST.
So I rest and wait for the BEFORE TO START AGAIN. I wait for the pressure to start to build again.
All the magic of art is in the BEFORE, THE DURING, and the REST.
Artists who spend time and energy in the imaginary AFTER tend to quit. Once again–not because they weren't meant to be artists–but because they weren't meant to be lawyers.
Precious Jaded: You do have enough energy to do your work. You just don't have enough energy to do…not your work—AND your work.
Jaded: Write these three reminders down next to your computer:
Artist's Instructions:
Create!
Call it Good!
Rest.
Also this:
"What others think of me is none of my business. " – Dr. Wayne Dyer
And maybe this, for when you're feeling sassy:
HATERS GONNA HATE.
CREATORS GONNA CREATE.
I love you, Jaded. WRITE ON.
G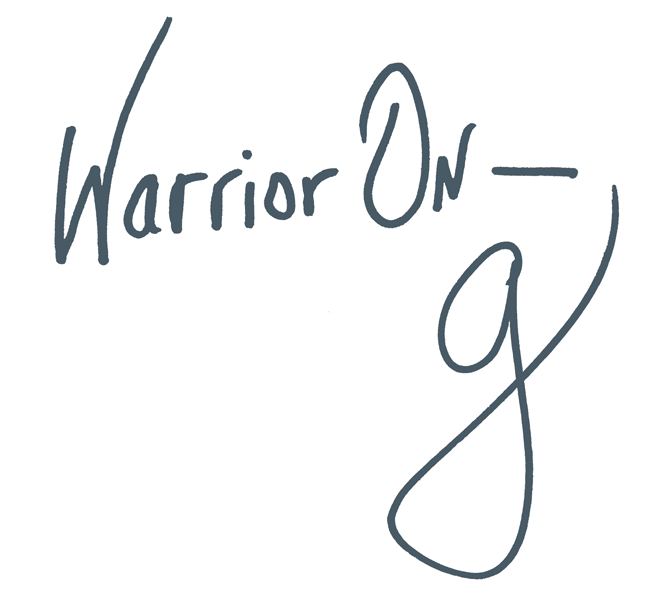 Author of the #1 New York Times Bestseller LOVE WARRIOR — ORDER HERE
Join Glennon on Facebook, Twitter, & Instagram