It's 5:30 am. I fell asleep at 3:00 am. I've got this fire inside of me. I've had it since I was a little girl and it doesn't seem to be going anywhere. Until I found A Life of Service, I didn't know how to use my fire to light and warm the world instead of burn myself up.  Now I do. Love has made my fire useful.
Sometimes I feel nervous about revealing to you how deeply I love and need this community because it feels slightly crazy and totally uncool. But it's quite early in the morning here and very dark and silent and that always makes me feel safe telling the truth. Everyone should write in the dark. The truth is that being part of this circle of friends has healed me. You have HEALED me. Before I found you I did not understand my place in the world. Now I know where I stand and I know to whom I belong. I stand with Love and I belong to You. I am committed to Love and to You forever. If I could take vows to Love and You, I would. Actually—I will. I vow to keep showing up and revealing my heart and my strength and my weakness and my good and my mess. I will do my best forever to get us through this difficult, baffling, beautiful life together. When we are ninety years old—we will still be laughing and crying together. That is my prayer and my plan.
My little family celebrates Christmas. It's coming. If you turn on the TV, you could be convinced that Christmas is about toys and shiny things. But Christmas is really about a precious, poor Middle Eastern family. It's about a man and a woman and their little baby who had God inside of him. That baby grew up and taught us so much about fierce and tender love that I can cry just thinking about him. Before he died, he left us instructions about how to respond to those who are hungry and homeless and despised and forgotten. He said: Whatever you do for the least of these, you're doing for me.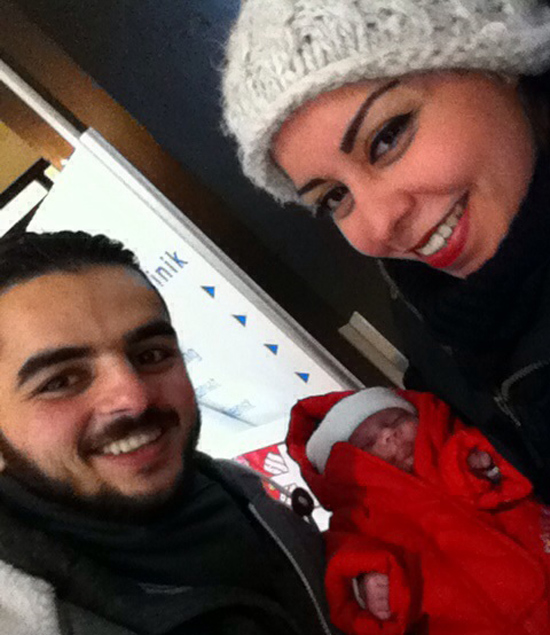 Care for them. Love them. Give to them. And when you clothe them and feed them and love them—you clothe and feed and love me.
This year, the Christmas story isn't ancient history. The Christmas story is unfolding in real time. Once again—the world is deciding if we will feed and clothe and love little ones with God inside of them.
Like these little ones. They are Jesus. They have God inside of them.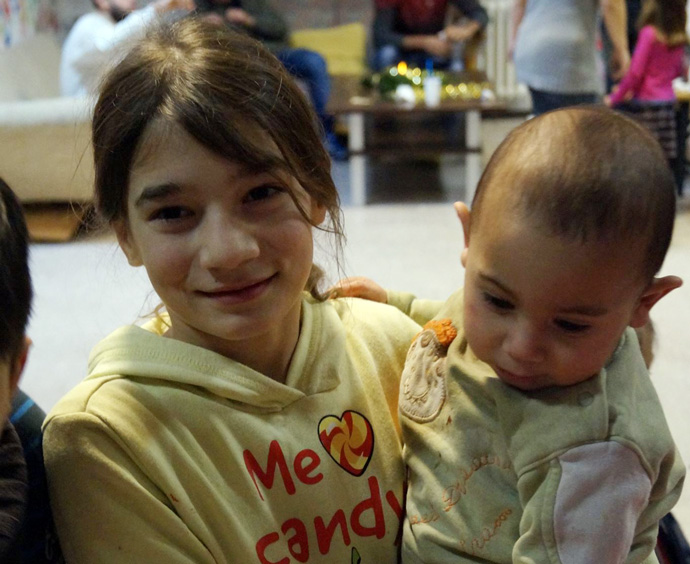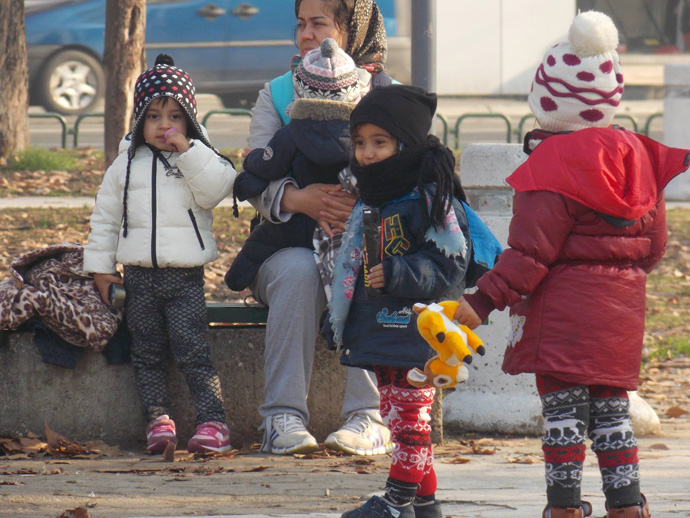 I don't know if I'm just overtired or what the hell is going on, but after I woke up this morning from not really sleeping—I sat on the floor and felt so shaky that I tried to pray. I suck at praying so I just really sat there and cried because I felt so overwhelmed. Because my friends Dani and Lliana and Tanya and Josie at Help Refugees told me they don't sleep anymore—that no on their team does—because they are so consumed with the work of saving babies and clothing children and feeding starving mamas and pulling toddlers out of the churning sea. And as their friend and admirer and sister it is my ONLY JOB to do justice to their story. To explain to you what it is like to talk to these heroes on the phone, to listen to their fierce voices shake as they talk about the beautiful, desperate refugee families.
Here is a direct quote from Doctor Linda, a volunteer working on the ground in Lesvos :
"There are thousands of children here and their feet are literally rotting, they can't keep dry, they have high fevers and they're standing in the pouring rain for days on end. You have one month guys, and then all these people will be dead."
And all I can hear is: God's feet are rotting. You have one month.

And this: "The mamas are standing at the gates asking the guards to let them and their children in, or to kill them and put them out of their misery because that would be more bearable. Because they are watching their babies slowly starve and freeze to death."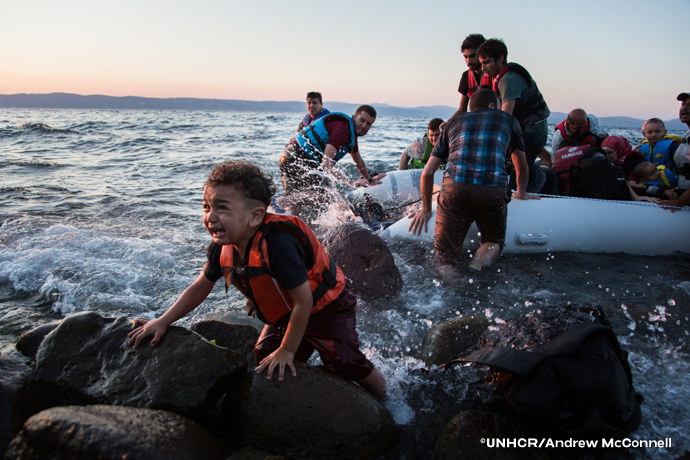 And all I can hear is: God is starving and freezing and dying.
And then Michael tells sends me this video in real time of a rescue at Lesvos. Please listen as he calls out: I need light! I need light!
And all I can hear is: God needs light.
Europe is facing the biggest refugee crisis since World War II. People are drowning in tiny rubber rafts, freezing on cold beaches. They are walking for miles, for days—carrying their babies on their backs and in their arms—only to be met by fences, border guards and seizures. Fleeing from a terrible war to seek a peaceful future for their children has left them in danger and without country.
Four of my fiercest, most brilliant friends, Cheryl Strayed, Brené Brown, Elizabeth Gilbert, Rob Bell and I have started The Compassion Collective, and have an audacious goal day of raising one million dollars to bring aid, support, comfort and care to refugees in Europe. We're almost 24 hours in and we've raised $500,000. We're half way there, but we still have a long way to go.
$3 will buy a pair of gloves, $4 will purchase warm blanket. $2 buys a warm hat. It's $5 for socks, $29 dollars for a sleeping bag, $33 for a warm coat.
A baby sling for a family costs $25.
The floodlights and heaters project costs $328 a day. It designed to light up cold waters at night—to provide for lamps so that rescuers can find people in the water when they cry out, and warm tents with heaters in them so that refugees warm up and get dry after they arrive.
Building a shelter for a vulnerable family in Calais costs around $300, and feeding all the refugees on the Greek island of Samos on meal a day for a month costs $50,000. It costs around $110 to feed a family of five for a month.
If you are reading this, you have been called. This is your call. Please respond to your call. I am asking you to give. Please, give light and food and warmth to these precious family members of ours. 

I asked Craig to buy me a shelter in Lesvos for Christmas. I didn't send Christmas cards out and instead bought a sleeping bag in honor of each of my friends. (I actually never send Christmas cards but this year it was nice to blame that on refugee work. Also I don't have that many friends because I am spiritually incapable of returning anyone's phone calls. But let's stay focused.) I bought a winter jacket in honor of each of my three children and wrote each a note for their stockings about why. For Craig – I bought a month's worth of food for a family of five on Samos. Because we are a family of five. Because I want to sit with my family of five on Christmas morning and I want to really FEEL the magic of Christmas. I want to sit on my couch drinking my coffee—looking at my little ones opening their gifts and know we did what we could to care for God on God's birthday. That we answered the call.
I want to celebrate that refugee family from 2000 years ago by caring for a refugee family today.
Today is the darkest day of the year. What my friend Cheryl said to me last week was: The only thing we can do when it's this dark is Bring The Light.
Please, let's Bring The Light.
If we don't, you guys—who will? If not NOW, when?
If you gave yesterday, I am asking you to consider giving again today. Just this once, I am asking you to break our rules. Because sometimes Love has to break the rules to win. I promise you–promise you that I am not asking you for more than I've required of myself. I gave enough that it hurt a little bit. I will continue to, forever.
PLEASE, GO TO THIS WEBSITE — TheCompassionCollective.org — FOR MORE INFORMATION ABOUT OUR MOVEMENT.
PLEASE, GO HERE TO LEARN WHAT WE'VE ALREADY DONE.
PLEASE – Share, share, share. Invite your friends and family. BRING THE LIGHT.
And click here to donate now:
Please God, let this, let what I wrote this morning, be good enough. I love you. Help us help you. Help us take care of each other. Help us answer your call. Help us raise our hands and say: HERE I AM. SEND ME.
– UPDATE!!! –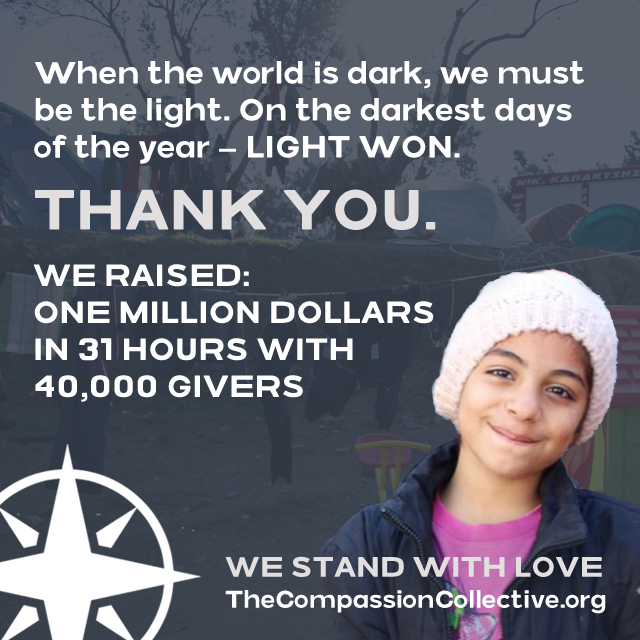 You brought the light. I will be grateful forever.
‪#‎TheCompassionCollective‬
‪#‎IStandWithLove‬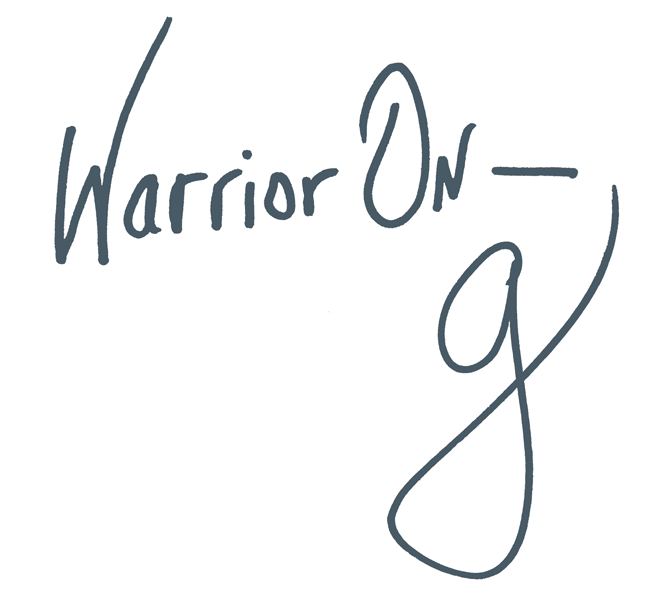 Author of the #1 New York Times Bestseller LOVE WARRIOR — ORDER HERE
Join the Momastery community on Facebook, Twitter, Instagram & Pinterest