Last year I accepted a speaking engagement in Idaho. A month after we booked it, Sister called me and said: "G, Elizabeth Gilbert is going to be speaking at the Idaho event, too."
"Oh, okay. Lovely." I said. "Obviously — I'm not going then."
For the next month, I strategized about how to ditch the event. Clearly, if Elizabeth Gilbert was going to be there, I couldn't go. Because I LOVE Elizabeth Gilbert. I love her. For the past decade she has been a minister to me. She gives me permission to be fierce and bold and goofy and tender and FREE all at the same time. Plus she is just freaking brilliant. Just brilliant. I LOVE her. Obviously, I can't MEET her. Terrifying. Too much.
It has been said: If you love something, set it free. But I say to you: If you love something — never go near it in the first place.
Neurotic folks like me will understand my reaction completely. The problem is that Sister is not neurotic, so my way of being drives her NUTS. When she loves someone, she walks towards that person and INTRODUCES HERSELF. I find this to be a ridiculous and reckless approach to life. The obvious things to do when you see someone wonderful are 1) Run away 2) Hide 'till she's gone 3) Send her an email expressing your deep love and terrible regret that you missed her. DAMN THE LUCK!
But my heartless sister would not let me duck out of this event. So I went, scared, like always. Craig came with me to make sure I didn't run away. It took three flights to get there and at midnight we finally arrived in a teeny little airport in Sun Valley, Idaho. We were the only flight of the night and we waited at baggage claim, exhausted and cranky and dirty and ugh. Then Craig and I stumbled over to find the hotel shuttle guy. We stood around him for a while in a semi-circle with other bleary-eyed ragamuffin travelers. I pulled out my phone to text Sister, mostly to tell her: thanks a lot for sending me to this place so tragically far from my couch that was causing me to stay up three hours past my bedtime and stand in an airport thinking about how tomorrow there is a chance I will have to figure out what to say to Elizabeth Gilbert. Thank you so much, Sister. It is important to send emails about my woe to my sister every few hours so she continually understands how hard it is to be me. For a moment, please consider how hard it is to be Sister.
Wowza.
Kay, back to me and my woe.
So I'm in our little semicircle texting, and I hear someone walk up and join our group. She is standing directly to the left of me. She has a very bright, warm, friendly un-exhausted voice that feels incongruous to the general mood of our cranky crew. I look up, and the person who has joined us and is standing one inch from me is Elizabeth Gilbert. She is the most Elizabeth Giberty Elizabeth Gilbert that can possibly be imagined.
She is tall (she could be 5'3″— I don't know — tall to me) and her eyes are very, very bright and clear and there are smart black glasses over them. She is wearing no makeup and cool sneakers and comfy, snuggly clothes. Her smile is big and true and inviting. My heart drops to my feet. My first thought is: WHAT IS HAPPENING here? What is going on? Elizabeth Gilbert flew in on our PLANE? Why doesn't Elizabeth Gilbert ride on a rocket ship?
We were all quiet. She kept smiling and said: Hi everybody, I'm Liz.
And then she looked at me because I was the one standing closest to her. AND I THOUGHT OH MY GOD I AM GOING TO HAVE TO GREET HER ON BEHALF OF OUR ENTIRE GROUP. THAT IS WHAT IS HAPPENING HERE I THINK. And so I stared at her. And then I said the following:
"You are Liz Gilbert."
Just in case Liz didn't know that.
It has been said: Leave no stone unturned — But I say to you: LEAVE NO MOMENT UNAWKWARD.
"Yes!" She said. "I am! What is your name?"
And the BIG MAGIC of this moment was that I was so tired and so caught off guard that I forgot to be ridiculous. I forgot to freeze. I forgot to freak out. I just let words come out of my mouth. I told her that her work is very, very important to me. Even though she hears this more often than I hear CAN I PLAY ON MY IPAD, MOM — her face made me feel like my words were an actual gift to her. She looked grateful. Then she asked me where I was from and I said "I just moved to Florida from Virginia. I always dreamed of living near the water: but then I got Lyme disease and almost died and after that I said SCREW IT, I'm living where I want to live. Feels like a woman has to almost die before she gives herself permission to live the way she wants to."
And then Liz's eyes got big and she said: "What did you just say?"
So I repeated myself.
And then Liz said: "That is the best thing I have ever heard."
AND THEN I DIED A MILLION DEATHS OF JOY INSIDE. On the outside I tried to arrange my face in a manner that conveyed: THAT THING I JUST SAID — THAT OLD THING? THAT WAS NOTHING, LIZ GILBERT. I SAY THE BEST THINGS ALL THE TIME. THAT WASN'T EVEN MY BEST, BEST THING. But I kept my mouth shut tight. Because no way was I saying another word. No more things. BECAUSE I SAID SOMETHING GOOD TO LIZ GILBERT THAT SHE LIKED and so we could only go downhill from here. No more words. Shut up, G, Hush. Quit while you're ahead.
It is so, so exhausting being me. Can you imagine? All of this is what's happening in my head. This is why I have to go to bed so early.
So then we all climbed into the little shuttle. All the other people stayed close to Liz because why wouldn't you? I'll tell you why you wouldn't. If you ALREADY PEAKED and you want to make sure you don't screw it up. I sat as far away from Liz as possible.
And I learned a lot watching Liz Gilbert from afar:
She treats everyone exactly the same. Her fans and the other big-time speakers and the women who want to tell her their stories and the waiters serving appetizers…everyone gets respect and a bit of light and love from her. She is kind. She went out of her way to make eye contact twice with our shuttle driver and to offer a true, good thank you. None of the other people did that. Only Liz did that. That's when I stopped worrying. That's when I knew Liz in real life and Liz creator were one in the same. It is not always the case. It is not.
Knowing and behaving like each of us is worth EXACTLY the same — of INFINITE WORTH — this is my favorite quality in a person. This is wisdom. All weekend, she sprinkled her BIG MAGIC on everybody who needed some.
Then she gave her speech. Lord, have mercy. She stood up and gave everybody permission to create. To make things that aren't perfect and send them out into the world — because why the hell not, really? Why shouldn't we create: we are children of God, so to co-create with God is our birthright. Her speech was an hour-long permission slip. I am not sure I breathed for an hour. You will think I'm kidding — but every ten minutes Craig would grab my hand and say: breathe, honey. And I would breathe.
Look. This is a little embarrassing, so don't tell anyone.
I've told you before that I love and collect trolls, right? They are my favorite things on Earth. I keep them all over my desk to remind myself not be scared of internal trolls or internet trolls. They're not so bad. It's just that life is hard, especially when you are so small and have such challenging hair.

I understand.
Lately I've been collecting trolls that remind me of my heroes. They sit on my desk and encourage me. I have a bunch – but here are my favorites.
There's Liz (BIG MAGIC) on the left, Brene (QUEEN B) on the right, and Me (the warrior) in the middle. See how Liz and Brene are holding my hands? I meant to send these trolls to Brene and Liz — but I feel like I need them more than they do. They never got sent.
Look, the point of this essay is that one of my heroes, Liz Gilbert — releases her new book BIG MAGIC today. This book is incredible. I've read it thrice. BIG MAGIC is a love letter to creating and creators. It's a permission slip, the fire you need lit under your terrified tush, a pep talk from a wise, loving brilliant friend.

I'm personally buying and sending out five copies of Big Magic. If you'd like one, please leave a comment answering this question: WHAT DO YOU BELIEVE YOU WERE MADE TO CREATE?
CARRY ON-WARD,
G
PS. This is Liz with Rob Bell, another of my faves.
I will stop now, before I scare you. I have a lot of these. For all the people. I am stopping.
XOXOOXOXO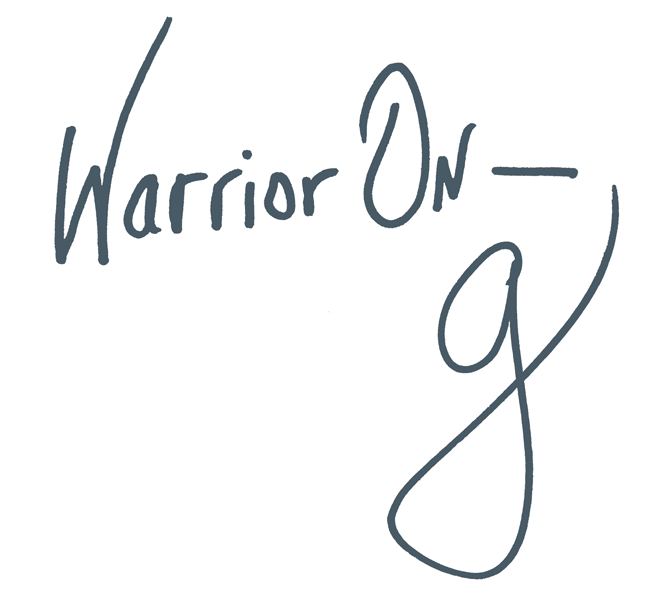 Author of the #1 New York Times Bestseller LOVE WARRIOR — ORDER HERE
Join the Momastery community on Facebook, Twitter, Instagram & Pinterest