Last month, I got to spend a week meeting and talking and crying and laughing with so many of you in New England. I prepared myself for the trip by doing what I always do—I promised to show up and asked God to do the same.
On one of the evenings, I spoke at historic Old South Church on Copley Square in Boston. As Sister and I walked together to the event that night, we crossed over the square and saw, rising up on the corner in front of us, that gorgeous church building covered with rainbows. Flags waving from every doorway and every window. I'm telling you, my eyes teared up and my heart felt like it was going to escape out through my throat. I thought: THIS. This is what a church should look like. Rainbows everywhere—flying high like the promises they were meant to be. Like proof that God wants us—wants us see every part of us, wants us to come out of hiding. Rainbows freaking everywhere. Yes, this is home.
When the Old South Church says: Come as you are, they mean EVERYONE. Grace makes no disclaimers. The price of grace for me is grace for ALL.
EVERYBODY'S IN, BABY.
I almost always take off my shoes before I speak. I've been doing this for years. I didn't fully understand why until I was talking to Rob Bell recently and he said: "Yes. The first time I preached, I took off my sandals. It was like I knew I was on holy ground."
YEP. THAT'S WHY.
Every time I post a picture recently someone writes to tell me I'm too skinny. First: I love you for loving me. Second: I'm working on it. Third: I'm gonna keep showing up while I'm working on it. I'm not going to hide during the during, because I'm not a before and after story. Here's what I've come to accept: Progress is not linear. We don't go from here to there and put things behind us. Progress is a spiral staircase and we just keep coming around to the same issues again and again. But every time we face the same demons: we do so with a higher consciousness and stronger muscles and heart from the climb. So we do a little better each go 'round.
Here's what's gonna happen: I'm just gonna keep showing up all jacked up. Some years I'll look too skinny and some years I'll be a little bigger and sometimes I'll look exhausted and depleted and sometimes I'll look AMAZING. Who freaking knows. I can't let what I look like keep me from showing up. I'm never going to have it all figured out. I'm showing up anyway. Because: look what happens when jacked up, nervous, imperfect people show up anyway: MAGIC HAPPENS.
Here's my new friend, Pauline. This woman stood up in front of 1400 people and said, "Glennon. I can't help but notice I'm one of only a few women of color here. I've always loved you, but I have to say for a long while I couldn't really find myself or my experience in your writing. Until recently. I want you to know that I appreciate that you've been talking about race lately. I know it's scary, and I just want to say thank you. And I want to say that if you still want them, I'll be one of your black friends." And then there was a little bit of quiet. And then the WHOLE CHURCH erupted into applause. And I tried to say words back to Pauline, but I couldn't say much. So I just said "I'm sorry it took me so long to wake up. But I'm awake now and I won't go back to sleep. Thank you, thank you for being my friend."
Pauline and I know that our friendship won't cure systematic racism. We just know friendship cures loneliness. I love you, Pauline. You are kind and brave and I just don't know what else there is to be.
Do you know my goal for these travels, these events? My goal is not to show up and say: HERE I AM! No– I want each visit to be a chance to say—THERE YOU ARE. I want to be a leader who locates and lifts up other leaders—local leaders doing the hard work of love. So I dreamed up this dream in which every city we visited we'd SERVE, somehow. We'd do a love project or better yet, we'd find a local hero and invite her to the event and I'd dedicate some of my stage time to point to her and say: "LOOK, AMAZING COMMUNITY. Here is one of your own doing OUR KIND OF WORK! HELP HER!" I don't want these events to just be SHOWS, I want them to be reunions. I want to say: Don't look at me- LOOK AT YOU! Meet each other. You belong to each other!"
And so at Old South Church I stood up on the altar and said: HEY BOSTON! LOOK AT RUBY! THERE SHE IS!
Ruby leads The City School, which develops and strengthens young people to become leaders for social justice. The City School intentionally crosses lines of race, class, gender and sexual orientation and works with young emerging leaders in the Boston area to come together, learn from each other, and then go out into their communities and make a difference.
Ruby is a love teacher. She told us, "When we look for leaders we ask ourselves—Who would society choose? And then we choose the opposite." YOU GUYS. OMG. WWSC? CHOOSE THE OPPOSITE!!!! Amazing fantastic revolutionary YES YES YES!! I love her and I love City Schools. Ruby and her team are creating space where the marginalized are not asked simply to join us, but to lead us. She's helping to create the types of leaders we so desperately need right now. Because all we need for the status quo to continue is to keep choosing leaders whose best, personal interests are served by maintaining status quo. You guys, this program. THIS IS THE WORK. This is the upside down kingdom.
Love intentionally crosses boundaries. Love is a teacher who invites those stuck in the back of the line up front, not just for a better view—but TO LEAD THE CLASS.

The City School's Summer Leadership Program was scheduled to start at Old South Church less than one week after our event there. We asked Ruby what we could do to support them and she told us that what the program really needed for success was SCHOOL SUPPLIES. They needed markers (so many markers—many, many markers), chart paper, scissors, masking tape, and painter's tape. So as soon as we heard this, we sent out a message to everyone registered to come to Old South Church and said—WILL YOU STOP AT THE STORE AND BRING SOME OF THESE SUPPLIES TO TUESDAY'S EVENT? Let's create a HUGE pile of goodies and then slap a sign on it that says: LEADERS: BOSTON BELIEVES IN YOU. Let's let THAT be the first thing the Boston youth see when they walk into Old South Church to begin learning and teaching each other. Let's help Ruby get these youth rising so these youth can get us ALL RISING!
And—OF COURSE—you showed up.
You sent us messages telling us how excited you were to be a part of this, asked what else you could do to pitch in, volunteered to make the (beautiful!) sign. You came to Old South Church with your arms full. We collected piles and piles of school supplies, and more markers than the summer program participants had ever dreamed of using. Together Rising joined in with support, and we gave The City School an additional $5000 for scholarships so that more kids could be part of this amazing program. BOSTON YOUTH: WE BELIEVE IN YOU!!!!!!!!
You see, my friends? THERE YOU ARE.
And I'll just continue on my way, like the hugging saint Amma except – I'm the hugging sinner, G.
This beautiful couple came to see me on their WEDDING EVE. The next day they got MARRIED. Love Wins.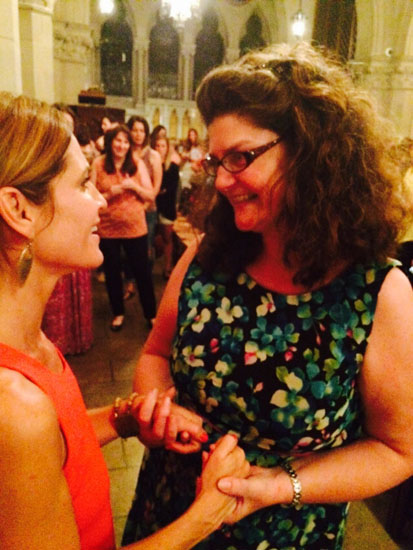 This one. SHE CAME FROM DUBLIN, IRELAND to be in Old South Church on this very evening. Just for this event.
You are not too anything. Just show up.
I love you all. What a night of messy, beautiful magic. Thanks for showing up, Boston. We Belong To Each Other. Everybody's in, Baby.
G
Photo credits: Brian Flahurty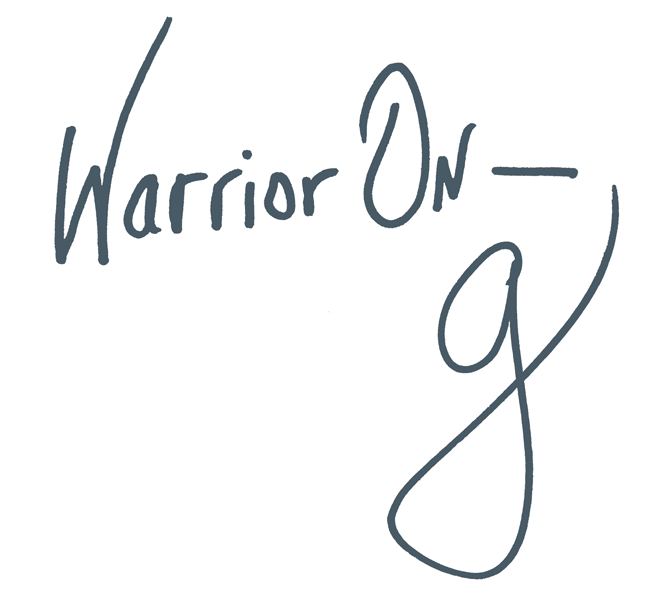 Author of the #1 New York Times Bestseller LOVE WARRIOR — ORDER HERE
Join the Momastery community on Facebook, Twitter, Instagram & Pinterest