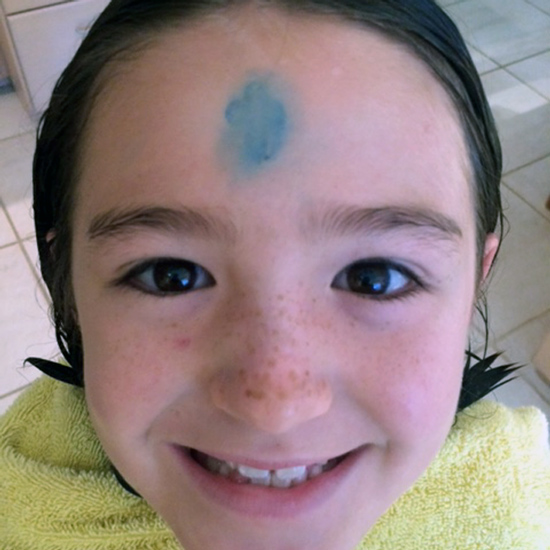 Amma's been walking around for four days with a green blob on her head. We didn't say anything or even look that hard at it because Amma is our third child. If seven-year old Chase had entered my presence with a green blob on his head I'd have gasped and scrubbed him down with an organic wipe and grilled him about the source of the green blob and googled the source to ensure that there were no toxic materials in the creation of the green blob source and then, for good measure, I probably would have taken him to the pediatrician. Just in case. In a million years, I'd never have let Chase walk around in public all green blobby.
But the thing is that every subsequent child I have feels less and less like a reflection of me. Chase is an upstanding citizen, officially. So I can push him out front of the family and say to the world: Look! I made at least one reasonable one. This child is proof that I can make decent people. As for the rest of these cats…well, I certainly cannot be held responsible for all of them. We call those two "free spirits." This phenomenon is the reason the further a child is from firstborn the less and less neurotic she is. Because we parents aren't trying to prove ourselves through them quite as desperately—so they're freer to be themselves instead of mom and dad's trophy.  I think it was Kelly Ripa who said kids are like pancakes: you kinda screw up the first one but the rest turn out okay. Love you forever, Chase. Sorry about all that. "Smile and say hello, Chase. Eye contact please. Wipe your nose." "But mom—Amma's cursing and crawling across the street naked and she appears to have gotten yet another tattoo." Chase! Eye contact! Use your manners! 
Anyway—like I said, Amma's been green for four days. I kept thinking the green would fade but every morning it somehow seems fresher, brighter. So this morning I made her take a shower, because desperate times call for desperate measures. When she got out of the shower I noted that the green was gone and I dried her off in her snuggly towel and sent her off to her room to get dressed. Five minutes later Amma walked back into the kitchen with A NEW GREEN BLOB ON HER HEAD.
On no, she didn't, I thought. I SHOWERED THAT CHILD. I WANT PUBLIC CREDIT FOR THE SHOWER.
So I said, "Sister. I give up. What's going on with the green blob?"
And she looked up at me and said, "I'm a CHILD OF GOD, mom." She pointed to her forehead and said, "My green is to Remember. So I can be brave."
You guys. She's marking herself. She's recreating Ash Wednesday every morning. She's making herself a SACRAMENT, which is an outward reminder of an invisible truth. Every morning she's saying to herself and the world: I'm GOD'S. SO I CAN BE BRAVE.
Most Repeated Phrase in the Bible:  FEAR NOT.
Awesome, God. Easy for you to say. But we're afraid all the time. HOW DO WE FIGHT OUR FEAR?
Second most repeated phrase in the Bible: REMEMBER.
Fear Not By Remembering that YOU ARE A CHILD OF GOD. And as such you are free to dream and risk and love and fail and lose and rest and try again, forever. A child of God's birthright is: Forever Tries.

Do whatever it takes to remember that you're a child of God, friends. Paint it above your door, tie it to your wrists, stamp it on your forehead: I AM A CHILD OF GOD. And then remember the flip side of that brilliant, life-saving truth: So is everyone else.
As you walk around today, imagine that every single person you meet has a green blob smack dab in the center of her forehead. Then treat her accordingly.
Be brave because you're a child of God. Be kind because everyone else is, too.

Love,
G
#dalaiamma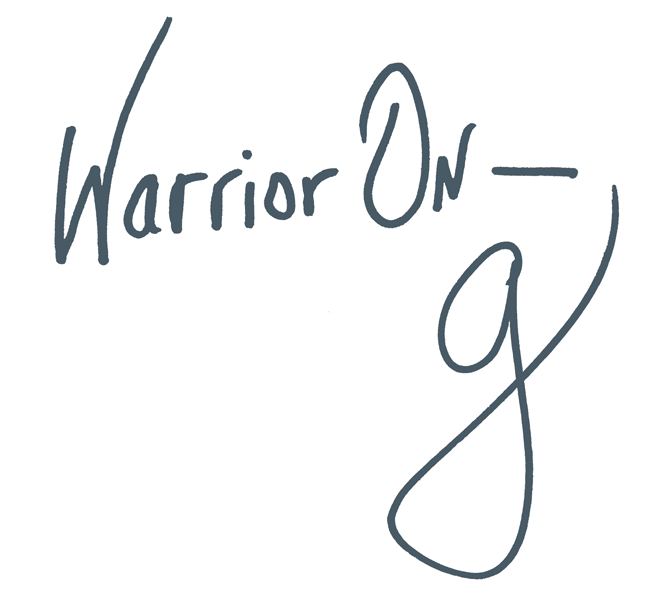 Author of the #1 New York Times Bestseller LOVE WARRIOR — ORDER HERE
Join the Momastery community on Facebook, Twitter, Instagram & Pinterest