Friends, remember my trip to the Dominican Republic when I met our favorite holy rascal, Denisse? Remember how she brought together a team of hope spreaders to walk the streets,  gather the precious children of Boca Chica and give them the love, safety and future that is every child's birthright?
Allow me to introduce you to another member of Denisse's team. Meet Julito.
When Julito was seven years old,  he started working long hours on the streets of Boca Chica as a shoe shiner. When he was 14, he joined Caminante. Julito is now a multiplier, a staff member at Caminante, one of the rescued. Denisse and Caminante found him—they gave Julito hope and a future. And so now, years later, as soon as the sun starts to set, Julito starts walking these same streets, looking for little ones who need hope and a future, like he did once.
One night, Julito let me walk with him.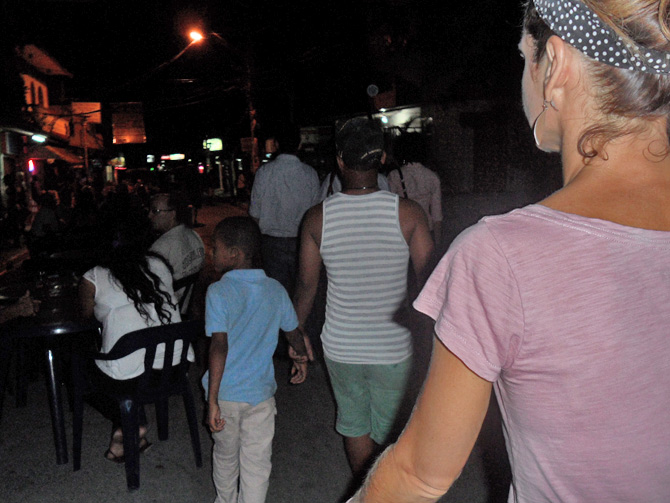 . . . I follow behind Julito through the streets of the city—past table after table of middle-aged white men—sitting in groups beckoning little girls to their tables. These little ones are Tish's age, maybe Amma's. They are exactly what these men have traveled from all over the world to find. I watch one precious child approach a table. The men smile at her. She smiles back, and then hangs her head, shyly, as her chin tucks into her chest. She has learned this move. My heart stops. But then Julito walks by and sees her. He calls her away from the table, away from the men. He calls her by name. Her head lifts and she becomes a little girl again. She runs over to Julito and he tells her she needs to get home so she can get some sleep. The little girl tells him that she's not allowed to go home until she's earned her money. This, what she's doing at that table –  is what's expected of her. Denisse nods, opens her purse and hands the little girl a few coins. She smiles and runs away. She runs home. This one has a home to run to. Many we saw on the street and the beach did not. . .
You can't see the little boys at first—they seem to be hiding. But when they see Julito they run out onto the street or up to him on the beach—they show themselves. They grab onto Julito's leg and he asks what they've eaten. I don't know what they say back, I can't understand. They run away. Where are their parents? I ask. We don't know. Who takes care of them? They take care of themselves, and we help. Where do they sleep? They sleep where they can sleep. Can I see?

This is where they sleep. On the right side, on the concrete. They curl up next to each other for warmth.
***************************
Now I need you to stop for a second and track with me here. We are about to laugh. Get ready. It's okay.
On our last night in Boca Chica—we were eating together and Julito leaned over towards me, placed his phone super close to my face, and snapped a picture. Then he sat back in his chair and started playing with his phone. I looked at Luciano, our friend and a CWS Program Officer, and said, "Huh? What was that for?" Luciano leaned over towards Julito and asked him in Spanish what was going on. Julito started explaining something while Luciano nodded and nodded. Then Luciano turned toward me and said: "So, here's what happened. Julito's got a girlfriend. He took a picture of you to send to her so she'll know he's not out with some young, hot babe. You know, he just wants to show her that you're not a threat."
I WILL JUST GIVE YOU SOME TIME TO PROCESS THIS. I know I needed a moment.
"Wait. What?" I said. Luciano's eyes widened as he processed the news he'd just delivered to me:  THAT I WAS OFFICIALLY ZERO THREAT TO OTHER WOMEN. THE INDISPUTABLE EVIDENCE OF THIS: A PICTURE OF MY FACE.
I looked over at Amy, who was looking back at me with what was supposed to be a sympathetic smile  – but it was hard not to notice that she was shaking. Her entire body was shaking with laughter.
Who knew? I said to Amy. It's all over for me.
I didn't know, either. Amy said. I had no idea, I promise. I would have told you. I thought we were still hot. I really did.
And then you guys: I turned to Julito and Luciano and said the following: I WILL HAVE YOU KNOW THAT I USED TO BE A MAJOR THREAT. I WAS WILDLY THREATENING. UNBELIEVABLY THREATENING. I WAS—FOR ALL INTENTS AND PURPOSES: AN UNREGISTERED WEAPON OF MASS DESTRUCTION. THIS FACE—THREAT! HUGE THREAT!
And Luciano looked terrified. His eyes widened and he started backpedaling fast…"Yes! You're a threat! To someone like me, who is closer to your age! Just not to Julito, because he is young! But you could be a HUGE THREAT to someone who is older! HUGE THREAT! YES! HUGE!"
With this, I swear to you, Amy fell off her chair.
And Julito just looked at us with a face that said: Americans are odd.
Listen. The point is this: upon hearing the news that I was no longer a threat to other women, I felt sad. I felt terrified that I'd just been deemed . . . I don't know: obsolete. HOW WEIRD IS THAT? Later that night, I lay in bed and tried to figure out how this declaration of Julito's was tied to my experience in Boca Chica, with the hurting ones.
And it hit me.
Actually: I have never been a bigger threat in my life. It's just that now I am finally wise enough to want to be the right kind of threat. Now that I'm not wasting my time and energy and money and heart and mind trying to be a threat to other women—I'm ready to become A Real Threat to things that SHOULD BE THREATENED.
Listen. I have made us a list. This is what I know. I know that I want to spend my life as a REAL THREAT to the following things:
Sisters: let's not buy the lie being sold to us: that we should waste our one precious life and one brilliant mind and one beautiful body threatening each other. NOT BUYING IT.
I do not want to be a threat to you. I want to invite you to join arms with me and together I want US to become a REAL THREAT TO what needs changing. I want us to be WARRIORS together—for love, truth, peace, justice, children, the weak, the poor and the needy.

I want apathy and fear and violence and poverty to SHAKE IN THEIR BOOTS WHEN THEY SEE US MARCHING TOGETHER TOWARDS THEM.
Let's Walk Together and threaten the hell out of pain in this world.
The older I get, the wiser I get. The wiser I get—the bigger threat I become.

HALLEFREAKINGLUJAH.
G
PS What about you? What's on your list? To what do YOU want to be a threat????
PPS Like the CWS Facebook page to get updates on the emergency response they've mobilized this week in response to the earthquake in Nepal, and to read more stories from people like Denisse and Julito around the world who are being lifted up through their support.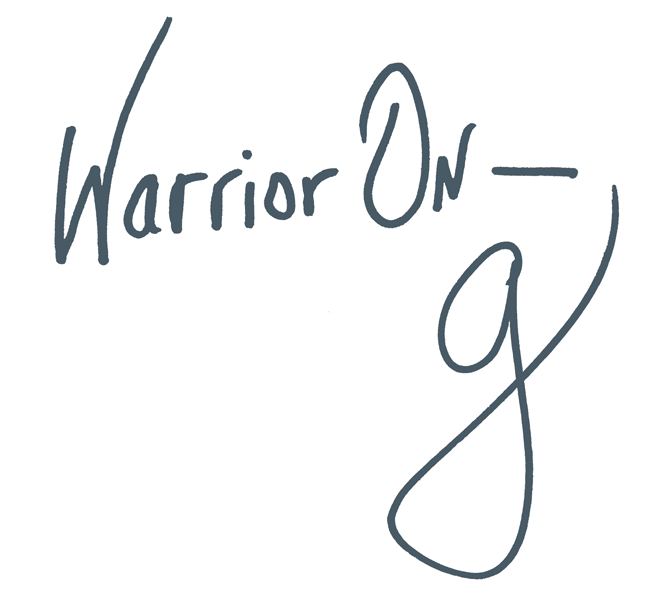 Author of the #1 New York Times Bestseller LOVE WARRIOR — ORDER HERE
Join the Momastery community on Facebook, Twitter, Instagram & Pinterest