I used to believe that I couldn't handle pain. I thought I was too broken, too sensitive, too fragile for life's beauty and brutal, so I hid from all of it inside addiction. Addiction is a lonely, dark and dangerous world—but it feels safe because no one can hurt you there but yourself. It's an effective way for one person to make herself completely invulnerable to the world.
Addicts choose dramatic hiding places but we all have them. What is your hiding place? Hint: it's what you grab for when you feel vulnerable—it's where you run so you don't have to feel all the feelings that life insists you feel.
When you start to feel: do you numb with booze or food or shopping? Do you scroll, scroll, scroll to escape every time you're left alone with your self? Or do you deflect discomfort with unkindness? All unkindness is pain deflection. Folks who think pain is a hot potato toss it to the next person so they don't get burned. That's all. People who are unkind just believe they can't handle the pain that comes their way.
We are all so afraid of pain. We think it's our job to avoid it. Whatever it takes to avoid it. But we shouldn't be afraid of pain, we should be afraid of our fear of pain. Because all these things we do to avoid the pain hurt us much more than the pain would have.
Pain is not a sign that you've taken a wrong turn or that you're doing life wrong. It's not a signal that you need a different life or partner or body or home or personality. Pain is not a hot potato to pass on to the next person or generation. Pain is not a mistake to fix. Pain is just a sign that a lesson is coming. Discomfort is purposeful: it is there to teach you what you need to know so you can become who you were meant to be. Pain is just a traveling professor. When pain knocks on the door—wise ones breathe deep and say: "Come in. Sit down with me. And don't leave until you've taught me what I need to know."

For me, the opposite of addiction, compulsion, unkindness, war is: stillness. What I have now in my sobriety that I didn't have before is simply the ability to sit with quiet, with discomfort, with beauty, with pain with whatever life brings to my feet without struggling against it. Without slamming the door on the wisest teacher on Earth. My pain comes and it stays for a while and then it leaves. It leaves me better, bigger, wiser, softer, kinder so I don't want to avoid it. It is turning me into the me I dreamed of becoming.
Sobriety, sanity, peace is just surrender, after all.
We want to KNOW what to do, we want to KNOW who we are, we want to KNOW our path so we can be less afraid and the only way to KNOW is to stop grabbing and running and striving and trying so hard to KNOW and just:
Be Still.
BE STILL and KNOW.
Let it be. Let pain do its work. You do yours. Be Still.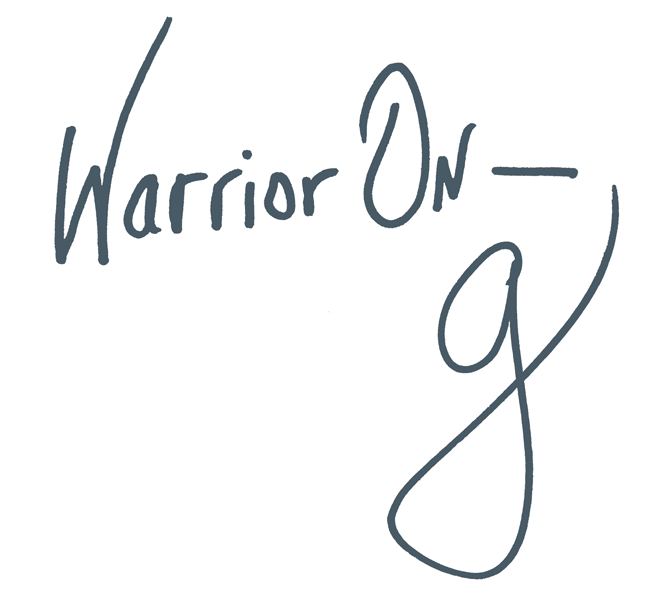 Author of the #1 New York Times Bestseller LOVE WARRIOR — ORDER HERE
Join the Momastery community on Facebook, Twitter, Instagram & Pinterest