Originally published in 2013
(For S.)
Craig and I sat next to each other at church the next morning and listened to our friend and pastor talk about Easter. She said that for Christians, Easter means that people can rise from the dead, and that relationships can, too. That even the bush that looks withered and brittle and lifeless can bloom, if given enough time, enough tending, enough love. A new season will come. There is always hope. What looks like the end might just be the beginning.
She said that Sunday might be around the corner, but there is no fast-forwarding through Friday and Saturday. The cross has to come before the resurrection. It's the way of the world. And unless you bear witness to the truth, unless you face it head on and choose to open your heart to the pain, you won't bear witness to the miracle, either. If you run away from the crucifixion, you might just miss the resurrection.
But I'm learning that the pain, the struggle that comes from the resurrection, can be a long and excruciating process.
We started seeing a therapist, where, one day, not long ago, Craig delivered The News. The News that no spouse ever believes she'll hear, though so many of us do. The News that our lack of intimacy was due to a major betrayal of our martial vows, long ago and repeatedly. The News confirmed what I had felt all along. It was verification that the distance between our bodies and hearts and minds was real from the beginning. The distance was created by a solid wall of lies built between us. I knew we didn't have the marriage we wanted and needed, but before The News, I didn't know why. I didn't know why we couldn't reach each other. The News opened my eyes wide, and it hurt like hell.
I told Craig to move out of our home immediately and explained that I wouldn't speak to him until he went did some major work on himself. He did. He was awakened. He decided to fight for our family with his new self. His truthful, out in the light, whole self.
While he was gone, I decided to divorce him. Then I decided to forgive him. Then I decided to kill him. Then I decided to stop deciding things. I am learning to listen to the still, small voice telling me not to run—not today at least—and I am taking each day at a time. One at a time. Carrying on.
I remember what our pastor said about Easter. That even the shriveled, lifeless bush can bloom. That Easter Sunday comes after Saturday; the Resurrection after the Crucifixion.
Craig and I are in the Saturday of our marriage right now. We've started the hard work of healing and waiting and grieving and raging and holding each other. When I want to turn away or run away, which is all of the time, I remember what Adrianne told me the night I bought my new bicycle. When you feel like you're falling, she said, steer into the fall. Lean into it instead of away, and you'll be all right. My favorite part about life is transformation, and I don't want to miss Craig's. As a Zen master once said to Geneen Roth, "Enlightenment is seeing one thing through all the way to the end."
I read somewhere that God sends us partners who are most likely to help us heal. This rings true to me. It's just that sometimes the healing is so hard that one or both of the partners can't take it, so somebody bails, or makes it impossible for the other partner to keep on loving. I understand this completely. Healing is so painful. Thankfully, when we turn away someone who would have helped us heal, God sends us another. I don't think He punishes us. He gives us lots and lots of tries. God is Forever Tries.

I think He sends our healing partners in all different forms, not just spouses. He sends sisters, girlfriends, strangers, authors, artists, teachers, therapists, musicians and puppies until one or several partners stick. But if we want redemption, we have to let one stick, eventually. We have to sit through the pain long enough to rise again.

Last night Craig and I went out to dinner, just the two of us. We sat down and Craig pulled out a notebook and pen. He said, "Okay, let's start from the beginning. I want to know everything. Every little thing. And I want you to know me. The real, honest me. We'll take it slow…. Where were your parents working before you were born? How did they meet again? I'm going to take notes and study them later. I want us to know everything about each other."
Happy Easter.
 **********************
Post Script:
During the Friday and Saturday of our Easter story, many well-meaning Christians tried to convince me that my marriage was worth saving at any cost. That was not true. Marriages are not worth saving at any cost. People are worth saving at any cost. And God saves, we don't. That's why when people ask me whether Love Warrior is about saving my marriage I say, No — for the love of God — it's about saving my soul.
Sometimes when it comes to marriage: Christians forget the message of their leader, which is that as uncomfortable as it makes us—new life often requires a death first. And sometimes that means the death of a marriage. Some relationships are like perennials; they survive the winter and bloom again bigger and fuller than ever. And other loves are annuals. They last for a season and then winter comes and they die and they crumble into the soil making it richer for the next bush to bloom. Either way there is new life. Either way there is redemption and never before seen beauty.
Please know that if there are two paths in front of you—divorce and reconciliation—God is waiting to walk you down either one. The bumps on each path will be different. Each will wind differently. But the end of each path is redemption. You will never be left alone on either path. Because nothing—not death nor life, neither angels nor demons, neither the present nor the future, nor any powers, neither height nor depth, nor anything else in all creation, (including divorce) will be able to separate you from the love of God.
If your church is more interested in saving your marriage than your soul, raise your hand and ask questions. God loves you more than any institution on Earth, even marriage, even Christianity.
Jesus did not die for your marriage's redemption, Jesus died for your redemption and the redemption of your partner. Divorced or together, you are already redeemed. It's finished. Claim your peace. Claim your freedom. Do not be afraid. Because no matter how dark it is now: you will rise again. That's the way of the world. That's the message of Easter.
Friday = Life Hurts Like Bloody Hell.
Sunday = BUT LOVE WINS
(We like big buts and we cannot lie)
Easter On, Love Warriors.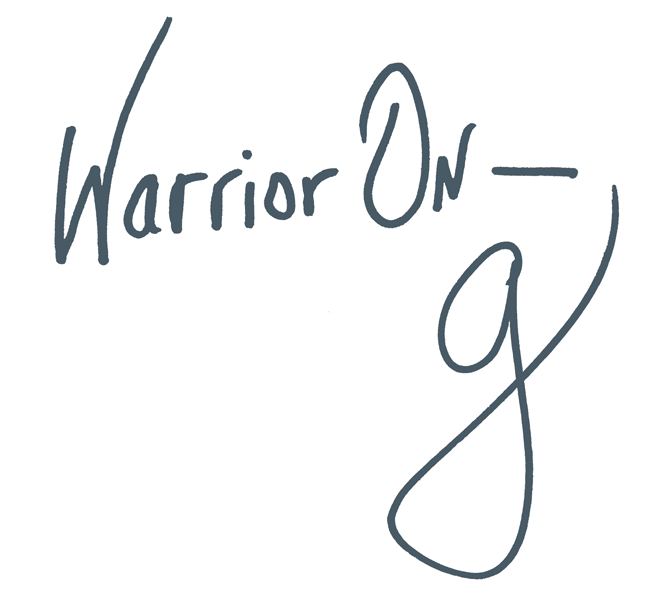 Author of the #1 New York Times Bestseller LOVE WARRIOR — ORDER HERE
Join Glennon on Facebook, Twitter, & Instagram