Last month I began telling you about my trip to the Dominican Republic with our partner CWS. At the end of last year, I visited CWS-supported programs in the Dominican Republic and met the MessMaker, holy rascal, badass Sister: Denisse Pichardo. Denisse runs an organization called Caminante, which means "We Walk Together."
Here's More: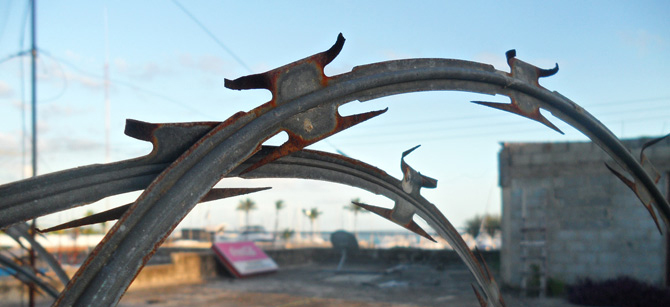 When Amy and I landed in Boca Chica, we piled into a van and went straight from the airport to the main Caminante building. We were ushered up a flight of stairs into a room full of staff and volunteers who were all sitting around a table in a circle, looking at us. I was very scared.
My plan was to quietly smile a lot, see God in their work, and take one million notes so I could report back to you as accurately as possible. My plan was to be a silent but attentive REPORTER. At first, this plan seemed to be working. Folks went around the table telling us who they were and what they did at Caminante, while Luciano—a CWS Program Officer for Protection of the Rights of the Child, and also one of my translators—helped me understand. But when the circle got around to me, Luciano leaned over and whispered, "Glennon, would you move to the front of the room and take some time now to tell them your story?"
I am still embarrassed about my reaction to Luciano's completely reasonable request. I panicked. WHA???? No no no no! NONONONONO! I already DID hard things! I came here! I left my couch and my COUNTRY! I'm here and this is my hard thing and no more hard things! No ambushes! I immediately started sweating through my shirt and had seven million heart attacks and stomped Amy's foot underneath the table and I am surprised to report that I actually felt angry. Isn't it crazy how quickly we try to cover our fear with anger? Is anger just fear wearing a bulletproof vest? I don't know. I just know that I said: No, thank you. I'm here to listen, not speak. I'm here to learn, not teach. No, thank you. Luciano nodded and said, "Ok. I understand. You don't have to share—it's just that sometimes we can think that life is only hard in poor countries, and that people in America have it easy and are always happy. It might help people to hear that you struggle, too."
My immediate and highly spiritual reaction to Luciano was DAMNIT, MAN!!!
"Ok, hold on." I said. "So you just want me to explain that I'm all jacked up and so are most of my people? Okay. Fine. I can do that. THAT I can do. That is actually kind of my jam. I will try." And Luciano said, "Yes. Your jam. I watched your Ted talk. This is your jam."
You guys: pick a good jam because folks will keep requiring you to do your jam all the times forevermore amen. Even in places that are not your country: your jam it is. I might suggest that you choose a jam like hula-hooping or juggling. These seem solid. But if you have no skills, all you have to jam about is the truth. And so I stood up and dragged my chair in front of all the people and curled up in my little roly-poly ball and I said, "Hi. I'm very nervous right now because I've never sat in front of a crew of real live heroes before. My name is Glennon and I'm from the United States. I'm an alcoholic and food addict. I'm a bulimic actually."
They all looked at each other and shifted in their chairs and then they seemed to collectively sit up straighter. I panicked again. Did they understand bulimia? Would I have to explain it? How the hell would I explain that I had so much food that I ate and ate and threw it up in the toilet and ate some more to people without enough food? I thought about being really, really ashamed of my horrible, ridiculous, wasteful, American, self-harming self. But then I told myself: STOP IT. NO. Glennon—refuse to be ashamed of your problems and they'll not be ashamed of theirs. That's how it works. At home and everywhere else, probably. CARRY ON. I carried on.
I went on to tell them that in America we tend to smile a lot in public and in our Facebook profile pics, but we also tend to cry a lot when we're at home alone. I said that many of us have plenty to eat and warm homes but we're lonely. I told them that I wanted to be less lonely and stop smiling all the time unless I meant it, so I started writing and telling the truth about my loneliness. I explained that others who were also tired of making life harder by pretending it's not hard joined me, and so now we're walking through life together. We just try to walk beside each other, I said, because life is a little less scary and lonely when you're walking with somebody. I said that in our own way—we're kind of Caminante-ing. When I said that part, they all started laughing. Caminate-ing is not a word, apparently. I was grateful for the laughter, though, because it was the first sound in the room since I'd started talking.
And then: magic. Love chaos. Everybody started going off script. We were not relief organization/reporter any longer. We were just human/human. They told me stories. They told me the same things you tell me when I visit you. They told me that they get tired and afraid a lot and sometimes they feel great hope and sometimes they feel hopeless. They told me that when I walked in, they'd assumed I had everything and that I had it all together. They told me that when people come to visit their programs they usually ask to hear about the work, ask to hear THEIR stories, but visitors rarely share their own lives and struggles. I listened and listened and relearned with fresh shock what I learn every single damn day: OH MY GOD. IT'S TRUE. WE REALLY ARE ALL THE SAME. WE REALLY ARE ALL THE SAME. Vulnerability breaks down all barriers, even the barriers of language and culture. Truth is a key that unlocks everybody.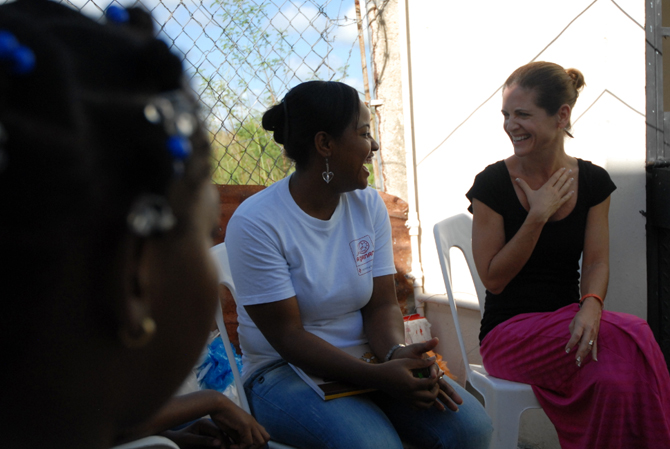 The floodgates opened after that afternoon. We spent the next two days sharing in groups big and small, introducing ourselves to each other, telling the stories of our brutiful lives. And I brought you all with me into the circles, by sharing who we are to each other, and what we do here at Momastery.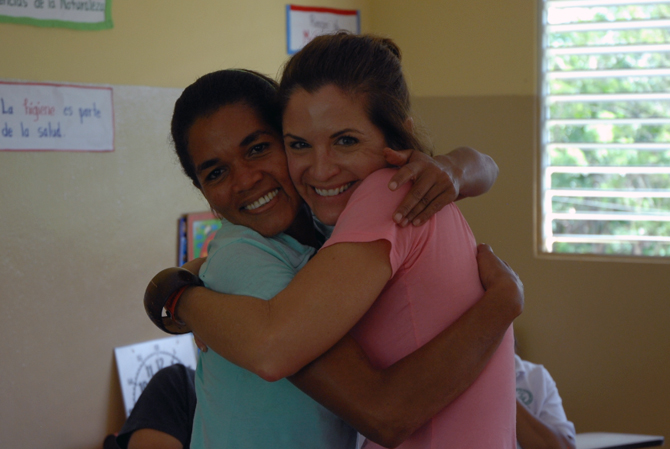 Here's Sabrina.
Sabrina started coming to Caminante for counseling and support when she was 8 years old. She's 17 now and she told us that she is a Multiplier. When I asked her what it meant to be a Multiplier, she explained: a multiplier is a young person who has passed through different Caminante programs. Once the Caminante staff feels the youth is ready, she is sent to seek out and serve others as she's been served. To multiply the love she's received. You pass it on. That's just what you do. Sabrina is such an effective multiplier that, with Denisse's support and encouragement, she has become a national youth leader. When we met Sabrina, she had just returned from an international youth conference in Mexico, training teens and youth adults to be tomorrow's leaders. To that I said, "Ba-BAM." It was hard to explain what Ba-BAM meant. We eventually settled on YAY.
This is Benjamin.

Benjamin was lost to drugs, violence and darkness for 22 years, so I felt a kinship with him right away. Benjamin heard that he could find a fresh start at Caminante, and he came to Boca Chica and enrolled in training classes to become a cook. Benjamin told us that the cooking teacher at Caminante saved him. She taught him skills he can use to get a job, but, more importantly, she showed him for the first time that he is loved, and worthy to receive love. He told us, "We know that when we give, we should give from the heart, but I didn't know that when we receive, we need to receive from the heart as well. My teacher showed me how to receive the love that exists for me. I have to believe I'm worthy of receiving it. I receive it now. By teaching me to receive love, my teacher created a new me." Sit with that truth for a minute. When we deem ourselves worthy to receive love: we become new. So wise, this Benjamin. I love him. He helped me.
This is Benjamin's cooking teacher. She may have been able to save Benjamin, but she couldn't save me. Oh how they tried, but they couldn't teach me how to cook. After this hour together, I felt like they were very worried about America. They will probably have telethons for our hungry children. Sorry.
And finally, this is Melissa.
Melissa got involved with Caminante when she was 16, and it quickly became apparent that she was born to lead. She is 19 now, and she teaches a preschool program she created herself. As we sat in a circle with Melissa, talking about her work, someone asked her if she saw something special in any of the kids that she taught. Did any of them have a particular spark or light about them? Melissa paused and looked at us all hard for minute. Then she spoke truth. "Each one of my children has a special light in them. Every one. The question is not—'Do they shine?' but 'Do we see them shining?' We have to be the ones to see it. Society smashes people down. How do we get back up? How do we help others to keep going? We look for the light already in children and we make it burn brighter, keep it from being put out. Every one of my students is full of light. "

So there it is. That's what CWS is doing, I think. They're staring hard out into a world of pain and poverty and hardship, and they're seeing sparks of light. They are fanning those sparks into flames in people, and supporting those flames so they can help others burn, too.
We are all the same. We all have a light that is meant to shine, and we are meant to see it in others. We are all born to shine, to be multipliers. I am now more sure of that than ever.
God Bless Us, Every One.
Let us keep caminante-ing, my beautiful friends.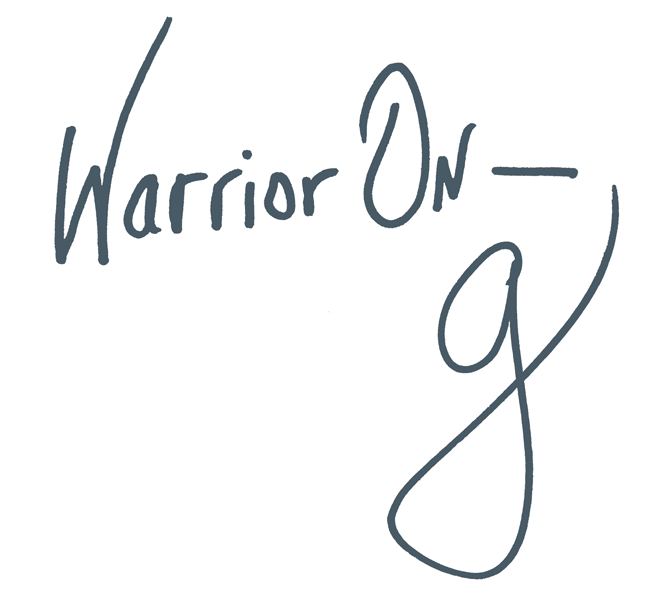 Author of the #1 New York Times Bestseller LOVE WARRIOR — ORDER HERE
Join the Momastery community on Facebook, Twitter, Instagram & Pinterest