My philosophy about sex talks with kids is to be open, honest and matter-of-fact, so they won't sense that shame and sex are intertwined and so, when they do become interested in exploring their sexuality, they might be motivated by love instead of blind curiosity. I want them to take sex seriously enough to know it's holy. Doesn't that sound lovely?
My reality is that I AM STILL LEARNING THAT STUFF. This makes me a shaky-at-best sex teacher. So whenever my kids ask about sex- I panic and then just start saying crap. I just start saying all the things. Far too many things, Craig suggests. Last night I was sitting at dinner, minding my own business, when my middle child said the following words:
"So, how you get a baby is you pray for one, right?"
Craig's fork froze mid-air and I looked at him and then at my girl and I just wanted to yell: WHAT ARE YOU TALKING ABOUT, CHILD???  Don't you remember when I said all the hard words like penis and vagina and union and consent to you???? PRAY? SWEET JESUS ON A BICYCLE — DOES NO ONE IN THIS DOMICILE HEAR THE WORDS THAT COME OUT OF MY MOUTH?????
But I did not say those things because I am an official, card-carrying Parenting Expert. And so I said: "WELL, I suppose praying might have something to do with baby-making, sure. But, you know, even if you pray to win the lottery till the cows come home, you're not gonna win unless you also BUY A TICKET. Making big things happen requires PARTICIPATION."
I thought that would take care of the whole sex thing because apparently clear, open and straightforward means speaking in strange parables and metaphors. But judging by the faces of my people, nothing was clear. All the children, plus Craig, plus the dogs, were quietly staring at me. Even the guinea pig suddenly looked confused. [OH SHUT UP, GUINEA PIG – YOU KNOW WHAT I MEAN! ALSO, WHAT ARE YOU STILL DOING ALIVE? YOU ARE ONE MILLION IN GUINEA PIG YEARS!!!! LET GO! GO TOWARDS THE LIGHT! GO WITH GOD, ROMEO!!! FOLLOW IN THE FOOTSTEPS OF YOUR NAMESAKE AND ROMANTICALLY EMBRACE THE GREAT BEYOND!!!]
The point is that Team Melton looked puzzled. And so while they stared at me, I imagined them explaining to their future spouses that, since they felt ready to be parents now, it must be time to travel into town and purchase a ticket to win a cow. I tried to clarify:  "So you can pray, but in order to make a baby, what has to happen is that a man's penis has to go inside a woman's vagina." (Now is when my oldest child covered his ears, slid under the table and started rocking back and forth and repeating: I'M GOING TO DIE I AM GOING TO DIE  MOM STOP TALKING MOM WE'RE EATING MOM I AM GOING TO DIE) But I warriored on because that's what I do. I am a TRUTH TELLER AND TERROR SPREADER. "But that's not the only way to make a baby. Now scientists can also take a woman's egg and a man's sperm and make a baby in a small plastic, like, container, dish thing. That's another way."
By now they were still staring, but their mouths had all gone slack, too. Chase was still chanting under the table. BUT I WARRIORED ON.
"The thing to remember is that sex is a special thing for older people who love each other deeply and are committed to each other. Like married." Oh God, this part is tricky. Tricky, tricky, please don't ask anymore questions.
And then my YOUNGEST said, "Well, if it's the penis thing, then you don't have to be married. You could just walk up to anybody and say: HEY: DO YOU WANT TO PUT YOUR PENIS IN MY VAGINA???"
This is when I was able to tell, just by his tomato face, that Craig had officially stopped trusting me to drive this train. Which was understandable but honestly man: don't tell me with your face that there's a problem UNLESS YOUR BRAIN HAS A SOLUTION. Craig's solution was to put down his fork and say, over and over- one thousand million times. "NO. No, no, no, no. Nope. No. No. NOOOOOOOOOOOOOOO. No, honey. No. You DON'T SAY THAT. YOU DON'T EVER, EVER ASK THAT, AMMA. No. Nope. No."
After No number one billion I decide to take back my train.
I say. "The thing is, there is a lot more to say about this. This is a long, lifelong conversation. ("NOOOOOOOOOOOOO." the boy adds sub-table. "NOOOOOO MORE!") "YES. MORE. This is important. Sex is a grown-up, beautiful, wonderful thing that is about love and commitment and is NOTHING TO BE ASHAMED OF. I also want to add that if you repeat to your friends anything we've said here, I will not only deny having said it- I will also deny that you are my children." As a parenting expert, I know that it's important never to send mixed messages about shame.
Then I put us out of our collective misery by saying: LET'S GET BACK TO THIS ANOTHER DAY. How bout that?  "YES," they all said. "Or never," the tween added. "Maybe we never, ever get back to this. This is not your best work, Mom." True, I said. But it's not my worst, either.
When I went to tuck my middle into bed a few hours later, she said: "Mama, remember dinner?"
Yes, I remember dinner and I remember the Alamo and likely they were equally disastrous.
"Well, Mom, I am imagining that my head is a house. Way up here is the attic. I am going to put that story about the penis and the vaginas and the plastic containers up here in the attic. I'll know it's up there if I need it, but I don't want to see it out laying around the house. Okay?"
WEIRD CONFUSING PARABLES AND METAPHORS! YES! THAT'S MY GIRL!
What I'm saying here is: That went well. Some things don't get easier. Some conversations are hard and awkward and imperfect and all we have to do is keep having them anyway.

Carry On, Sexy Warriors.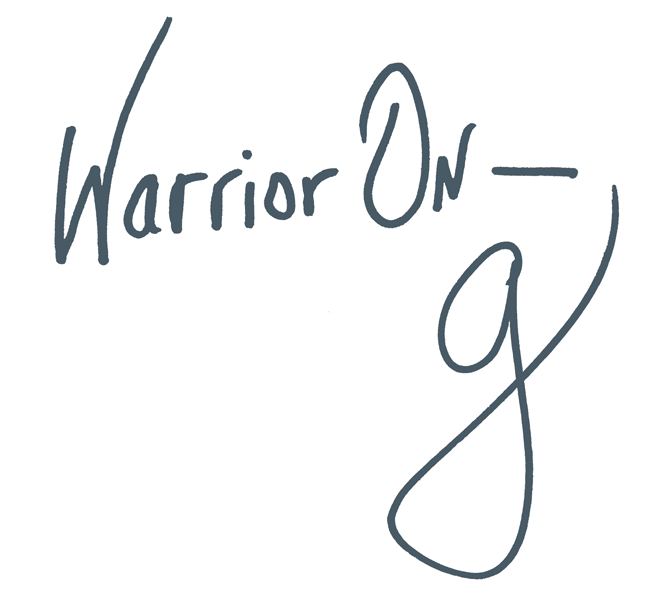 Author of the #1 New York Times Bestseller LOVE WARRIOR — ORDER HERE
Join Glennon on Facebook, Twitter, & Instagram