Dearest Glennon:
I've been writing this letter in my head for a while now. See, I write a lot in my head. I used to write a lot on paper too, but then the monster came back. The one that tells me "You can't. You're not good enough. You're not WORTHY of making a mark, much less leaving one. Be small. Be pleasing. Be other than who you are."
You see, I think we're sisters. Not Sister, I know, but kindreds in this life; in grief, in joy, self-loathing and self love. When I read your work, I see the work I could/can do when/if I'm brave enough. If I could give the monster a public F$#% YOU instead of private pleadings and begging bargains. At first, I'll admit, I wanted to dislike you. Because I am envious. Envious of seeing you thrive knowing our monsters are kindreds too. That you can keep yours at bay enough to brave the world. And mine, despite all the work I've done, still keeps me from acting. When is the work enough, I ask?
My first exposure to you was after Robin William's passing. That entry of yours was lifted straight from my soul. My husband said almost the exact same thing to me that night that Craig said to you. And I had the same reaction. I tried to make him feel better (because that's what I do) but inside the monster smiled. "See," he said, "I'm never really gone. This respite is a gift I've given you – not anything you've done for yourself. And you are mine to claim when I decide the time is right. If I can take Robin, I can certainly take you." But when I saw your post, I knew. Knew the monster was lying again, as he's wont to do. But why, why do I believe him anew? How do you keep from believing yours?
And then you offered the amazing parenting workshop with Susan Stiffelman. Which was beautiful and perfect in timing and content. Somewhere between those two connections I decided that jealousy would not win. That I could love you and the piece of the pie you're claiming, knowing I will not go hungry. I know that in 85% of the areas in my life, I am fat and full. But in the space where my desire is strongest–writing–I forget. I get sad and solitary – both of which strengthen the binds that tie my tongue and block my flow.
But I KNOW that your success is my success and that of all of us. So thank you for being one of my lighthouses – for your work, your light, your honesty and your grace. Thank you for speaking my words and heart when I cannot, and for putting yourself out there so that those of us whose doors are darkened from time to time by the monster can see that we can prevail, though the victories may be small and daily. Because when you rise, I rise. We all rise.
If you have the time, I do have advice to ask. How did you get brave enough to do this work? To quiet the monster, write and write some more. How did you make this less scary? How do you claim your truth and purpose? I've tried everything I know – bought every book – read every blog.  In almost every other aspect of my life I've banished him. But this is the most mushy, truthy part of me and this is where he's taken up residence and is stubbornly refusing to leave despite my wanting him gone. I want the sweetness that permeates the rest of my life to fray the edges of fear in this area and I want to be brave – today – tomorrow and beyond. I want to be big. Big like Glennon.
Again, thank you sister. Thank you kindred.  Thank you G.
xo
N
Dearest N,
I'm not going to answer your questions. I'm not going to give you advice, because you already know everything. Whatever the hell enlightened means, I think you might be that. You are my absolute favorite kind of person. Because: You wrestle with monsters and WIN.
Depression and envy — those are two of my monsters — so I know how tough they are, how slippery and sneaky and nasty.
Do you know how many people allow envy to keep them from love, connection and their work?  Do you know how many people just dance on the edge of envy? They see it there on the floor of their heart but they turn their back on it. They pretend: "I'm not envious.  As IF."  They roll their eyes. They join some others to snicker and snark. What they are doing is giving up. They are giving up on creating and settling for criticizing. I know what they're doing because I've been one of them. We are afraid to look at beautiful things because we are afraid we are not beautiful.
You are different.
You saw the envy on the floor of your heart and you acknowledged it there. Then you dove in. You swam around. You found the gifts below envy's surface — which are gratitude and the path to what you were made to do.  Two true things about envy, N:
1) Envy is just unexpressed admiration. It's respect holding its breath.


2) We are only envious of those already doing what we were made to do. Envy is a big flashing arrow pointing towards our destiny.
Why do we run instead of follow? You didn't run. You dove in and swam around and claimed envy's gifts and then you climbed back out.
AND THERE — still dripping from your swim — you saw the monster waiting for you. He laughed at the gifts you were holding. He told you to hide them. He told you not to write a letter, nobody'd read it. It'd never be good enough to touch another heart. And what did you do? You refused to engage the monster. You just slipped on by, clutching the gifts from the water , insisting they were real.  He didn't follow you. He can't. Movement is his kryptonite. Depression and envy are  like toddlers — they can only win if you stand still and argue with them. 

And so, soaking wet and still clutching your gifts, you side-stepped the monster and you sat down and wrote this letter. You wrote like a girl who knows she HAS A GIFT TO SHARE. And I, sitting in a lonely hotel room, read it. And N – I just think this letter is one of the best damn things I've ever read. So true and kind. Gorgeous.
You're done, my dear. You beat the monsters today — and the thing about monsters is that once you know how to beat them once, you know how to beat them every time. Monsters are persistent but not at all creative. Just not at all. Over and over again we say to them: Ah, yes, I see you there. Now if you'll excuse me – I have to go do my work.
N, sometimes I look for my sunglasses for twenty minutes before figuring out that they're on my head already. This is like that. You are looking for courage and freedom and BIGness and your problem is not that they are elusive: your problem is that they are already on your head. You are already those things.
Sister Warrior: You are already free.
N, I'll end this letter with something that you  know already. My bet is that you've known this since you were nine years old:
YOU ARE A WRITER. So just keep writing. If you don't know what to write, keep writing letters like this one. Just write letters to people you love. Tell them what you love about them and what you're afraid of. Turn the letters into a book. Turn them into the story of you. You are a really good story, N.
 All my love and respect and admiration,
Glennon
P.S. N: Please write an essay called "Fat and Full." I've never read a woman who uses those words to describe herself at her best. You claimed those words – fat and full – and when you did I held my breath and reread and reread and reread that sentence. And then you ended your letter with "I want to be big." You want to be big, N. I want to want to be big – but small is how I know to be loved. So the truthiest truth is that I still want to be small. Tell us how to WANT to be BIG AND FAT AND FULL and loved, too. Go there. You know that and we need to know that. Love you forever. I'll be here in Naples, cheering for you — with a houseful of kids and a mindful of monsters, doing my damn work anyway.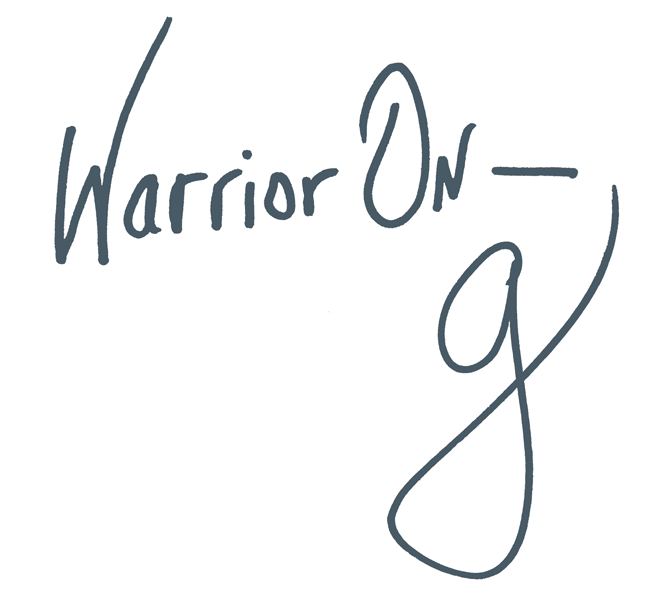 Author of the #1 New York Times Bestseller LOVE WARRIOR — ORDER HERE
Join the Momastery community on Facebook, Twitter, Instagram & Pinterest