I believe that life starts when we stop running from pain and instead surrender to it. We can't remain on the lam from pain forever. The running and deflecting and numbing always cause more trouble than the pain would have. Healing begins when we stop running and turn ourselves in. We say: here I am, pain. I give up. Have your way with me. All that stuff really happened. I'll let myself feel it now. Then I'll tell the story and let other people feel it, too.
This holy self surrender happened to my friend, Laura recently. And so when she sent me this essay  – about turning in her grandfather for sexually abusing her and the beautiful policeman's reaction – I read it without breathing. I posted it and your responses, as always, were real and brutal and true and holy and I read every single one and sat and cried my way through the pain and beauty of you. While I was reading, Amy texted me and said, "What can I do? How can I help you through the trauma?" She knew what I was doing and how I was feeling because she was in her house reading and feeling, too. I called her and we sat on the phone quietly for a while. And then I said – "You know, what strikes me is how desperately we all need to know that we are seen and heard. We don't need our lives to be different, or easier, we just need someone to see the pain. To know what we've faced and overcome.  To say: Yes. I see this. This is real. We don't need a magician to take it all away – we just need a witness."

And Amy said, "I think that's right. That's what you've always needed, too. They are your witnesses. They read your stories and they say: yes, we see you, Glennon. And we not only see you but we see us in you. And that means that we are not alone. We might hurt, but we are not alone."
The next day I had to leave to speak at some wonderful events. One was called C21 and it was magical. When my turn to speak came, I just told a love story about this place, about you, like I always do. I am a traveling lovestoryteller. It's a good gig.
*Long Lovestory. Tell ya soon, promise. Hint: this is what God says to me most often.
My friend Colby Martin spoke at C21 too. He was fantastic. Colby and his wife, Kate are holy rascals from San Diego. They kept getting kicked out of churches for loving the wrong (right) people, so they finally just started their own church. Now they're free to love whomever they want to love, which is everybody. They lead Sojourn Grace Collective and it's a beautiful place. Every Sunday they get in a circle and hold hands and chant: "Be brave because you're a child of God, be kind because everyone else is, too." I'm taking my kids to their church next month because I really want to stand in that circle.
After the first day at the conference I got back to the hotel, changed into my jammies and then went to the lobby to get a candy bar (which is healthier than a real bar so: yay me). Colby and his friend Mathew were there. They told me that the Sunday before, they'd used our "Whatever, I'm Fabulous" post as a springboard for a special church project at Sojourners. They read the essay and then asked their folks to write letters to people who'd hurt them so they could be witnesses for themselves. So they could pull out their pain and bring it out into the light- where it's always less scary. Colby and Matthew and Kate wanted the Sojourners to write their pain and name it and face it. We are all afraid to do that. We want to pretend we're not hurt- but admitting we actually are is our only hope. Colby said people wrote and wrote and wrote and stayed and stayed and curled up into balls and some cried and Colby curled up with them and cried too because that's Colby. Colby and Kate are really, really good witnesses. Loving witnesses. They listen closely.
Colby said, "It was awesome, G. Amazing. Thanks for writing that. So now I've got this trunk-load full of letters and I've got to figure out something special to do with them."
And I said, "You have them with you now? Well, let's go in the parking lot and burn them."
Colby said: "Burn them? Now?"
And I said, "Yeah, Why not?  Let's go burn all that pain into ashes."
Okay, let's go. Colby said.
This is us. We did not get burned or arrested and the only explanation for that is that Jesus loves us both very much.
I think since Colby is a preacher and a husband who should not be objectified we should probably not notice or mention how ridiculously good looking he is.
Actually, let's just spend a moment not noticing or mentioning that.
Well done, Very mature guys. We are growing up, I think.
Anyway. This is what I want to do. I want to be your witness. I love you and I want to fix your pain but I can't do that and I shouldn't do that because like joy, pain is holy and it should not be snatched away from people. I won't do that to you. I won't be a pain snatcher. But I will witness for you. This is what I do. This is my work. I make space in my heart for other people's stories: I let my heart break open for you – that is the greatest honor of my work. It's not the writing, it's the reading. It's not the speaking, it's the listening. Did you know that every single day I wrap up in this prayer shawl some Cincinnati Monkees weaved for me and read your stories?
This is what's changing me. If I am getting kinder and wider and more forgiving and closer to being love- it's because of your stories. It's because to really know humanity is to deeply and fiercely love humanity.
And so here is what Amy and I would like to offer you. If you would like to write down your story, your hurt, your pain, your past – if you would like to get it all out and put it on paper and send it to us- we would love to read it. I know it's scary. Remember: scared and sacred are sisters.
Write it down. If you are like me, that will be the start of your healing. Put it in an envelope. Send it to: Momastery, PO Box 7294, Naples, FL 34101 and on the back write: Can I get a witness? Amy and I will collect these letters for a month. Then we will take them to the beach and we will read them carefully and prayerfully and we will open our hearts wide and let your story in and we will SEE you and say YES. I see you. I believe you. This happened to you. You survived this. You did. And we will sign your story. We will make ourselves your official witnesses. And then we will burn your story. We will turn it into ashes which is to say that we will not destroy it- nothing can ever be destroyed- but we will use fire to transform it into something else. Something different. Something new. If it takes us ten nights to read and sign the letters, that's fine- but we'll wait to burn them all at once, so that all our pain and triumph will be mixed together into one pile of fire –  then smoke  – then hot ashes –
then cool ashes.
Cool ashes can't burn us.
That's what I can do. I can be your witness, as you have been for me.
I love you. I love us.
Amy and I will be waiting for your letter with broken-wide-open hearts.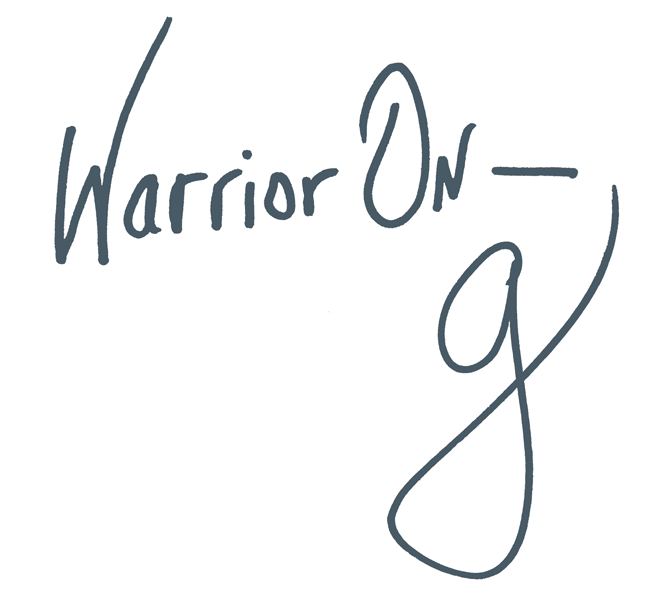 Author of the #1 New York Times Bestseller LOVE WARRIOR — ORDER HERE
Join the Momastery community on Facebook, Twitter, Instagram & Pinterest