I've been asked to travel to see the work of international aid groups more times than I can count. I've always said no, for three reasons. First, I have a dear friend who works for a relief group abroad and she often has to stop serving in order to make up work for visiting Americans to do. She needs to accept these visitors because her program needs their sponsorship money, but it's a real drain on her resources when Americans come. Second, many of these aid groups are faith-based and to tell you the truth, I worry that some faith-based aid organizations use service as a means to further their agendas. That concerns me. I just want people to love each other and serve each other without trying to convert each other. Third, my comfort zone is exactly the size of my cloffice. I don't much like leaving the house, much less THE COUNTRY. For all these reasons, it seemed right to privately support the international groups I love while publicly working my butt off domestically, through Together Rising.
But trying to keep your circles small instead of allowing them to widen never, ever works in the long run. Enter: Amy. Amy joined the Momastery team years ago and swiftly became a sister to Sister and me. Amy used to work for CWS and knew in her bones that Momastery and CWS would be a perfect match, so over the years she'd send me links to work CWS was doing that she knew would make me swoon.  (Look G! Here's the CWS president, getting arrested for advocating for refugee children! Look, G—LOOK. CWS staff are putting themselves in harm's way to protect LGBT people in South Africa from violence and persecution. G, do you see how CWS is supporting food pantries all over the US and doing the long, slow work of recovery in areas hit by disaster? And how, in their work overseas, CWS doesn't simply go into places with their own program ideas, but, whenever possible, supports people doing great work in their own countries?)
After studying CWS closely, I decided it was time to expand our Momastery family circle to the whole wild world. I trusted the people at CWS to help us do that carefully and right. I gave Amy the go ahead to explore a partnership. And then one day Amy and I found ourselves in a meeting with CWS and they told me about a woman named Denisse Pichardo who is running a program called Caminante in the Dominican Republic that helps get child sex workers off the streets and safe and educated.
And they asked if I'd travel to meet Denisse and see this work and how CWS has come alongside to support her. And I smiled and said: THAT IS AMAZING. ALSO, NO. Nope. That woman is working hard enough without having some American lady come stare at her all day. No. Sorry. No way. I will send her all the love and support in the world but I will not be a drain on that woman.
CWS said: what would it take to get you to visit? And I said, an invitation, probably. From her, not from CWS. I love you- but I'm not going anywhere because you want me to. I'm only going if that badass sister wants me to. And I just can't imagine why she would.
A month later, I opened my email to see this:
Dear Glennon,
Please receive my greetings of peace, full of God´s grace and life.
I have heard about your great life testimony from my friends at Church World Service, Caminante's long standing partner, and I would love to hear more directly from you. But I cannot leave my work here with the children to visit you. They need me and they really need all of us working together to support them. They need the world to hear their stories.
I want to invite you to come to the Dominican Republic to visit Caminante Proyecto Educativo (Caminante Educational Project), a nonprofit I started. I work in Boca Chica with children, adolescents, young people and families who are vulnerable to different social problems. Many of these children are survivors of commercial sexual exploitation, drugs, gangs and terrible violence.
I'd love to share with you about my work with these children and also learn from you about the inspirational work you do for thousands of women in your own country. It would be a real honor for me to host you so you can meet the children and hear from them first-hand about their lives. I will do our best to make your days enjoyable and fulfilling at Caminante and in Boca Chica.
Warm greetings,
Denisse Pichardo
Executive Director
Caminante Proyecto Educativo
And I had the reaction any do-gooder would: daaaaaaamnit.
But the bottom line here is that if a badass nun from the Dominican Republic who has devoted her entire life to getting children off the streets and into the lives they deserve beckons you, you just put on your big girl pants and go.
And so, in November, I went. I have been reflecting on this trip since then, deciding how I want to tell you about it—because I have so much to tell. I started to write it all down to tell you all about it one fell swoop, but I realized that there is too much—it is too beautiful and too full to share with you in just one sitting. I want to introduce you to the people we met slowly, like presents for us to open up together and examine.
But first and of course, today I want to introduce you to HER.
Friends, meet Denisse Pichardo, Dominican lay nun, founder of Caminante, winner of the 2011 World of Children Award, partner of CWS, Lover of the Light.
Denisse is a Dominican nun with the Order of the Altagracia. In 1994, she was sent to the city of Boca Chica with the task of assessing the needs of the city. Denisse knew no one in the city and had no idea what to expect, so, as soon as she arrived, she began walking—walking down streets and through neighborhoods, up and down the beach, walking all day and into the long nights. And what Denisse discovered in Boca Chica broke her heart. She found children sleeping in the streets, without access to basic resources or schooling. She saw extreme poverty. And, at the heart of it, she saw foreign tourists preying on local children, especially young girls, many of whom were being forced into the growing sex tourism trade.
Denisse reported back what she was seeing and she stayed put. She didn't have any money to rent a meeting space, so she gathered children under trees and on beaches and began to teach. She taught them basic school lessons and began talking to them about their rights. She told these precious ones that even though they were abused, forgotten and abandoned by the world, they were children of God and deserved to be treated as such. She promised them that they were wildly and completely loved.
Denisse also started writing. She wrote down dreams for what she would like to do in the city, grant applications and requests for funding. CWS was the first organization to respond and has been her partner ever since, supporting her over the last 20 years as she gradually turned her school under a tree into a well-run non-profit called Caminante Proyecto Educativo (Caminante Educational Project). Caminante means "We Walk Together," and from how it all started to what they are doing today, I can't imagine a more perfect name.
We spent three days visiting Caminante programs and meeting people whose lives have been transformed by Denisse's work, and I kept wondering—How in the world did she DO all this? How does someone go from walking the beaches and simply talking to kids to building an organization providing education, therapy, health care and protection to an entire region?
Denisse doesn't stop caminante-ing long enough to take many questions, but she sat with us and told us her story on a long van ride on the way to visit programs outside the city. We finally got to ask—how did she get from there to here?
She told us that while she did not grow up rich in any sort of material way, she was surrounded by a wealth of women—a strong assortment of aunts who challenged her and raised her up towards who she is today. And she had books. She remembers discovering books about Dr. Martin Luther King, Jr. and being captivated by his life and his work. His words advocating for justice in the far away United States unlocked the idea in her that she — a poor, black girl in the Dominican Republic – had rights and worth as well. And she told us that somehow she has always, always known she is loved — loved so radically and completely by God that she wants nothing more than to make sure that everyone she comes in contact with feels love like this as well.
As we were talking to Denisse about her life and her work and her deep Catholic faith, she asked us if we knew about Pope Francis, and how he invited people to step out of their comfortable lives and churches and go out into the streets and into people's lives and "make a mess." Then she laughed and said, "Oh! If Francis were walking here with me today we would make such a mess together!" My jaw dropped open and even though we were traveling down a bumpy rural road the moment got real still and holy. Because isn't that what we are all trying to do? Just walk alongside one another down this messy, beautiful path of life? Maybe it doesn't matter where we live, what we look like, who or how we serve—once we accept the invitation to love, our lives are turned in one crazy, beautiful mess. 
Denisse was the 2011 recipient of the World of Children Award, which has been called the Nobel Peace prize for people working with children. She is a really big deal. But she doesn't seem to care much about that–she has much more important things on her mind. At the end of our van ride we arrived at the destination and climbed out to and climbed out to visit a new CWS-supported health program and a community school run by another local partner, SSID. Denisse immediately got to work—gathering the children in the school together and getting them to recite back to her their rights. Telling them that she loved them and that they were worthy of this love. Reminding them to remember who they are, and what they can grow up to be.
Thank you, Denisse. Thank you Amy and Don and Luciano and Angie and everyone at CWS for being such good, true FRIENDS to the world. That is what I to be. I don't want to be a helper – I just want to be a friend. I just want to keep letting my circle ever widen. Thank YOU- Monkees and Together Rising for being my circle, and for always, always making room for a few more.
Actually I think we are more of a horseshoe than a circle. Open. Always open. Always holding space for someone new.
Make a mess, friends.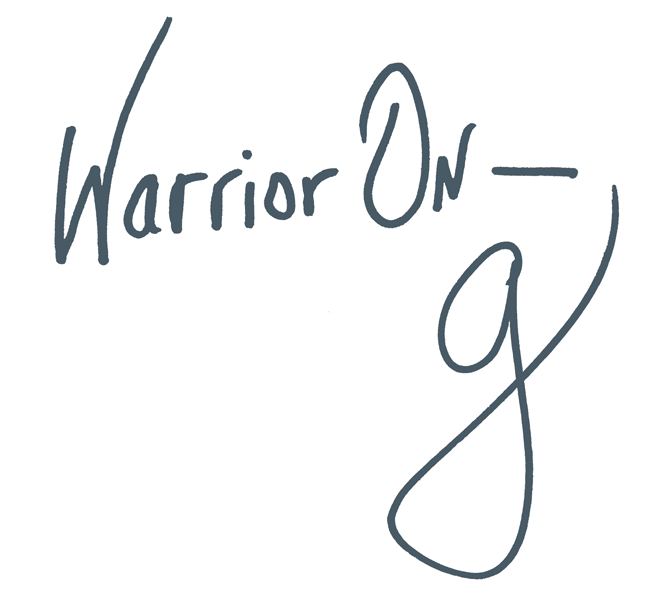 Author of the #1 New York Times Bestseller LOVE WARRIOR — ORDER HERE
Join the Momastery community on Facebook, Twitter, Instagram & Pinterest