Here is the thing about books and me: It's possible that our relationship is not entirely healthy.
I am a speed reader. Not officially, but enough so that every time I'm on the elliptical at the gym, someone stops me and says, "I have to ask- are you actually READING that thing?"  To put things into perspective, "every time I'm on my elliptical at the gym" has been exactly three times in three years. But this has happened all of those times.
I read frantically –to the point that it becomes less enjoyable than maybe it should be. I read like I used to (sometimes still) eat. Like the book or cookie is ON FIRE AND SO I MUST FINISH IT IN THIRTY SECONDS OR IT WILL CERTAINLY TURN TO A PILE OF ASHES. Also, I am frantic even if I'm not actively reading or eating.  If there is an unread book or an uneaten cookie in my home I can pretend to pay attention to the people in my home but I cannot actually  pay attention because I am looking at them and nodding but the distracting and all-encompassing words looping through my brain are THERE IS A BOOK AND/OR COOKIE IN THE VICINITY OF US AND SO HOW THE HELL ARE YOU PEOPLE CARRYING ON AS IF ALL IS FINE WHEN CLEARLY THERE IS  UNFINISHED BOOK AND COOKIE BUSINESS IN THE VICINITY OF US.
And so often I sneak away to read and eat. I have to sneak because it feels wrong to prefer being in my  book and cookie world more than being in the real world which is not REALLY true except for it's a teeny bit true. It's just mostly true but not completely.
It's completely true. I prefer book and cookie world.
The point is that I do not eat nor read leisurely. I eat and read like I suspect that maybe every book and grain of sugar is saving my life. I think this might be why a lot of folks with food issues don't eat in front of people. Because for us, eating is not a social activity. It's full immersion. It's –  like – SERIOUS.  We do not nibble on food or books – we devour them. Almost whole.  Without even chewing sometimes. It's so personal that it feels private. I don't know.
ANYWAY. Here is my point: I finish a book maybe every three days.  And I always love them. I ALWAYS LOVE ALL THE BOOKS. To me, books are like people- they don't need to match me perfectly- I just need to be able to learn something new from them. And I always do. I always learn something new. My favorite person is usually the one I'm with right now and my favorite book is always the one I'm reading right now. And so every time I finish a book-  I want to thank the writer in some HUGE way and then tell you all about the writer in some HUGE way to show how HUGE MY LOVE IS FOR BOTH THE WRITER AND FOR YOU but then it all seems too huge to try –  so I just do nothing.  This is actually the entire story of my entire life.
But no — I cannot let this happen! Not when it comes to BOOKS! Let me neglect anything but books and writers and you!
The enemy of good is perfect. Things are better done crappily than not done at all.

Everything worth doing is not worth doing well — and on and on etc., etc.
So here's what I'm going to do: Every time I finish a book I am going to post a picture of it here or on Facebook or Twitter or Instagram and then I am going to ask who wants it and then I'll randomly choose one of you and then you will email me their address and then I will go to the Post Office and send it to you.  Since I hate going to the post office with a burning, burning fire – I will offer that up to the author as my deep and sacrificial THANK YOU.  *Please note that when you receive your book it will VERY  likely have water damage because I drop every book in the bathtub at least one which is why I'm not allowed to have a kindle. Consider your book well loved. No returns, please.*
First Book!!!
I assume that everyone here knows Ann Patchett, but we are going to need to talk about her anyway.
I just finished This is the Story of a Happy Marriage, which is collection of her essays. You need this book. In it she writes about her divorce and her friendships and her beautiful second marriage and Nashville and the Sisters who helped raised her and about the pure, fierce, tender love between her and her dog, Rose. The blurb on the cover says, "A collection of sparkling essays." I finished the book on a plane and then sat with the book in my lap, just staring at it and thinking. As I stared I noticed with great delight that when the cover catches the light, it literally sparkles- because subtle glitter is hidden inside the strong layers of color. When I discovered this I was so tickled that I tried to show the man in the seat next to me. He was not as excited. I think maybe you have to read the essays to become sufficiently delighted by how PERFECT the cover is.
The way the cover works is exactly how Patchett's writing works. Her essays are strong, layered, bold – with subtle but very real sparkle. She is a master. Her writing is so crystal clear and good and steady that it doesn't even feel like WRITING. It's like she presents her entire story WHOLE. Here is the thought in the back of my head as I read her:  This woman is so SANE. She is just so SANE. And she makes sane seem so damn attractive. So wait- one can have a life with this much depth,  this much beauty,  this much wisdom and ALSO be totally SANE?  I usually feel a little bit hostile toward sanity but she and her friend Elizabeth Gilbert make me want to consider considering it.
In one essay, Patchett is deciding what to do about her less than healthy marriage, and a friend asks her: does he make you a better person? It's a good, hard question and this whole book is sort of an answer to it. It's  about what makes her a better person. I believe that Ann Patchett's writing makes me a better person, so I am going to keep her around. You should, too.
One important thing: Ann and her friends Mary and Karen opened an independent book store in Nashville called Parnassus. They did this because they believe in the power of the independent book store to bring a community together. It is my new goal in life to go to Parnassus and just sit on the floor and read for many hours. If you must know, I will only pretend to read while out of the corner of my eye I will  spy on Patchett and gather ideas about how one might kick start this sanity thing.

I bring all of this up because the right thing to do, if you decide to order any of Ann Patchett's books, is to order them not from Amazon, but from Ann Patchett.  No ill will toward Amazon, but Patchett makes me want to do things right. Visit her! Small bookstores are so important. I'm grateful that she and her partners are doing their part to keep them alive. Also, I would like to formally register my concern that — in the distribution of fiery, cool, talented, beautiful hearts and minds –Nashville has been egregiously over-served. This is a fact, jack. SHARE, Nashville.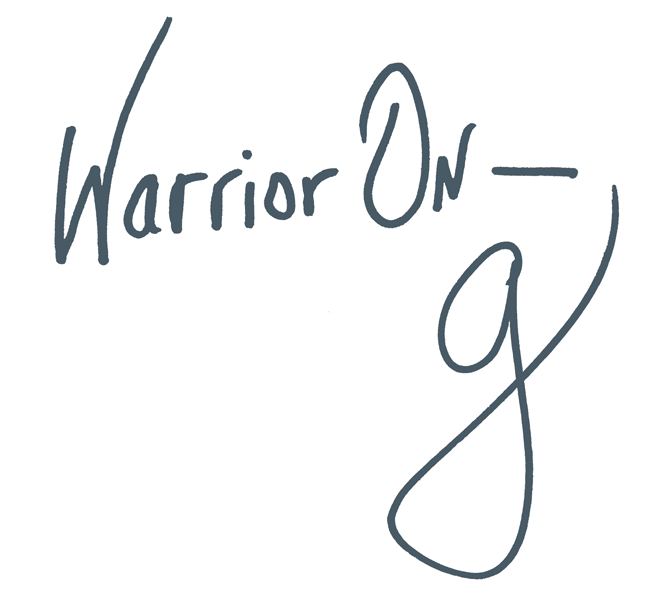 Author of the #1 New York Times Bestseller LOVE WARRIOR — ORDER HERE
Join Glennon on Facebook, Twitter, & Instagram