Wendy's heading into surgery for breast cancer this morning. She is having a mastectomy and she is having her ovary removed.
Wendy's friend sent me this, a letter that Wendy wrote from her mind to her body, in preparation for this day. Wendy's friend told me that it would be a dream come true to Wendy to have it published here- which worked out nicely since the honor of publishing something so true and fierce and wise and perfect is a dream come true for me.
In celebration of Wendy's Mind, Spirit, and Body – let's allow her letter to cement our Perspectacles to our faces and help us embrace our messy, beautiful bodies this holiday week. At least for this week- let's call a Christmas truce. Let's stop treating our body like our enemy. It works so hard for us and deserves our respect and love. Let there be peace and let it begin within us.
We are WITH you, Wendy. THANK YOU.
*******************************
A letter from Wendy Donner, to Wendy Donner.
Dear Body,
As we march together toward the big day, I thought it might be helpful to huddle up. We've been joined as one for a little over 42 years and, I'd say, have been a pretty phenomenal team. I realize, however, that I haven't often spoken directly to you with intention, while you talk to me pretty much all the time through sensations of pleasure, pain, fatigue, hunger, thirst and desire. So here goes, my first formal letter to you.
I want to start with some appreciations. Thank you for healing the scrapes and cuts of our childhood and for tolerating the soccer goalie dives that left your hipbones raw and bloody each August through December. Thank you, body, for being so very strong, for climbing mountains, swimming seas, and running one damp D.C. marathon. You must have been relieved when I entered my 20s and took up yoga; we became really close then and you got to sweat, purge, stretch and strengthen without pummeling your joints and connective parts. Most recently, you rode up mountains on our bike, pumping like a machine, rarely complaining and almost always ready to push harder.
Thank you for making our babies; for serving up two perfect eggs and growing those delicious children inside of you. Thank you for knowing just what to do during the long nine-month stretches, for opening up to let those babies out, and for making more milk than any one infant would ever need. I'm so grateful that you didn't become diseased until after those wonderful babies were born, and until they grew old enough to manage this journey with resilience and compassion. I imagine you had to fight pretty hard to do so. Thanks, body.
And, some apologies. I'm sorry, skin, for that tanning booth chapter in high school. I'm sorry, feet, for each time I forced you into narrow high heels. To a body who needs a good nine hours of sleep per night, I apologize for the years 1998 – 2003. I'm sorry, body, for the times I wished parts of you were smaller, leaner, higher, smoother, tighter, or otherwise different. And poor, sweet hair, I'm sorry for all the chemicals. It's no wonder you bailed on me.
It has been six months now since we sat in that small, windowless room to hear that the thickened area on your right breast was not actually an infection; rather, it was stage two breast cancer. Since that surreal moment, I've learned so much about how you function and the millions of miracles that happen within you every day. I'm in awe of the complexity that allows us to thrive, the delicate balance that is essential for health, and the power of science to fight disease. I find myself craving a deeper understanding of the intricacies of your inner-workings and of the various phases of treatment. I wish I could somehow be the one to care for you, that I was twenty years younger and could go to medical school and be your doctor.
I want you to know how sorry I am that you had to endure liters of toxic chemotherapy pouring through your veins, but body, let's be straight with each other: you kinda turned on me. It's not your fault – the DNA we inherited was mutated, leaving your breast and ovarian cells primed to become carcinoma. You handled the chemical onslaught as best you could, often speaking to me with unquestionable clarity and commanding, "Get in bed and stay there. Get up only to pee." I listened, dear body, and we made it through.
So now we head into the next battle, one where parts of you will be removed. There's too much risk that your mutated breast and ovary cells will yet again become cancer, so surgery we must face. I hope that together we can let go of these parts, grateful for the miracles they performed, mournful for the loss of them, at peace with the reality that they must go.
I'm sorry that three surgeons will cut into you, marking your beautiful skin with scars and scooping out pounds (yes, pounds) of tissue. I ask that you'll graciously accept our implants, working to fend off infection and heal smoothly. I know your back will appreciate the lighter load, and your shoulders will love riding around bra-strap free.
It's you and me, body, heading into the next unknown. I promise to honor your strength and beauty and to nourish and care for you as you heal. Here's to us.
Love,
Mind
Dear Mind,
Thanks for the letter. You're over-thinking things. Our new boobs are gonna be awesome.
Love,
Body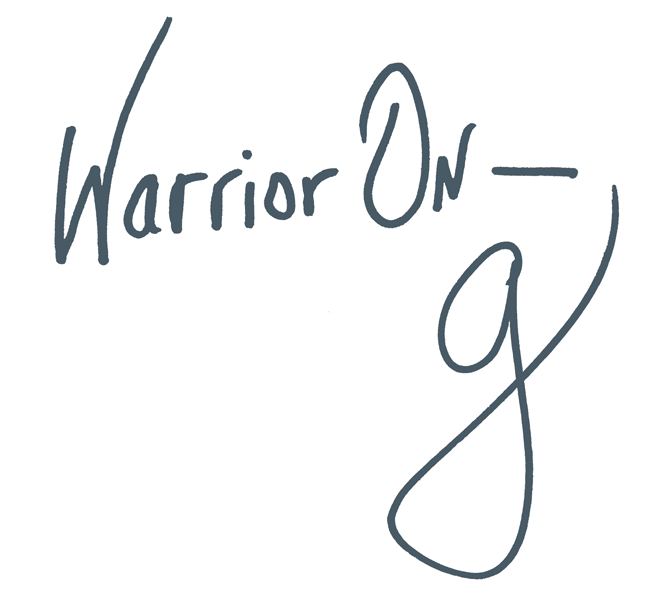 Author of the #1 New York Times Bestseller LOVE WARRIOR — ORDER HERE
Join the Momastery community on Facebook, Twitter, Instagram & Pinterest