Last week, I posted this article about that Christmas season when our family was breaking and how brutifully hard it all was.
Teressa wrote this response on our Momastery Facebook page:
Dear G,
I read this essay a couple of days ago when you first posted it. I thought of it this morning, when I was attempting to make a cup of coffee from the espresso machine my husband had given me years ago, back when we were happy. We were married for 15 years. We divorced in March. 

I hadn't used the machine in a few years, but I packed it up from the basement and moved it from our house when my son and I moved a couple of months ago because I couldn't let it go.

I bought espresso ground coffee and half and half this week to make a caramel macchiato like I used to every morning when my son was a little one and I spent my days being wife and mom.

I got it ready today and it wouldn't work. It hadn't been used in too long. I can only assume it had hard water buildup inside it because the water would not move through it.

The motor was running, but nothing was coming out. I panicked. It had to work. This was from when I was happily married. I needed THAT cup of coffee, made from THIS Krups machine, which my husband had surprised me with a decade ago.

I turned it off. I undid and reset everything. I turned it on. Nothing. Just the mechanical grinding noise. I did it again, and again, and again. Nothing.

I froze. I finally just left it on. Watching the spout, willing it to work. I needed it to work. 

Then I remembered your essay, and your description of frantically gathering the broken pieces of your ornaments and desperately trying, needing, to make them unbroken. 

I saw that's what I was doing with this machine. 

But it WAS broken. And it wasn't going to be fixed, it wasn't going to work, ever again.

I thought of the rest of your essay. And even though my story isn't going to end like yours and Craig's, I knew someone understood what I was feeling in that moment. My machine was your ornaments.

And after a minute or so of staring at this machine which was screaming the truth at me in the form of a grinding sound and hot electrical smell…I slowly reached out my hand and shut it off. Then I unplugged it and took it to the trash can in the garage.

And then I went and took out the box of instant coffee from my cabinet and made a cup of that instead.

I'm sure you can understand the processing and feelings that were going on inside of me during this. And I wanted to let you know…and to thank you…for giving me strength and comfort during that moment, even though you don't know me. 

These things you share by being transparent with the world, they change people's lives and I want you to know that with every fiber of your being. Your courage in being vulnerable is a gift, and I thank you for it.
Love, Teressa
I wrote this back to her:
Dear Teressa,
This is so beautiful that I am having a hard time handling it. Would you consider sending me your address? I would love nothing more than to head down to the little coffee store in my town today and smell each bin of beans until I find the one that fills me with the most comfort and package some up and send it to you. You are a warrior and I would be so ridiculously honored to help you start a new coffee tradition.
Love, G
She said yes. So  I went to the coffee store and collected some delicious amaretto cherry beans for Teressa and it felt really good, but unfinished. My little love project felt unfinished.
So I reread Teressa's story and thought: UREKA! Of course! So I emailed the Together Rising board and said: YOU GUYS: THE THING IS THAT TERESSA NEEDS A NEW ESPRESSO MACHINE TO GET HER RISING!!!! That's what she needs! And of course, the board said: WELL,  OF COURSE SHE DOES!!!! And so I went and got one. And I was so excited but then I got home with it and Craig told me that actually an espresso machine is different than whatever this thing is. I don't understand fancy coffee. So then we got a different one. Love Projects can be really tiring, to tell you the truth.
Dear Teressa-
Together Rising wants you to be reminded every morning that the love and support of a husband –while so precious- is not the only love and support in the world. You still have support. You have us. You have a sisterhood – US- and we want you to wake up every morning to the sound of your fancy coffee brewing. Then we want you to crawl out of bed and shuffle to the kitchen and pour a mug full and wrap your hands around it to warm up. We want you to smell it and taste it and be reminded with all of your senses that you are NOT ALONE. You are an important part of a sticky international web made up of millions of warrior women who are starting over every single morning – just like you- determined THIS DAY to embrace their messy, beautiful families, selves and lives. Some days, we'll embrace – other days, we'll fall flat on our face. BUT WHO CARES? There is always tomorrow morning's coffee, right?
Teressa-  We might FEEL alone in our homes but we must remember that we are alone, TOGETHER.
Love, G and Together Rising.
Love Wins. As does all manner of coffee.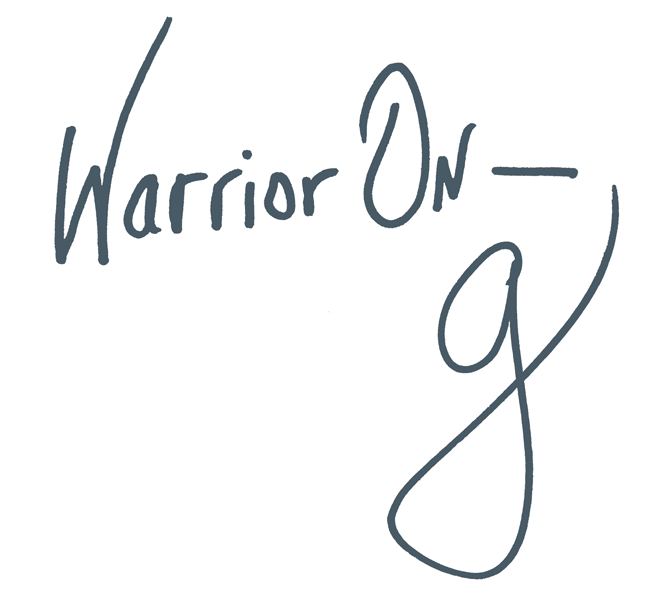 Author of the #1 New York Times Bestseller LOVE WARRIOR — ORDER HERE
Join the Momastery community on Facebook, Twitter, Instagram & Pinterest