Friends, I really need you to read this long essay all the way through. If you do- and you follow directions -– you will walk away with a 1:350 chance to win a brand new Jeep Wrangler Sahara on December 23rd. Strange, but true. Like me! Read on.
If you've read Carry On, Warrior- You already know Gena. Of all of the kind people I've been blessed to know – Gena is the kindest.
That Harry Connick Jr. guy is Gena's husband, Zach. Gena and Zach met when we were all at JMU together. At their wedding, the DJ introduced them as "ZENA AND GACK." Zach is an orthodontist. When I imagine Zach as a child, I picture him like that little elf on Rudolph who only wanted to work on teeth. When Zach reads this, he'll likely send me an email explaining that he was nothing like that elf. I will respond by explaining that he is not the boss of my imagination. My list of favorite boys goes like this: Craig, Chase, Bobby, Bubba, John, Zach. The thing you need to know about Zach is this: If Zach says three sentences, one will be about how proud he is of Gena and how much he loves her. If Gena speaks three sentences, one will be about how good Zach is and how proud she is of him. The love and respect they have for each other is my second favorite thing about them.
My first favorite thing about them is that they are generous. If I had to choose one word for them, it'd be generous. They are generous with their time and home and talents and lives. The way they love and take care of each other is exactly the way they love and take of their world. You will find that this is often true of marriages.
Two weeks ago I got this email from Gena:
G, There is a little boy from Zach's practice and he's really sick and his family is a bunch of warriors and they are fighting so hard but they need our help. Zach is doing what he can. Can you help?
The thing is that I have a strict rule: I never use this platform or the non-profit to help friends. This rule hurts sometimes, but I've learned that it's what's required to keep Momastery, Together Rising, and my friendships pure. However, the other thing is that there just isn't a rule on Earth I wouldn't break for Zena and Gach. So I called right away and said: Tell me everything.
Here's everything.
Meet Mathias.
Mathias is a 13 year-old boy living in Northern Virginia, my old stomping grounds. Here is how his mama describes him: "Mathias's name means "gift of God" — he truly is a gift. He is the bravest, kindest person I know. His love & care for others and his appreciation for everything in life is remarkable. He is wise beyond his years. He is my inspiration. I have always said that, "when I grow up, I want to be like Mathias."  He is gentle, honest & well known for his beautiful smile. He is a wonderful brother to Troy & a great friend to so many." 
Mathias was diagnosed in July 2012. He actually didn't have any visual signs of anything unusual on his leg other than pain, which we thought was soccer injury or growing pain… the were no bruises or no swelling, no rash or anything suspicious. In fact I asked for an X-ray and the doctor suggested that we ice it or heat it for a few weeks before we expose him to X-ray. I insisted and I am so glad that I did. It was cancer. Mathias began treatment and his leg was amputated. He got sicker, he lost his hair. Over the past 20 months, he has endured biopsies, port placement, 26 rounds of chemo, 3 major lung surgeries, amputation of his right leg, and completed 28 rounds of radiation. 
Mathias's family fought and fought but now they have been told that the only thing to do is keep Mathias comfortable. They have decided to do a hell of a lot more than that. In addition to loving each other fiercely, completely and heroically, here is how Mathias and his family is spending the remainder of their time on Earth together: fighting for strangers.
This from Roya, Mathias's mom:
During this journey we quickly learned about the shameful lack of funding for pediatric cancer and massive lack of awareness in our community. In December 2013 – when I went to DMV to get a new license plate for my car, I asked for a specialty plate with the gold ribbon (the Childhood Cancer Awareness Ribbon) on it. I was told that they have the pink ribbon for breast cancer and the yellow ribbon for the troops … but nothing gold! I thought: How can that be? Mathias was surprised and saddened by this.
He said: "The pink ribbon is out there and everyone knows what it stands for- we need the gold ribbon to become well known, too! We need people to know that kids get cancer too and that they can't fight alone!" He knows this because of his long battle with cancer. If it wasn't for the love & support of friends, family and strangers we couldn't have kept up the fight for this long. Others have to know!
People kept asking Mathias- what can we do for you? What can we bring/give you guys? One day, when he was already very, very sick – Mathias decided that what he wanted was to make sure a gold ribbon license plate was created. So while we were busy taking care of Mathias and his treatments, a friend of ours – Jay Coakley – proceeded with the idea and helped us get this application process underway. It was a long, hard process- but it happened! Our bill passed! This bill will be called the Mathias Law, it will go to the general assembly in Richmond in January 2015 and when it passes it will go to the senate and then to the governor's desk… and this will become a reality. Then DMV will create a sample plate and once we approve it, it will be in production & available to public all over Virginia.
Tag Greason from the Virginia House of Delegates came to our home personally to deliver the news to Mathias, to shake his hand, thank him and say: thank you for dreaming your dream for other children.
To dream our dream for others. What higher calling can there be? And a child shall lead them.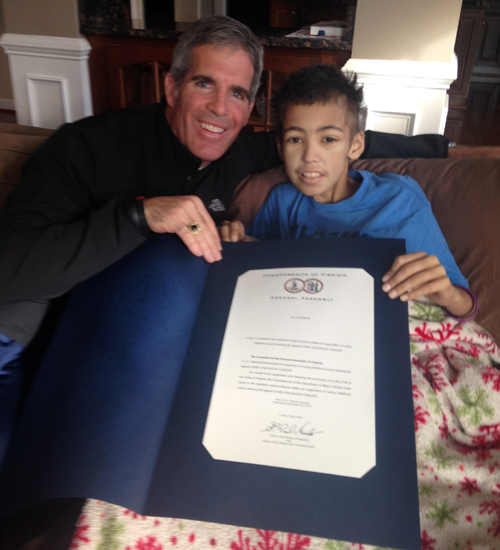 Back to Zach. Dr. Casagrande to you. Dr Casagrande is Mathias's odd toothy elf. I MEAN ORTHODONTIST.
Zach wrote this to me:
"Mathias has been a patient of mine since he was 9…three years before he was diagnosed. I can tell you he's a special kid. Infectious smile, one of those eternally positive people (like Gena). Like anything else in life we all have our favorites…and Mathias is one of mine…Polite. Fun. Outgoing. Selfless. Smart. Witty. Athletic. Good kid. Just a really, really good kid."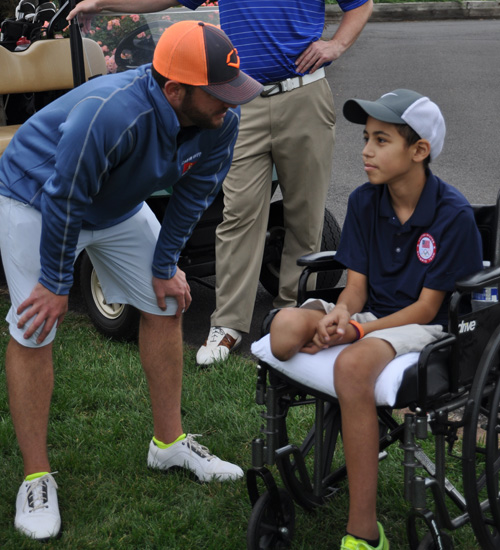 Zach felt ON FIRE about Mathias's diagnosis. He felt angry at cancer and inspired by Mathias and filled to bursting with fear and sadness and hope. All these feelings mixed together added up to one thing: LOVE. And Zach knows that Love is a VERB. So he decided to DO something to love Mathias well. What though? WHAT?
You know how Beuchner said that: "Your calling is the place where your deepest gladness meets the world's deepest need?"
Well- Besides his family and friends and teeth – Zach's deepest gladness is CARS. Cars make Zach DEEPLY GLAD.
"Your calling is the place where your deepest gladness meets the world's deepest need."
And so Zach went out and bought a brand new White 2015 Jeep Wrangler Sahara. And he decided to raffle the Jeep off, with 50% of the proceeds going to Mathias's medical bills and the other 50% going to Kyle's Kamp. He decided to announce the winner at a Blood Drive that his office would host on December 23 in honor of Mathias. Because blood drives are Mathias's other passion.
This from Roya:
Mathias thought it would be great if people would go and donate blood in his honor or register with Be the Match and become a bone-marrow donor. So in the past two years we have hosted a few blood drives in our community and for his 13th Birthday on June 14th, instead of presents he asked people to come and register with Be The Match. So while we fight, we try to pay it forward and making a difference is all we can do, with the help of so many amazing supporters in our community.
I know. I cannot even BELIEVE this family's goodness and beauty. LET US MAKE LIKE MATHIAS AND PAY HIS BEAUTY FORWARD. Love is a verb. Here's what we can DO to make our love for Mathias and all children with cancer REAL. To make sure they FEEL it.
ZACH IS GOING TO RAFFLE THIS JEEP OFF ON DECEMBER 23rd. ONLY 350 TICKETS HAVE BEEN SOLD. WHICH MEANS THAT IF YOU BUY A TICKET TODAY – YOUR CHANCES TO WIN A BRAND NEW JEEP ARE 1:350. THOSE ARE SOME INSANE ODDS. YOUR CHANCES OF MAKING THE WORLD A BETTER PLACE ARE 100%. THAT'S A LOCK. If you feel moved by Mathias and his mama and Zach – please choose one or all of the following and BE LOVE!
If you live in the Northern Virginia area, go to the Mathias/ NVO blood drive by going to www.redcrossblood.org and use sponsor code: NV Orthodontics to schedule your donation in honor of Mathias.
If you're not in the Nova area, GO TO BE THE MATCH.
Share the living bejesus out of this story. Best-case scenario is that we completely destroy our chances of winning this jeep.
Go love on Mathias and his family over here.
Check out KYLE'S KAMP– half of the raffle money will go there. Kyle's Kamp has raised more than $1,200,000 for pediatric cancer research and care for Children's National since 2012.
One last thing:
This morning at 5:30 am, I was in Naples working on this essay and Gena was in Virginia sifting through pictures of Mathias to send me.  Then she got an email from Roya that tore her heart open again. Gena stopped what she was doing and sent me this one sentence:
G, I can't stop crying.
Here is what I sent back.
Dearest Gena,
The word compassion….com = with, passion = to burn – to suffer – from love.  
And so real compassion is only present when you are suffering in love with another person. That is what you are feeling this morning. True, deep compassion. You are voluntarily suffering with Roya. It is hard and horrible – real compassion – but it is also the holiest thing available to us on this Earth, in this lifetime. It's a gift from God. It IS God. And it's Christmas, Gen. Christmas is about this: God so loved the world that God decided to come suffer with us. And so really, when you think about it- the only true way to celebrate Christmas is to suffer in love with someone else.
And so, Sister, this morning it might feel like we are just up early in the dark at our computers but really- we are entering into God's work. We are entering into HARD LOVE. Blessed are those who mourn. Blessed are the poor in spirit. For theirs is the kingdom of God.
And so this morning – as we let our hearts break open for Mathias- we do so knowing that like the bone fractures Zach taught the kids about last week – our hearts will grow back stronger for having been broken. Those who let their hearts break again again and yet again have the strongest, most powerful hearts. Theirs is the Kingdom of God. Thank you, Gena – and please thank Zach, for inviting me into the Kingdom of God with Mathias.
I Love You So, Little G.
Love Wins.
Big G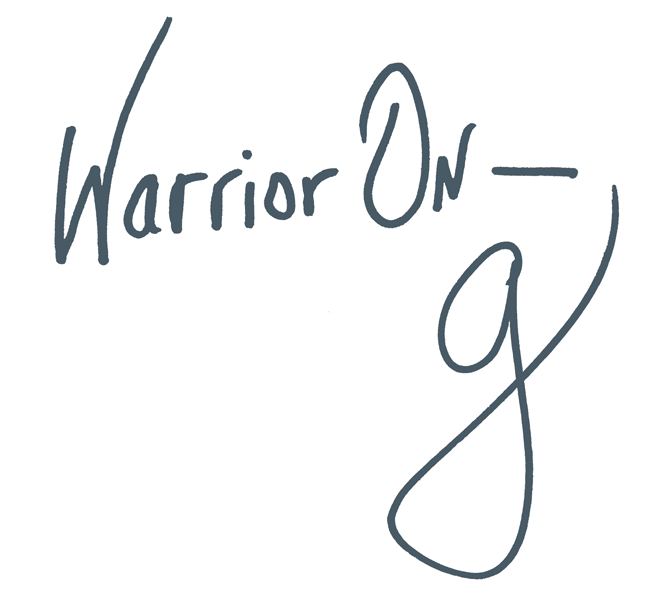 Author of the #1 New York Times Bestseller LOVE WARRIOR — ORDER HERE
Join the Momastery community on Facebook, Twitter, Instagram & Pinterest