Last night, on Facebook –  I posted a prayer for Michael Brown's mama. Craig and I don't watch the news often, but last night we felt we should in order to hold space for the announcement alongside our country. So Chase, Craig, and I sat down on the couch to wait together. Chase doesn't do this often anymore- but as tension mounted on the TV screen -he laid his head on my lap. As I played with his hair I  couldn't stop thinking about the mama who lost her boy. I thought about my Anna and her Jack, and how once she told me that her whole body just aches to touch him again. Anna and I and Michael's mama and Chase and Jack and Michael got all mixed together in my heart. I spend a lot of time, every single day, grieving with mothers. That is where I connect quickest and deepest – to hurting mothers. That is often my entry point to people's pain. That's the door I open to walk inside and try to feel how things might feel. So that is the prayer I posted.
So many people became so upset. So many felt that my prayer for Michael's mom meant that I had "taken sides." At first I was stunned by the reaction, but after staying up until 1am to read stories sent to me by mothers who had lost their police officer sons and daughters to violence, I started to understand. I started to see that if someone had posted a prayer only for the police officers, their only personal entry point to this story, I might have been confused, too. Maybe even angry. I understand. I stayed open and soft and I understand.
There was a woman on the firestorm thread last night who was very angry with me. She called my prayer one-sided. she used many, many exclamation points which made me feel yelled at. I understand about exclamation points now, too. She had a very, very different entry point to Ferguson. And her comment became the catalyst to more anger. I felt angry at her, just as she felt angry at me. Many called her a racist, which was not helpful and hurt her deeply. She stayed open, which was sort of amazing to me. She apologized directly to me even though many told her not to. Then she wrote to me and said that she was sitting in her home reading the horrible thread and crying.
I wrote this back to her on our page:
I'm so sad and near tears, too. In my experience that means something good is about to happen. Let's ask God to help us make this shit holy. Maybe we start here: I can tell you're a good woman. I think we both had good intentions but we somehow hurt people. So we are the same, you and I. Question: will you keep the 4.5 minute vigil with me? If you will, we can do it together and I will pray for Officer Wilson for you and you can pray for Michael's mama for me? 
 She wrote this back:
 Yes, Glennon, I will join you in the vigil. I will pray and pray for the Brown's and their grieving hearts.
And then I wrote this back:
It's a deal sister. Let us do it. I'm glad we both left our comments if it ends with this. We had a human, GOOD moment here sister. I love you. I do.
And so during the 4.5 minute vigil, and later in bed, and this morning- I prayed hard for Officer Wilson. I prayed for all the officers and their families. As a result – my heart has opened to all. My heart is a wide, wide door this morning. My entry point is all of us. That is the point of prayer maybe- not only to change the world  but to change our hearts so we have new eyes with which to see the world. We can't just TALK and DO. We have to be still first and stay open and listen so we know what to say and do.
I think that choosing the "side" you identify with the least, and making them the focus of your prayers is as close to God as we can get.
Don't just pray for the ones you love easily—pray for the ones you want to love. It works. It works.

Tracy, did it work for you too? I love you, sister. We made peace last night- even if it was just here and in our own hearts.
God Bless Us, Every One.
G
 "Courage is what it takes to stand up and speak; courage is also what it
takes to sit down and listen."
~ Winston Churchill
*************************************************************
May God bless us with discomfort at easy answers, half-truths, and superficial relationships, so that we may live deep within our hearts.
May God bless us with anger at injustice, oppression, and exploitation of people, so that we may work for justice, freedom and peace.
May God bless us with tears to shed for those who suffer from pain, rejection, starvation and war, so that we may reach out our hands to comfort them and turn their pain into joy.
And may God bless us with enough foolishness to believe that we can make a difference in this world, so that we can do what others claim cannot be done.
Amen.
(A Benedictine Blessing)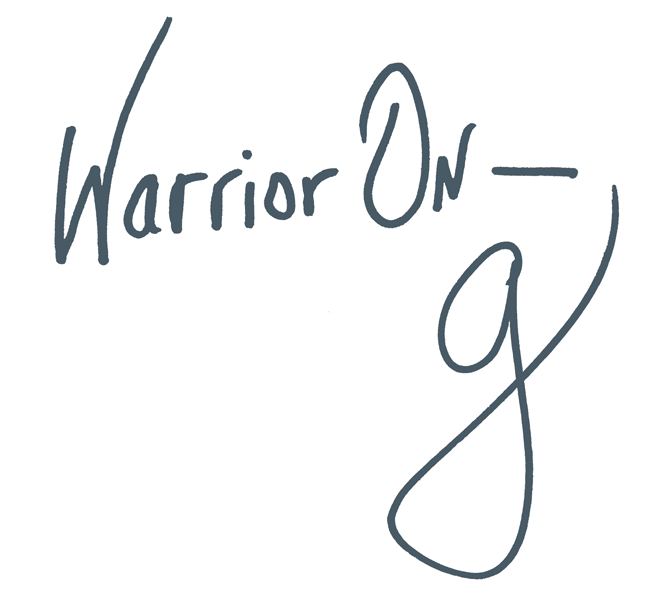 Author of the #1 New York Times Bestseller LOVE WARRIOR — ORDER HERE
Join the Momastery community on Facebook, Twitter, Instagram & Pinterest