I'm in a new life season over here. I've got all three kids in school and I'm working from home, so I'm taking my turn. I'm heading into the school to help the kids' teachers when I can.
For all of you parents who can't make it in because you're in a different life season- I'd like to offer you my OFFICIAL KINDERGARTEN REPORT:
THE KIDS ARE FINE.
The over-achievers are concentrating and the artists are doodling and the rascals are rascalling (why do the rascals always have the most hard-to-resist grins?) and the ones that struggle are with the teacher getting some extra love and smiles. They're painting and sharing and getting band-aids for invisible paper cuts and singing math songs and talking over each other and telling twelve minute stories during circle time that have absolutely nothing to do with the topic being discussed.
Teacher: Who can share something special about fall? Little One: Oh! OH! ME ME ME! Teacher: Yes. Sarah. Sarah: MY GRANDMA'S NAME IS ALICE AND SHE HAS A BLUE CAR AND ALSO NINE CATS!!!! (then twelve more minutes about each cat, obviously.)
But let's cut to the chase. I know what you're most worried about. LUNCH. Parents worry about LUNCH.  Thinking about our babies eating in a cafeteria brings every lonely feeling to the surface.  Elementary School Cafeteria =  LORD OF THE FLIES!!!! HOW WILL HE SURVIVE?  Here's the thing about that. Lunch is hard for them. For one reason: THE FREAKING KETCHUP.  At this very moment there are one million kindergarten hands in the air across this land. One million of those hands are either requesting ketchup or complaining about their inability to OPEN KETCHUP.  (WHY, KETCHUP MAKERS, WHHHYYYYYY???? WHY DO YOU MAKE THESE PACKETS SO HARD TO OPEN??? WHY DO YOU HATE LUNCH LADIES SO MUCH????? ) Also, parents: you can stop spending so much time planning your kids' fancy lunches. Nobody eats them. Nobody. Except, of course, the ones with fruit roll ups and brownies and 6 pounds of sugar in their bags. They eat it all. Well played, sugar mamas.
LISTEN TO ME: THE KIDS ARE FINE. They don't miss us. I KNOW they swear they do and they cry before drop off and they make us feel fifty shades of crappy before 8 am and I'm not saying that they're lying: but let's just say THAT THEY ARE DRAMATICALLY MISREPRESENTING THEIR EXPERIENCE. I don't know why they do this. I think that maybe after our babies are born and the nurse takes them away to have their "first bath" she actually takes them a workshop entitled: "THIS IS HOW TO LAY ON THE MOMMY GUILT HARD AND FAST. DO IT OFTEN AND EARLY- SHE'LL BUY YOU MORE CRAP." Don't buy them more crap.  They're happy. I watched them all really closely this morning- and they are being cared for. We have a-freaking-mazing teachers in this country and they are DOING THEIR WORK so that we can breathe and do ours. And all of them- the overachievers and the artists and the rascals and the story tellers and the strugglers – they will be okay. They have nets. Breathe Deep and Carry On, Warriors.
P.S.  Those lessons you're teaching your kiddos about BEING REAL and HONEST? They're working. One little man walked up to me this morning, touched my hair and said, "Oh. My mommy cut her hair really short like yours. She cries about it a lot." So. Good job, parents. I guess.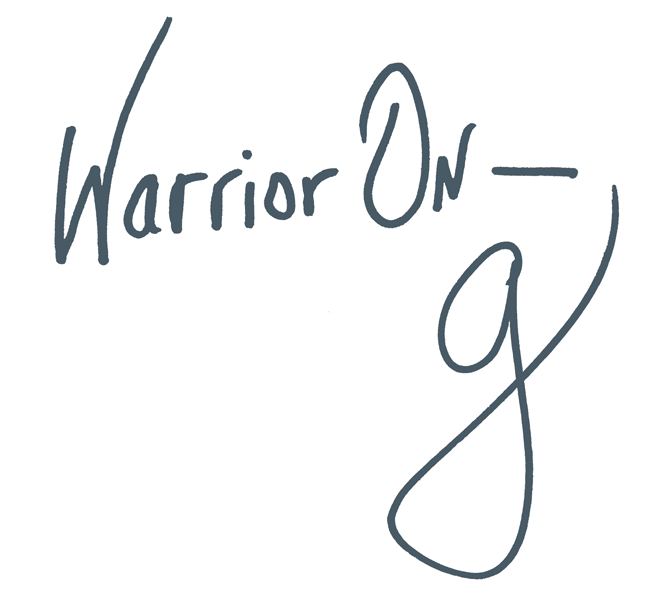 Author of the #1 New York Times Bestseller LOVE WARRIOR — ORDER HERE
Join the Momastery community on Facebook, Twitter, Instagram & Pinterest