[CONTENT WARNING: Contains discussion about suicide, mental illness and addiction that may be triggering to survivors. (Also profanity.)]
It's embarrassing to write honestly about my response to the death of Robin Williams because it was utterly selfish.
When we mentally ill find out that one of us was taken, we feel sad, yes – but mostly we feel afraid. Monday night I was going about my business and all was well-ish and then I read the news and suddenly fell still and silent with fear. I felt shamed– like the universe had caught me red-handed with too much peace in my grubby little hands. Like I was getting too free and healthy and big for my britches and so I needed to be put in my place.
Dear Glennon- Look what happened tonight. That's right. Don't you go getting too comfortable there, sweetheart. Love, Your Asshole Brain.
I felt like I needed to slink, cower, tiptoe around my home because the monster was still out there – prowling, picking us off, one by one. And so I needed, really, just to be as tiny as possible and not draw any attention to myself. And so that's what I did until that awful remembering set in like a slinky, foggy cartoon ghost. It tapped me on the inside and said– but the monster's not out there, honey – it's in here. It's in here with you. It IS you." Where do you hide when the deadly monster is inside of you?
There is nowhere to hide from yourself. Except, of course, inside of death. People who get that – GET THAT and so that is why you'll never hear a fellow addict saying wide-eyed: "how could he do that?" And why you only hear non-addicts saying:" My God, I can't even IMAGINE." Because addicts can. We can imagine.
Well, yes- I guess a person without a monster living inside of them would not be able to imagine the need to hide from one. But we do. And so we'd never suggest that an addict died of a lack of courage or love any faster than we'd suggest a diabetic died of a lack of courage or love. We don't say much at all in the wake of it all- we're just quiet and we hang our head in reverence for our brother or sister's suffering and we hold our hat in our hand and clench our fists in solidarity and we wonder who's next.
But of course I said none of this to Craig Monday night. I just stared at a few pictures of Robin Williams thinking: Of course. It's always the smiling, laughing ones, dancing so hard to convince the world and themselves that all is well. Making it all better with nothing but the sheer force of our wish that it was better. And I just pointed at an article and Craig said, "Oh, SHIT" and then we closed the computer to make dinner for the kids.
And then later, we were on the couch watching all the ridiculous "news" shows that were interviewing every mental health expert on the planet and every human who once caught a glimpse of Robin Williams on a sidewalk, and Craig looked at me sideways and said, "That's not going to be you, you know." And I didn't look at him at all, I just stayed in my roly-poly ball in the corner of our couch and I said, "Oh, I know. I know that."
Because what else are we going to tell them? The truth? Which is: How the hell can you know that? How do you know that's not going to be me? How am I going to fare better than Robin Williams did? Because I have so many more resources? Because I'm so much more talented, smart, wise than he??? Because I have access to better information, treatment, drugs? Because there will be more light shined on me? On what is this optimistic prediction based?
We don't know who lives or dies from this disease. We don't know. We can't know. This monster is relentless and arbitrary and ever-present and so even in the best of times, when we're on top of the world and laughing and dancing and flying – we laugh and sing and dance with the realization that we are doing these things with a ticking time bomb lodged permanently inside of us. Tick, tick, tick.
"That's not going to be you, honey." But it already IS me, honey.
To my fellow Bad Ass Survivors: Take your goddamn meds and don't listen to anybody who tries to shame you out of them. They just don't know- because they don't have to know. They are two-legged men calling prostheses a crutch. They will not be there in the dark with you. They won't. You can choose to ignore their reckless voices now or the monster's voice later. Bite the freaking bullet and swallow the damn pills. I think of my medicine like I do my faith- if I find out one day that it's all bullshit- oh, well. It made me happy and helped me love life and my people better.
If you are in the dark right now- if you are in the clutches of the monster today: Call someone for help (1-800-273-TALK (8255)). Tell them the truth. TELL YOURSELF THE TRUTH. This is the lie the monster tells us: THERE IS NO HOPE. IT WILL NEVER GET BETTER. IT IS PITCH BLACK DARK AND IT WILL NEVER BE LIGHT AGAIN.
Here is the truth we yell back at the monster: LIAR!!! THERE IS HOPE. IT WILL GET BETTER. IT IS NOT PITCH BLACK NOW. THERE IS LIGHT AND THAT LIGHT IS THE KNOWLEDGE THAT IF I WAIT WELL, YOU WILL TIRE AND MOVE ON. I CAN WAIT YOU OUT BECAUSE YOU ARE SCARIER BUT I AM STRONGER.
Not dying is sometimes just a matter of waiting the monster out.
We are here. We are still here.
We've gotta stay in the light. The only thing the dark cannot overcome is the freaking light. STAY OUT.
Love.
G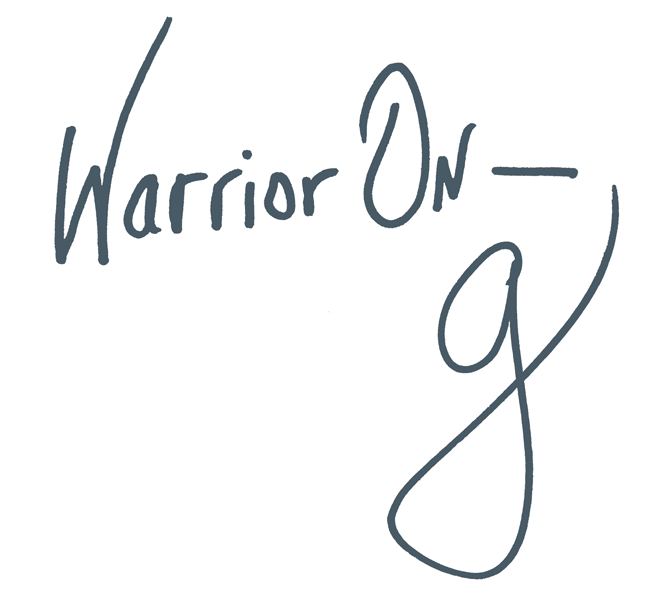 Author of the #1 New York Times Bestseller LOVE WARRIOR — ORDER HERE
Join the Momastery community on Facebook, Twitter, Instagram & Pinterest