Originally posted February 13, 2013
I wrote this 16 months ago, in the middle of the implosion of my marriage. As I read it today, I felt so proud of this woman I was, this brave woman who kept breathing and showing up. It is so important to stop and look back on your past self and feel awed by her. And- when you are in the middle of the fire- it's important to stop and consider your future self- who will look back on this difficult time from a safer, fuller place- and who will be awed by your mighty courage. For gathering it all up and using it to get her from there to here.
*******************************************
This morning feels like starting over, in every brutal and beautiful way.
So after I got the kids off to school, I sat at my kitchen table thinking about other times I've started something new. And I looked back at the first post I ever wrote for this blog.
Do you remember, years ago, when folks were writing "25 Things About Me" lists and posting them on Facebook? When I saw that people were doing that, I decided to write my own list. So without really reading anyone else's lists, I wrote mine during Chase's nap time and I posted it.
And THEN I read my friend's lists. And I thought, OH. CRAP.
Because, for example, here was MY #5 –  5. I am a recovering alcoholic and bulimic. 7 years sober…so in many ways I'm actually 7 years old. Sometimes I miss excess booze and food, in the same indescribable way you can miss someone who abused you and repeatedly left you for dead.
And here was my best friend's #5 – 5. My favorite game is Bunco!
And so I panicked because I realized pretty quickly that I'd done it wrong. That we weren't supposed to get that personal. And so I tried to delete my list but  I couldn't. It was already OUT THERE.  So I turned off my computer and vowed to never, ever turn it on again for the rest of my whole entire life.
But of course that night, with one eye open and trembling hands, I did check Facebook. And I saw that my inbox was full.  Full of messages from friends and acquaintances thanking me for putting it all out there. I read people's stories that they'd written and sent to me well into the night, until my eyes started crossing from exhaustion, actually.
And that night I decided to start writing. I decided that maybe it was something the world needed that I could actually do.
And here we are.
So anyway, I thought today might be the PERFECT day to review and update my "25 Things About Me."  My old 2008 answers are in bold and my new 2013 answers are in italics.
Thanks for hanging with a sister, friends.
Love,
G
1. I believe in grace because I share my home with proof of its existence.
Still true, but I've learned that I share the whole world with proof of grace's existence. The older I get, the more deeply I understand that every-damn-body is my family. Exhausting, but comforting. 
2. We got rid of our TV service a few months ago. The quiet is strange, but nice.
What the hell was I thinking? I have come to understand that there are things that are bad for me that I love. And no one can make me stop these things because no one is the boss of me. These things include Twizzlers, Diet Coke, chocolate, and trash TV. I know that I should not ingest these things, but at thirty six, I have finally agreed to just be how I am instead of trying, constantly, to be how I should be. About TV- I love it. I LOVE you, TV.  I get lonely, and TV makes me feel less so. And after a long day of thinking and living, I'm so tired. And I need a numbing tool. HGTV, Bravo. . . numbing tools. No thinking required. At the end of the day,  even sitcoms are too hard for me. From the hours of 8:30- 9:30 what I really need is something that requires nothing of me. My TV will be taken from me again out of my cold, dead hands.
3. I have no idea how I survived the first three years of my life without my sister. It seems as impossible as living without lungs.
I can't even address this one right now. These days, she's breathing for me.
4. I published a book a while back, and I want to write a second, more personal one. But I'm having trouble getting started, because I'm afraid everything I write will be wrong, or self-serving, or immature.
I did it. I wrote my book. I don't know if my book is right, but I know it's not wrong. It's probably a little self-serving and a little immature.  But it's also others-serving and mature. Like each and every person –  it's a lot of things at once. I'm okay with that. I don't want my book to be perfect, I just want it to be true and hopeful. Like me.
5. I am a recovering alcoholic and bulimic. 7 years sober…so in many ways I'm actually 7 years old. Sometimes I miss excess booze and food, in the same indescribable way you can miss someone who abused you and repeatedly left you for dead.
Eleven years sober. And I don't miss booze anymore. Actually, maybe a little. Never mind. I still do. 
Food- I'm still healing. Bulimia raises its crazy head every year or so. I panic, screw up, and then start over. It's okay. I'm okay.
6. I am afraid of my temper like it's some other person over whom I have no control.
Hm. I'd like to talk more about this anger issue this year. I'm wondering if what I thought was anger might have really been anxiety. Or are they the same thing? Maybe unresolved anger turns into anxiety? I don't know. I spent some time on a serious anti- anxiety med this year and it was heaven. But then when I went off of it, it was hell. Marianne Williamson says that in all of history, now is not the time for we women to medicate our feelings away. That we are anxious and depressed for a reason, and we need to make changes in our world instead of numbing ourselves. I get that, but I don't know. I've gotta believe that some of what I experience is chemical and not just circumstantial.
 I'm still on an anti-depressant…I've tried to live without it and my life doesn't work. The whole world turns into a Vegas casino…I feel inundated by visual and audio stimulation and I'm just…jumpy and anxious and then really angry. It's no good. I'm no good. So this one- not sure. I know they say that All You Need Is Love, but I don't know. I'm pretty sure I need Love and Lexapro.
7. I believe strongly in downsizing, in simplicity. The people I respect most in the world are those who quietly choose to live with less so that others might have more. Unfortunately, I conveniently forget this daily as I drive to the mall to buy more crap. One of my most frequent and fervent prayers is that one day what I do and want will match what I respect and believe.
Um…I don't know about this one. I agree ideologically but in real life….Well, today I'm heading to IKEA to buy some colorful crap. Crappy times call for a major lowering of one's self- expectations.
8. I have never, ever, said the word f-a-r-t out loud.
I have. My kids say it so often now that the fart word has lost the power it had on me for the first thirty five years of my life.
Fart.
9. I am an insomniac, and a caffeine/sugar addict, and refuse to admit that they could be related.
I sleep now. I sleep. Without sleeping drugs, for the first time in my life. It's a miracle to me, actually. I'm still a sugar addict.
10. I am a crappy Christian, which I'm pretty sure is the only honest kind. Nonetheless, I'm deeply in love with Jesus, and I think he's wild about my crazy self too.
Yup.
11. I would finally rather be kind than cool. But both is the dream.
I'm not sure I care about being cool anymore. I think warm is better. I'm there. I'm warm. Every day I work on keeping a soft heart while developing tough skin. Hard.
12. Craig is the only human being who could have healed me. We are opposites in many ways, but we want and love the exact same things. I have chosen never to stop falling in love with him, and I'm more grateful that he has made the same choice than for anything else. I am also comforted by the fact that he is contractually obligated to love me, and that without me, he could never, ever find his shoes.
Shit. Well, no matter what happens, I consider my marriage a raving success. We're both in better places, mentally, emotionally, and spiritually than we were when we married. Our marriage made the world a better place, because we made three interesting children who I believe will make a difference – who already do, actually. Plus, during the past few months I have learned to forgive like I've never had to before, to Warrior On like I've never had to before, and I've learned what it feels like to offer another human being amazing grace. I've received it before, but never offered it. I have now. What an experience.
13. I want to like animals, but I really don't. At all.
I love animals with every inch of my being. My dogs broke my heart open in this area. We moved to Florida this year because of my health, and I haven't made any friends yet who live within twenty miles of my new house. So my dogs keep me company. They love me, they snuggle me, they stay with me when I'm sick and they don't give a damn whether I write well or look good or say the right things. They just need me to show up. I love them. I just breathe them in.
14. I don't know how to do anything in moderation. Or how to keep an even keel. I am either very high or very low.
My medication is helping a little with this, but I also think I'll always be high and low. Usually in the same day – sometimes the same moment. Chase calls this happy/sad state of being feeling "sappy." I'm sappy. It's okay. A girl can be a little loopy and still move mountains. These days I'm working within my personality instead of constantly fighting against it.
15. I want to do big things for God, like adopting an orphan, but have trouble even doing little things for God, like not being a jerk.
These days, not being a jerk requires every bit of energy a sister has. Not being a jerk IS a big thing.
16. I love classrooms and children. I run a preschool where my students and I practice being patient and kind.
No more teaching for me, but it's funny – now the whole world seems like a place to practice being patient and kind. And this blog. I feel like this blog is my classroom now. It gives me opportunities every day to be patient and open-minded and listen for the love and pain behind folks' words.
17. I can't listen to the first few notes of Amazing Grace without feeling like the wind's been knocked out of me.
Still love Amazing Grace, but I'm more of a Mumford and Sons girl these days. Every song of theirs feels like a prayer. It's almost too much for me sometimes . . .listening to them is like looking straight into the sun. It hurts it's so bright.
18. I want more children, but most days I don't have enough energy for the three I already have. I think I might want more babies just because I love naming them.
I do NOT want any more children.  GOOD CALL ON THAT ONE, GOD. Naming lasts nine months. Bedtime lasts for-freaking-ever.
19. I am way too confrontational. I'm working hard on offering grace to people, and ridding myself of the belief that everyone should get what he deserves, except for me.
My ego is shrinking and my compassion is growing. This is proof that the past five years have been years well spent. I believe that everyone, everyone deserves grace. It's all or nothing, grace. Scandalous. 
20. Some mornings Craig and I meet for coffee at the kitchen table before the kids are up, and read the Bible and talk about Jesus. This is my favorite way to start a day.
Confusing to me, this one. I'll save it for another day.
21. Years ago Craig and I vowed never to brag about ourselves or our kids to anyone other than grandparents. Keeping this promise is harder than it should be. I often find myself thinking about how amazing I am for being so humble, so there you have it.
I honestly can't even imagine caring about this. I still don't brag about my kids, but it seems silly to take a "stand" on it. Also, the more "stands" I take, the more life eventually slaps me upside the head and reminds me to stop taking stands and just be kind.
22. Craig thinks I torment myself and others with my tendency to analyze (judge) everyone and everything. To that I say, whatever.
I am learning to let folks be who they are. But I still have a hard time understanding unkindness for unkindness' sake.
23. I don't handle criticism well.
I dealt with more criticism this past year than I did in the thirty-six years preceding it, which is saying a lot, since I grew up with Bubba.  I still don't handle criticism well, meaning that I haven't yet learned how to keep it from hurting and throwing me into a dirty, bottomless well of self-doubt.
24. I am unable and unwilling to sustain relationships with people who talk but don't really listen, or with people who boast. I always break up with them, regardless of gender. Again, working on #19.
I'm not sure of this one. I don't really have a social life anymore. Kids/work/health. That's about it. It's okay, I know life is about seasons. I'll let you know how I'm doing with this one as soon as I spend some real life time with real life people again.
25. I was never truly happy a full day in my life before I met Craig, and since I met him I don't think I've spent a full day unhappy. I find this both pathetic and perfect.
Well, this is no longer true. I've spent plenty of days unhappy during the past six months. But I am happy for the girl who wrote this list five years ago. Number 25 makes me smile for her. It's good to have and remember peaceful seasons in life, because those memories are promises that those seasons will come again. I don't know if I believe in all happy or all sad anymore. I'm sappy. In more ways than one.
26. NEW ONE FOR 2013!
Life is hard. Not because I am doing it wrong, just because it's hard. But I know, deep down, that it's all a gift. Every excruciating experience – each is an invitation to walk deeper into truth, into life. And that's what's happening to me today. I'm growing – I can feel it. And I am going to be okay – not because of any decisions I make or don't make, but because of the grace of God. There is no door I can open that God won't be standing behind, waiting to usher me through.
Monkees – I am still and I know.
We are all going to be okay. We'll get through this, and whatever else that comes our way.  Together.
I am not afraid. I was born to do this. –  Joan of Arc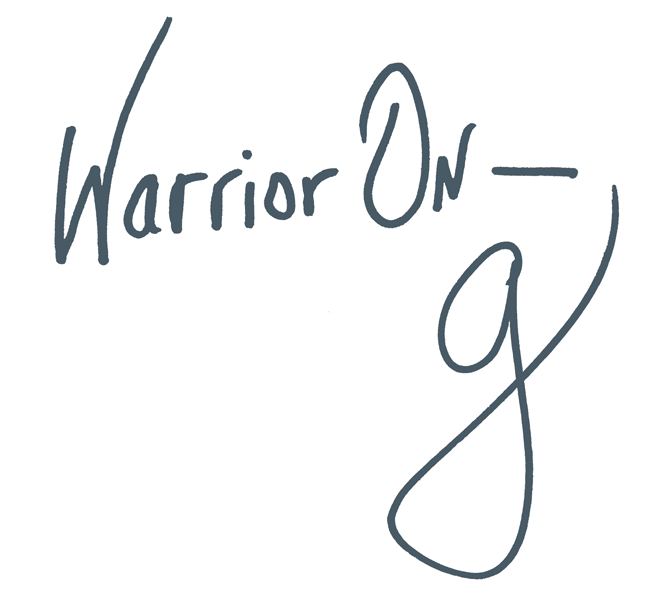 Author of the #1 New York Times Bestseller LOVE WARRIOR — ORDER HERE
Join the Momastery community on Facebook, Twitter, Instagram & Pinterest