Our Messy, Beautiful Summer Week 1: Parenting
A guest post by Wendy D'Alessandro
During a parent/teacher conference my son's teacher said to me, and I'm paraphrasing here, "His writing needs work."
The man must have seen the panic in my eyes and the wheels turning in my head: writing needs improvement…more writing, then…you shouldn't have slacked off with the summer journal writing…if anyone knows the importance of written communication, it's you!…tutor…the thought of fighting about going to a tutor makes me cringe…when was the last time my child read a book that wasn't required reading?
My head swirled with panic and planning and finger pointing (at myself) for having failed at something as important as making sure my kid could write well. Then the dear, sweet teacher said, "Don't worry, Mrs. D'Alessandro, he'll be fine. He's a good kid, thoughtful and kind. You can't teach that. The writing, you can."
I almost cried on the spot, and I wanted to reach for this kind man's hand and say,Thank you. Thank you for reminding me there is more to raising a child than making sure he excels in every subject at school.
Instead, I waited until I was in the privacy of my car and its tinted windows, and then I cried on the spot. I berated myself for being so serious, all the time, about everything. For being a mother whose focus becomes so clouded that she forgets what matters just as much – actually, no, more – than doing well in school, and that's being a good, kind, caring person.
I know this. I've written about this very topic. A 4.0 GPA does not guarantee a child's success in life. So why do I need reminding there is more to my child's life than a stellar report card?
I have no idea.
It's so easy to talk the talk when it comes to finding balance in our kids' lives. I know I can talk the talk with my friends and family, and even while writing my parenting column and this blog post. I know the right things to say about discipline and homework and chores. I can offer sound parental advice to friends; and I know my gut instinct gives me better advice than a roundtable of parenting experts.
And yet…
It's so hard for me to walk the walk. So hard to raise my children the way I know they should be raised, versus raising them in a society that has created this perfect parental myth we feel we need to live up to.
A myth that says if we're a good parent, then our children won't stumble and fall, and make lots of mistakes and messes.
Our children won't struggle at math and not make a travel sports team.
They won't bomb that really important exam or say something mean to a friend.
They won't crash and burn when asked to diagram a sentence.
They won't do stupid things, like vandalize a gumball machine until they get the blue colored gumball instead of every other colored gumball.
We won't think inappropriate thoughts, like lately we prefer our dog's company to that of our teenagers'. Okay, that one is mine and mine alone, and I feel small for even thinking it.
In other words, our children won't mess up because we've done everything possible to make sure they won't fail. We won't mess up because, darn it, we should know better. And we should know better, right?  After all, there are a million blogs, books, magazine articles, videos and parenting experts telling us how to do it.
And yet again…
Sometimes I still don't know what I'm doing.
Here's the thing. Growing up is hard, and parenting is messy. It's confusing and frustrating. Until you stop, breathe and look at your children. Put aside the fact that they didn't make their beds today; or you had to hound them to take out the trash; or they said the steak you cooked for them had the consistency of a hockey puck; or they squeaked by with a "C" on their exam, and if they would have studied a little bit harder…well, you know the story.
Look at each child as a person, not someone you've been charged to raise. Each is perfect in his or her unique way. Each blessed with special gifts. Each put on this earth to live a life only (s)he – not you – can create. We can only guide for so long, and then we have to let go, little by little, and hope for the best. Pray for the best.
Eventually, we all figure this out. Some of us (that would be me) need reminding from time to time.
***************************************
Wendy D'Alessandro is a mother of three teenagers, a wife and a public relations specialist. She works from home with her Tibetan terrier dog at her feet, and she shares her parenting journey – blunders and all – in her bi-weekly newspaper column, The Mommy Chronicles. Visit Wendy at www.wendydalessandro.com.
This post is part of Momastery's Our Messy, Beautiful Summer series.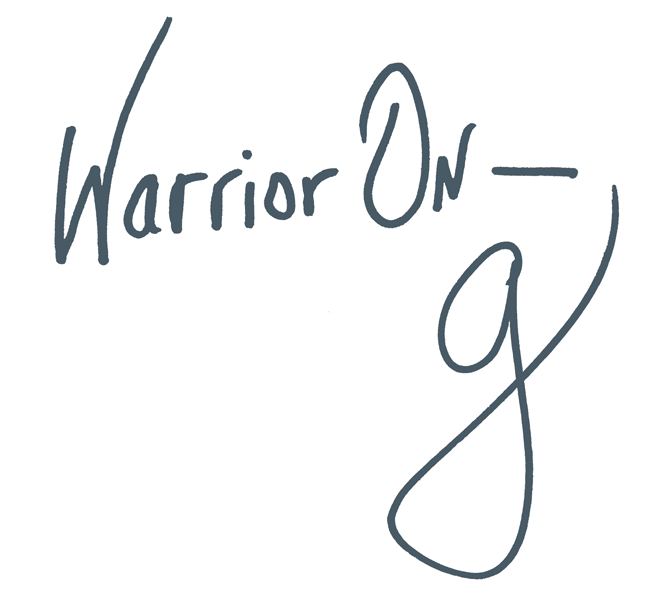 Author of the #1 New York Times Bestseller LOVE WARRIOR — ORDER HERE
Join the Momastery community on Facebook, Twitter, Instagram & Pinterest