Friends…
Six years ago I sat down and wrote my first Momastery post. My dream was that here we would use truth-telling as a tool to heal ourselves and others, and then we'd hear those magical words, "Me too! Me too!" And that this cycle- this truth telling/me too hearing would help us live bolder and kinder and bigger and cozier on this Earth.
In April I asked you to write to me. I asked you to write about the messy/beautiful parts of your lives and you came through BIG. I've been pouring through your essays and laughing and crying and screaming ME TOO! ME TOO!! 
You need to have this experience, too. You need to hear from your sisters who are telling their stories so freaking beautifully. I read this quote recently:
"What would happen if one woman told the truth about her life? The world would split open." ― Muriel Rukeyser
This summer we are just going to gently split open the whole world. No biggie.
This week we're talking about parenting. In the weeks to come our topics will range from marriage to marriage ending, from friendship and authenticity to special needs and adoption. We are going to read other women's stories as a spiritual discipline meant to grow, soften and open our hearts.
What's why I read women's stories: To grow, soften, and open my heart. That's what I'm trying to accomplish down here- and reading helps.
Here's your first Messy Beautiful Momastory, friends. Enjoy. 
**********************
Our Messy Beautiful Summer Week 1: Parenting
Head + Heart – My Messy Beautiful
A guest post by Jennifer Allison
Husband scooped up Little Man and we made a hurried exit from the park, a wave of shrieks trailing behind us, polluting the air like a dirty exhaust pipe on an eighteen-wheeler. Big Sister and I sprinted ahead, pretending we were not attached to these two strangers who were disturbing the peace, garnering glares and stares alike.
These are the moments, the daily events, that cause a non-attention-seeking introvert like myself to shrivel up like a Shrinky Dink in a hot oven.
Before I had kids, I did anything to avoid making a scene or drawing attention to myself.  Now, with kids, my days usually contain at least one giant explosion, usually occurring under the microscope of the public eye.
My Heart knows that this is just a phase, and this, too, shall pass.
My Heart knows that someday I will ache for that little face with big, crocodile tears running rivers down his cheeks.
My Heart knows that sooner, rather than later, I will be older, and he will be gone, and I will visit that same park and feel my heart crack open at his palpable absence.
My Heart will wish him back to age three-and-a-half.
But my Head will counter-argue, reminding me of those turbulent days that passed in slow motion, just trying to survive from one tantrum to the next.
My Head will erase any temptation of approaching those young mothers at the park with a smile and an "enjoy this time, it goes by so fast!"
My Head will know that is not what they need to hear, as they wipe runny noses, doctor skinned knees, and enforce time-outs.
As I'm entrenched in these days now, my Heart knows not to wish my children's lives away, but my Head can't help but cry out for an easier path ahead.  A light at the end of the tunnel, where it all won't be so terribly difficult.
The Head and the Heart are at constant battle, tipping the scale precariously from side to side throughout the day, like a tugboat tossed about in a storm at sea.
Some moments I am overcome by the blessing of it all, these children and their wonderfulness.
And then there are the moments when I am buried ten feet deep in the desperation, exasperation, and frustration from trying my best and yet often feeling like a parenting failure.
That weariness holds me in a Vulcan death grip until I can flee the scene and lock myself in the bathroom to practice deep breathing, scarf a cookie, or play a round of Candy Crush on my phone.
Boiling point is brought down to simmer.  Sea waters are calmed.
And by the end of the night, after the scene at the park is long forgotten, we come back to each other, Little Man and I.
We crawl into his bed, turn off the lights, and I snuggle his plump, warm body, as we find each other's eyes in the soft glow of the night light.
I savor his little boy scent – traces of peanut butter and soap – and I brush the fringy bangs off his forehead, which not long ago was encircled in curls.
He puts both of his chubby little hands on my cheeks, pulls my face close and whispers, "Mama, I wuve you," as if revealing the Secret of the Ages.
Warm currents of honey-coated electricity flow through my veins, soothing all the wounds of the day.
"I love you, too."
My soul inflates, a hot air balloon about to take flight, and I know I can do this all over again tomorrow.
Tonight, and most every night, The Heart wins.
And thank God for that.
**********************
Jennifer Allison is a wife and work-at-home-mom in Houston, Texas, juggling her family, a career in Advertising, and enough other odd jobs to keep her adequately crazy. You'll find her stalking '80s concerts, indulging in nostalgic trips down memory lane, making excuses for her parental shortcomings, or waxing poetic about the South. Her passion is celebrating the art of storytelling and connecting with her readers through personal narratives on her blog, Mamarific and on twitter as @mamarific.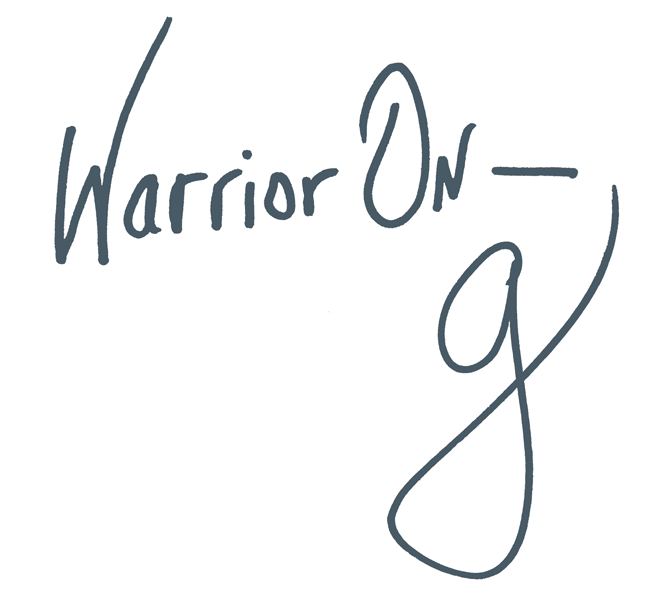 Author of the #1 New York Times Bestseller LOVE WARRIOR — ORDER HERE
Join the Momastery community on Facebook, Twitter, Instagram & Pinterest