Friends, Got This Email Yesterday:
Glennon, you are a mess. Perhaps you should wait until you're a stable human being before you write to thousands of people?- Tina*
Tina, Hello. The theory I think you're suggesting is that we should improve ourselves before we show up for life.  I do not subscribe to that theory. There are already PLENTY of people writing about how stable and fine and smooth and lovely life is. That's not really my bag. My job is not to become a stable, perfect human being with a smooth life and then write about it. My job is just to keep showing up and keep being a messy, beautiful, fully human being in front of other fully human beings.
I think self-improvement is a crappy closet in which to lock oneself. Like addiction or snark, self-improvement is just another hiding place. People who live in the world of self -improvement never seem to enter the world of WORLD improvement. We only have two jobs down here: 1) Follow Our Dreams and 2) Serve our Brothers and Sisters. The cool thing is that they go together. If we're following our deepest, truest dream- the outcome of that is always service. And so we just need to get started.
I think the main reason people DON'T get started with their two simple jobs is that they are waiting to "be better" first. That sounds like this: I just need to be more patient or smarter or thinner or braver or more stable or more whatever before I get started. When we subscribe to that theory we never, ever get started. Because people don't really change that much. We really don't "improve" significantly. Especially by the time we're my age- 38- it's probably time to accept that we're already pretty much who we're gonna be. I mean, the fact is that nobody who writes a haiku about me is EVER gonna put the word "stable" in it. So I've just decided that instead of saying:  I NEED TO IMPROVE! it's more brave and kind to say: MAYBE I'M GOOD ENOUGH FOR MY LIFE AS I ALREADY AM. That's what I tell myself each day. I just assume that even though I'm messy, I'm good enough to provide whatever the day calls for. And then I just go ahead and show up –  all jacked up.
Look at what can happen when you just show up all jacked up, Tina. This happened on Sunday night at Trinity Presbyterian Church in Herndon, Virginia.  Here's the backstory. As a response to the love of Zach's warrior mama, Rachele –  1229 Zach Attack packages were sent to more than 80 sacred locations to celebrate Warrior Mamas this Mother's Day.
450 people showed up at Trinity, Tina. Not a single one of them was perfect. Many of them almost didn't come, because it's just completely nerve wracking to show up at an event like this.  Especially alone. It's so much easier to stay home. Still, they showed up. Every single one of them was fighting some sort of battle- trouble at home, trouble at work, trouble in their hearts. They just showed up anyway, all jacked up. And because of that, all this magic happened. These 450 imperfect women bought tickets that made these Zach Attack packages possible, and the wrote hundreds of cards of encouragement to Warrior Mamas across the country, and they assembled, boxed and labeled the boxes.  And then took them to the post office to deliver to strangers – Warrior Sisters – fighting battles nationwide.
Becca. the Love Wins Minister at Trinity. I love her.
I'll let someone who was in the audience describe the feeling in that room. For me- it was ridiculous- pure joy. We told the TRUTH to each other. We laughed hysterically and cried till we couldn't see. It was one of the most INTIMATE conversations I've ever had- and I was with 450 people.
That's Rachele, Zach's mama.
That's my mama. Standing up to comfort a man who was feeling shame because he couldn't save his daughter from her eating disorder. He asked me if my parents ever felt guilt for not being able to save me as a child. He didn't know my parents were in the audience. Tisha stood up and looked right at him and she was such a brave truth teller. She told him yes, every day of her life. It was a moment.
And then Bubba stood up and offered a monologue about why we should take it easier on our husbands. We laughed, but you know, we didn't take notes or anything.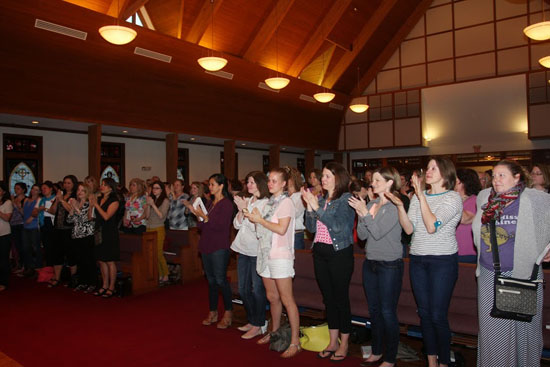 These are the books that Monkees all over the country sent to be put into the Zach Attack packages. Thank you, Monkees. I want you to know that I thought long and hard about how to MAGNIFY your generosity. I waived my speaking fee so that every penny of the tickets could go towards the packages – and we donated 600 t-shirts and brutiful cards and stationary to make the packages even more wonderful. Trinity then donated all the bags and tissue paper to create the packages, and Monkee after Monkee volunteered to brave the cost and inconvenience of the post office to get them mailed. YOUR SMALL ACTS OF GREAT LOVE started a LOVE FIRESTORM. Loaves and Fishes up in here, folks.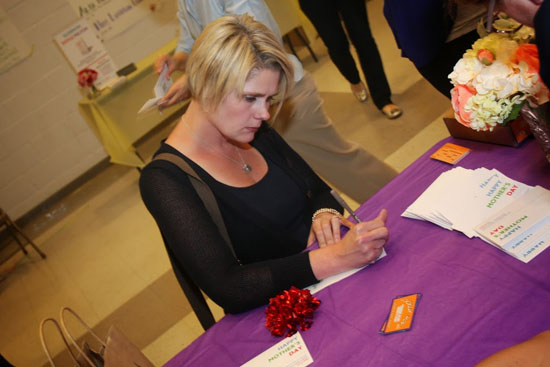 That's Zach's mama, Rachele. She just lost her baby ONE year ago. She sure as hell wasn't "ready" to show up. But she did. She flew from Minnesota to help Love Win. Here she's writing a note of support to a struggling mama she doesn't even know. Her love and grief is her FUEL. We Can Do Impossible Things Because We Belong To Each Other.
This is Liz. She runs the show at Monkee See- Monkee Do. She shows up EVERYDAY to make LOVE WIN for strangers. She is one of my heroes. THANK YOU, LIZ. 
 Those are some of the places that Warrior Mamas got Zach Attacked. The entire list is at the bottom.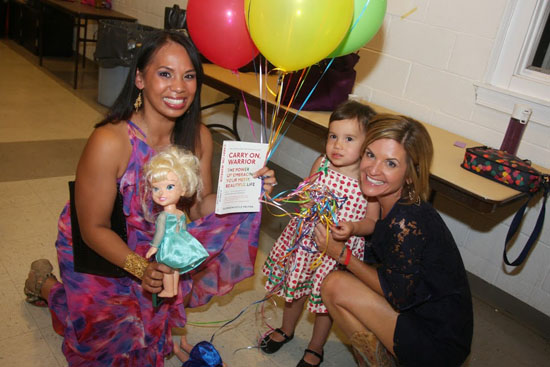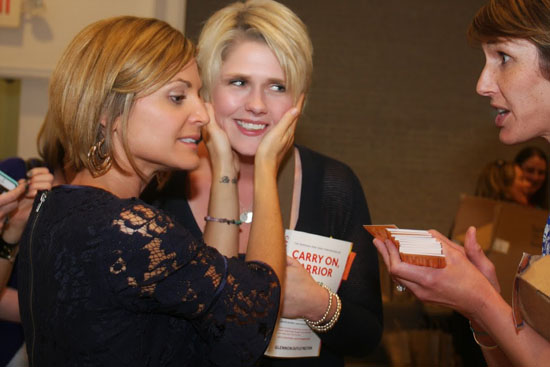 This is the face that launched a thousand (1229) Warrior Mama Zach Attack Packages.
We don't self-improve and THEN world improve. We show up all jacked up in order to World Improve. Before we're improved ourselves, before we're ready, before we're perfect. And we love people and allow ourselves to be loved. AND THAT IMPROVES US. Let's not put the cart before the horse.  World Improvement before Self Improvement, Tina. All my Love to you. Mean it.
G
P.S. The Zach Attack packages were sent to more than 80 locations, all chosen from your Monkee nominations, including the following places where Mama Warriors reside:
MUSC Childrens Hospital (Charleston, SC)
Whitehorse Child Development Centre (Whitehorse Yukon, Canada)
Providence Christian Church Women's Center (Clovis, CA)
Dopkins Reedley Funeral Chapel for Stillborns & Infants (Reedley, CA)
Family Links/North Valley Youth & Family Center (San Fernando, CA)
Yale's Children's Oncology Ward (Wallingford, CT)
Central Nova Women's Resource Centre (Truro Nova Scotia, Canada)
The Durham Child Development & Behavorial Health Clinic Support Group (Durham, NC)
Candelighters Childhood Cancer Foundation (Las Vegas, NV)
Mary Washington Hospital NICU (Fredericksburg, VA)
Starpoint family support group for children w development disabilities (Canon City, CO)
St Ann's MOPS Mother's Day project for Single Moms (Stoughton, WI)
Marillac Place, shelter for young homeless mothers (Kitchener, Ontario, Canada)
Ronald McDonald House Charities of Baltimore Inc. (Baltimore, MD)
Child Epilepsy Project (Colorado Springs, CO)
Advocate Children's Hospital (Park Ridge, IL)
Children's Hospital Boston- Cardiac ICU (Boston, MA)
California Pacific Medical Center NICU (San Francisco, CA)
Children's Hospital of Philadelphia Special Delivery Unit (Philadelphia, PA)
Maggie's Place, home for expectant homeless mothers (Phoenix, ZA)
"more than words" Pediatric Therapy Associates, Inc. (Valdosta, GA)
Duke Center for Eating Disorders (Durham, NC)
Ronald McDonald House (Rochester, MN)
Faith's Lodge, refuge for families facing child's death or serious illness (Danbury, WI)
Shepherd's Gate, supporting women to end homelessness, abuse & addiction (Livermore, CA)
The Children's Bereavement Center (San Antonio, TX)
Hubbard House, domestic violence shelter (Jacksonville, FL)
Alpha House of Tampa, safe house for pregnant women & children (Tampa, FL)
Hope Lutheran Church (Jordan, MN)
Cincinnati Children's Hospital NICU (Cincinnati, OH)
Kids On The Move (Orem, UT)
Memorial Sloan Kettering Cancer Center (New York, NY)
Central Community Health Board Drug Services (Cincinnati, OH)
American Family Children's Hospital (Madison, WI)
Stillbrave Childhood Cancer Foundation (Springfield, VA)
FACETS, supporting homeless and low income (Fairfax, VA)
The Meyer Center for Special Children (Greenville, SC)
Cleveland Clinic Children's Hospital for Rehabilitation (Cleveland, OH)
Twin Cities Church Single Mom's Group (Grass Valley, CA)
Hazelden Center for Youth and Families (Plymouth, MN)
Randall Children's Hospital at Legacy Emanuel PICU (Portland, OR)
Elizabeth House, homeless shelter (Pasadena, CA)
Promedica Toledo Children's Hospital (Toledo, OH)
St. Luke's Children's Neurology (Boise, ID)
Matthew's Crossing Food Bank (Chandler, AZ)
House of Ruth, ending homelessness & abuse (Washington, DC)
Children's Hospital & Medical Center (Omaha, NE)
Morningstar Women and Family Recovery Center (Joliet, IL)
West Texas Rehab Center (Abilene, TX)
Maddie's Footprint, supporiting families through miscarriages, stillbirths & loss of an infant (Lafayette, LA)
Hackerman-Patz House, a homelike place to live while family is hospitalized (Annapolis, MD)
Tate House, Hospice of Chesapeake (Linthicum Heights, MD)
Focus:Hope, anti-racism & anti-poverty non-profit (Detroit, MI)
Manna House, transitional housing for women and children (Cliffwood Beach, NJ)
Therapy Buddies, support group for families of children receiving therapy (Bloomingdale, IL)
New Life for Girls, residential treatment supporting recovery from addiction, eating disorders & sexual abuse (Westminster, MD)
Helen DeVos Children's Hospital Pediatric Hematology Unit (Grand Rapids, MI)
Children's National Medical Center (Washington, D.C.)
The Hole in the Wall Gang, camp for children with serious illness (Ashford, CT)
Kennedy Krieger Institute (Baltimore, MD)
Grace House, shelter for women & children (E Wenatchee, WA)
Abington Memorial Hospital Special Care Nursery (Abington, PA)
The Blume Pediatric Hematology and Oncology Clinic (Charlotte, NC)
Sunrise House Mother and Me Residential Treatment Center (Lafayette, NJ)
Dayton Children's Hospital (Dayton, OH)
Ernie J Norman Center for Homeless Women and Children (Grand Forks, ND)
Kadlec Regional Medical Pediatric Center (Richland, WA)
The Tomorrow Fund, supporting children with cancer (Providence, RI)
The Children's Hospital of Oklahoma (Oklahoma City, OK)
University of Minnesota Children's Hospital, Bone Marrow Transplant Unit (Minneapolis, MN)
BDI Playhouse, pediatric therapy providers (Naperville, IL)
INOVA Children's Hospital, PICU (Falls Church, VA)
Mercy House Women's Shelter for Homeless Families (Harrisonburg, VA)
Children's Mercy Hospital (Kansas City, MO)
EnCompass – Amethyst Place, Transitional Housing for Women in Recovery & their Children (Kansas City, MO)
The Gingerbread House, Child Advocacy Center (Morganton, NC)
Al DuPont Hospital for Children (Wilmington, DE)
Vera House, supporting survivors of domestic & sexual violence (Syracuse, NY)
Midland Children's Rehab Center (Midland, TX)
Thank you, Thank you, Thank you.  For all 600 Monkees from across the country who sent books for this project, and for all the women who showed up in Herndon on Sunday to do this good, important work, and for Rachele who teaches us to show up before we're ready. Not a single one of us perfect- but every single one of us is good enough to make a difference.
 *Names have been changed to protect the precious.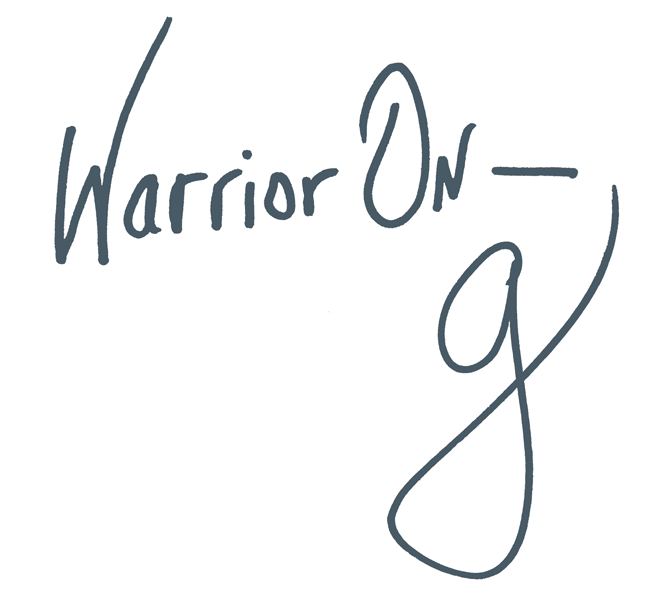 Author of the #1 New York Times Bestseller LOVE WARRIOR — ORDER HERE
Join the Momastery community on Facebook, Twitter, Instagram & Pinterest