Step One: Admit that your life has become unmanageable.
Hey. I'm Glennon. My addiction to the internet has made my life unmanageable.
Twelve years ago, I walked into my first AA meeting and picked up a list of addiction warning sign questions. I silently answered yes to every single question. I was an addict- no doubt about it. For twelve years I've kept that brochure on my bedside table. Last week I picked it up and once again – I silently answered yes to every single question. I'm still an addict. Not a recovering one- an active one.
Have you ever tried to stop your involvement with the substance, only to last a couple of days?
Many times. I've taken many internet "sabbaticals." I often sneak back on- and even when I make it through a sabbatical- I jump back on afterwards with full force.
Do you find yourself using more and more of your substance?
Yes. Sometimes I promise myself I'll just log on for a few minutes and two hours later I'm still mindlessly scrolling through people's "pages." People I don't even know.
Is your involvement with the substance making your life more narrow?
Yes. Sometimes I feel like I live more in teeny corners of the internet than I do in real life.
Have you ever found yourself having an "eye- opener?"
Yes. Often the first thing I do in the morning is roll over and "check my phone."
Are you preoccupied with the substance?
Yes. I feel fidgety and unfocused whether I'm with or away from my phone – I feel unable to be present in the moment.
After your involvement with the substance, do you feel badly about yourself?
Yes. After time on my internet/ social media accounts I often feel empty, competitive, anxious, icky, untethered, somehow "less than."
Is your involvement with the substance negatively impacting your relationships with others?
Yes. I find myself tuning my children out to "check" my social media accounts. I often choose to scroll through strangers accounts rather than engage with my husband.
Has your use of the substance damaged your relationships?
I think so.  As I look back on the last three years of my life- the number of online "friends" I have compared to the number of "real life" friends I have seem to be inversely related. I am more "successful" online than ever before- and I've never had fewer real life friends.
Does your involvement with the substance put your health or the safety of others at risk?
Yes. Last week I found myself "checking my texts" while driving. I knowingly chose to put my life and the lives of other drivers at risk because I couldn't control the urge to "check." WHAT THE HELL IS THAT? An otherwise smart, loving human being risking LIVES in order to engage in a ridiculous meaningless behavior??
OH. Yes. I remember what that is after all.  I spent the first half of my LIFE doing that.
It's a lock, you guys. I'm addicted to the internet.
Twelve years ago I fought my way out of the world of alcoholism and food addiction. I was on the straight and narrow for a while. I woke up every morning and found all of my worth from just BEING. Just Being was a miracle to me. I listened to my inner voice and the voices of people who loved me and knew me. I felt myself beloved on this Earth. Now I wake up every morning and I run to social media to find my worth. I give it away each day. I do not ask God or myself if I am loved. I ask Facebook if I am loved. I ask for the opinion/voices of a million strangers before I check in with the quiet.
My head is down. My head is down for much of the day. I am missing all of the miracles and beauty of the life right in front of me and around me and under me and above me and within me because my eyes are on a six inch screen that has nothing to do with me.
I'm afraid that one day when my children think of their mama- the picture in their mind's eye will be me with my head down- saying "one second, honey." I'm afraid that when I try to help my kids navigate the world of social media for themselves- when I try to convince them that the internet is not the Real World- I won't have a leg to stand on. Because they will do what I do and not what I say.
This year I won Best All Around Social Media on the internet on Parents Magazine.  I am good at gathering online friends. But last week I saw a friend's post about a big party she had at her house and I started crying in car pool line because I couldn't think of ten friends I could invite to my house. I've let them all fall away. I am gaining the world and losing my soul. The more online friends I have, the fewer real life friends I have. I don't have time or energy to invest in real life people because I'm spending my whole self on online people. Just because you're good at something doesn't make it a worthwhile pursuit. I was good at drinking too – I once out drank a 6'4" college football player beer for beer. That doesn't mean it was anything to write home about.
I have lost the ability to Be Still with myself in the Quiet and Know that I am enough. That's the definition of sobriety for me. To just be able to SIT STILL even when it's uncomfortable without escaping the present moment through booze or food or shopping or freaking twitter. I've lost my peace. I was on the path, but I stepped off and took a detour called "social media." It's okay. It's all right. I just need to get back on the path. That's all we can do. We can stop- look down at where we are- and crawl back to that damn straight and narrow path where all the growth and LIFE happens. "So even if the hot loneliness is there, and for 1.6 seconds we sit with that restlessness when yesterday we couldn't sit for even one, that's the journey of the warrior – Pema Chodron. I have forgotten how to sit with my hot loneliness  – and the hot loneliness is where all the good and real stuff is born. I am numbing my restlessness with my phone. No numbing.
Last week I stumbled upon this gem: "The price of anything is the amount of life you exchange for it."- Thoreau. Oh. Being "good" at the internet is much, MUCH too expensive for me. I can't afford it. I can't afford to exchange any more of my life for it.
I'm home now, – working this out with great fear and trembling. I'm setting up some new boundaries. I will not leave you. I am a writer. I will write. I will get my writing to you. That is certain. But I am starting to understand that somewhere along the way I forgot that my work is writing, my work is not getting people to love me by being a social media darling.  Somewhere along the way I forgot that I am already Beloved and that my little life with my family and my church and my community is Miracle Enough. I am going to remember. I'm going to re-enter and LIVE in my brutiful REAL WORLD.
The first step is admitting there is a problem. I've taken the first step.  I'm on my way home. Woot.
Love,
G
PS. I certainly know and have seen the good that comes out of the internet/ social media. Please note that nowhere in this essay did I say that social media is inherently evil or addictive. I do not believe that any more than I believe that wine or food are inherently evil or addictive. I am simply saying I am addicted to it and need to reset my boundaries.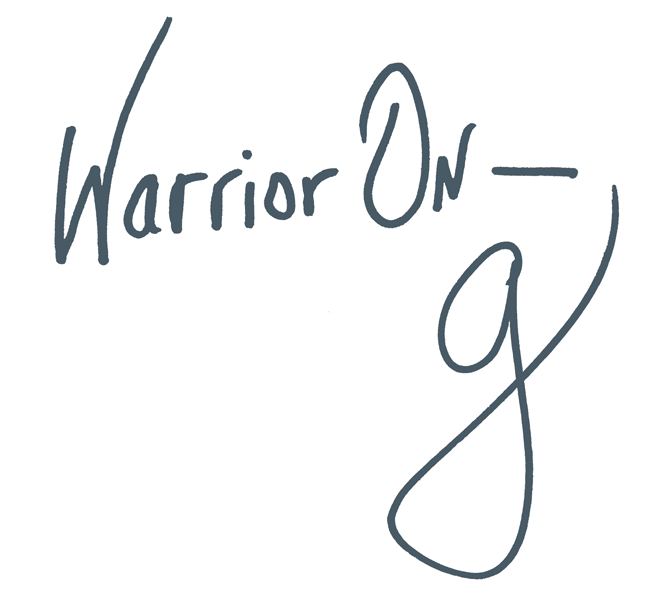 Author of the #1 New York Times Bestseller LOVE WARRIOR — ORDER HERE
Join the Momastery community on Facebook, Twitter, Instagram & Pinterest