The Way We're Told It Goes:
Meet The One
Fall In BUTTERFLY Love, Have all the Feelings
Date, Accept Proposal
Have a Wedding: AKA YOU'VE CROSSED THE FINISH LINE!
You're done! Congrats, Cinderella! All that's left now is: Happily Ever After!!!!!
The Way It Has Worked For Me:
Meet A Special One
Fall in Butterfly Love, have all the feelings
Date
Have a Wedding – AKA Cross the STARTING LINE.
You've begun. Shit gets real.  Grocery shopping and children and assembling furniture and navigating each other's families and demons and other confusing, terrifying things keep happening. Slowly understand that marriage is not what you thought it would be and your husband is not who you thought he'd be and additionally you are not who you thought you'd be.
Notice there are no more butterflies. Panic like bloody hell. Understand with mounting dread that LIFE has killed the butterflies and this must mean you have "fallen out of love."
Look into separation.
Start to learn how horribly difficult it will be to get unmarried for you and everyone you love and also – HOLY CRAP IT COSTS A LOT. Try to locate a path of less resistance. Search for some solution that is less emotionally and physically and mentally and financially expensive. It's often not LOVE that makes us stay- but the expense of leaving. AND THAT'S OKAY.
Ask for help. Meet with experts, talk to wise people, read good books. Mostly, Be still and listen for The Next Right Thing in the quiet.
Wait. Keep waiting. Make no decisions except what to do EXACTLY RIGHT NOW. Sit with the pain. Sit with the struggle. Sit with the uncertainty. Resist the relentless urge to deflect the pain, run from the pain, numb the pain with food- booze -work –future tripping- unkindness- false certainty -busyness or any other Wisdom Killer.  Just Be Still and Wait.
SLOWLY embrace the truth that a million warriors have discovered before you  – You have not FALLEN OUT OF LOVE. You have fallen out of infatuation AND INTO LOVE.  Like it or NOT- THIS IS IT, SISTER. This is Love. It ain't the Disney version- it's the REAL version. The Disney version is easy and shiny and struggle free and happily ever after but the Real Version is about allowing struggle to morph you into a bigger, more spiritual being. Real love is about METAMORPHOSIS, and metamorphosis IS FIFTY SHADES OF PAIN – just ask the butterfly. To let Love Work on You, to Let The Metamorphosis happen- you must allow the illusions of who you thought you were to fall away,  look reality dead in the eye and open your arms wide to the REAL him, the REAL you, REAL marriage.  Fine. You'll take it. You don't need shiny. You just need REAL.  You understand now that that butterfly chasing is a shallow waste of a life. Because BUTTERFLY CHASERS NEVER SETTLE INTO REAL LOVE. REAL LOVE IS NOT A FLUTTERY FEELING, IT'S NOT BUTTERFLIES. It's not pink. It's not glittery. It's not fluffy. It's not even all that exciting, on the surface. Love looks like work. It's utterly intimidating and exhausting. REAL LOVE IS A DAILY DECISION TO GET TO WORK. LOVE IS WORK DONE BY TIRED, HOPEFUL, ORDINARY FOLKS.
Notice how tired you already are and wonder if all this backbreaking, ego swallowing, pride crushing "Love work" will be worth it. For the sake of living without regrets  –  decide to try.
Show up to WORK every day.
Do loving things for your partner AS AN ACT OF WILL, regardless of how you feel. Assume that eventually, loving feelings will come- because that's what they tell you. Panic further because it's been a long time and these loving feels are not showing up.
Keep your head down and keep Love Working. Love without "feeling it" or "meaning it."
Notice out of your peripheral vision that your spouse has his head down and is Love Working every day, too. Not necessarily AT you or TO you yet (you're not ready for that) but With you. He's working alongside you. Tending to the field of your family. Sweating. Sowing. Day in and day out.
Raise your eyebrow at that. Feel the respect for your spouse's Love Work take root and grow a little inside of you. Then notice that this RESPECT for your spouse's commitment to keep showing up is turning into warm feelings. This warm feeling is not butterflies. Butterflies are for children. This is very adult. It's more solid. Steady. It feels grounding instead of flighty. Hm.
Start feeling Loving feelings a little each day. Download the Truth that: Yep. FEELINGS FOLLOW WORK.  REPEATEDLY ACT LOVING AND EVENTUALLY- You will find yourself FEELING LOVING. Promise yourself you will never forget that love is not something to wait for or wonder about or search for or hope for but SOMETHING TO SHOW UP EVERYDAY TO CREATE. LOVE Does Not Just Happen. It's FORGED.
Consider planning a vow renewal ceremony since you and your husband are adults now, and you finally understand what a vow means. You've seen that vows can come to life after they're broken. Just like every other freaking thing- broken is the beginning. You are In Love now. Congrats. It's not what they promised you when you were young. But it's good. There is a person you truly KNOW and you love. And there is person who KNOWS you and loves you still.
Start over every freaking morning.
Go to sleep every night feeling exhausted and blessed as hell.
Happy Birthday, Craig. Thank you for being a loving witness to my journey and for choosing me to be the witness to yours. It's an honor to travel alongside you.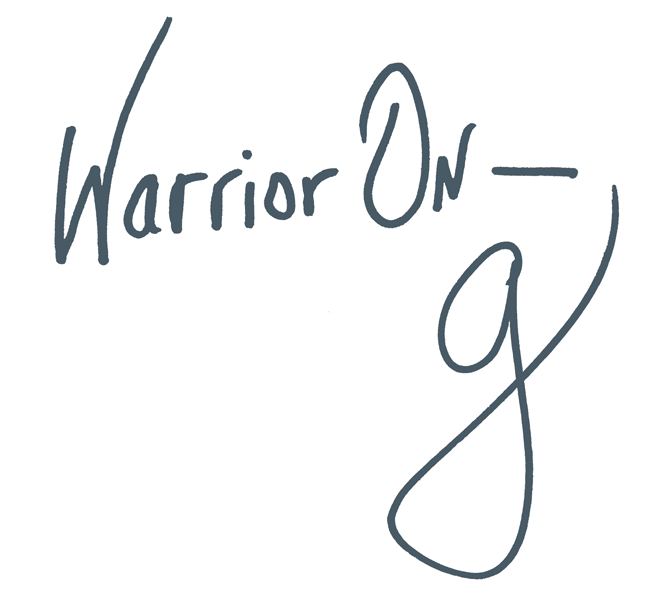 Author of the #1 New York Times Bestseller LOVE WARRIOR — ORDER HERE
Join the Momastery community on Facebook, Twitter, Instagram & Pinterest