You Guys.
TODAY IS CARRY ON WARRIOR'S FIRST BIRTHDAY!!!
Today I want to say THANK YOU for supporting my book. Our book. When the hardcover came out, I didn't say much about it. I was so afraid of being self-promotional, so afraid of turning you off, so afraid that asking for your support and excitement was asking too much.
I've tried this paperback launch differently. I've asked for your help. You've helped –  you've even been EXCITED – and it feels really good. Please don't worry- Momastery is not turning into a commercial for Carry On, Warrior. All will settle again soon. But now I know that when and if I do write more books, I can come here and you will hold space for me   and celebrate with me. THANK YOU.
If you pre-ordered a paperback copy of CARRY ON, WARRIOR, she should arrive on your doorstep today!  If you didn't pre-order, consider ordering today because I'm going to start a virtual book club based on the additional reading group material in this paperback (there is lots!) and you and all your friends are all going to be invited!
Three things you can do to help Carry On, Warrior make her way in the world:
1. Would you think about which of  your Facebook friends might enjoy the book, and tag them under this post on Facebook or share this post on their walls?
2. Would you Tweet out, Facebook out, Pin out, IG out, or Yell out on your doorstep your support for Carry On, Warrior today?
3. Would you post your Carry On, Warrior happenings, sightings and mischief!  When you get your book, will you take a picture of her wherever she goes and post the photo? Show me what she's UP TO OUT THERE, would ya?  If you take her on field trips, show me where!  When you post, be sure to tag us with @Momastery and to hashtag #CarryOnWarrior so I can keep a close eye on her.  We'll call it WHERE IN THE WORLD IS OUR WARRIOR?
In my house she's just hanging around:
And of course we're celebrating:
And then there's Sister. Trying to Show Up MY BABY'S DAY by ANNOUNCING HER BABY:
@Momastery #CarryOnWarrior #CousinRivalry #NobodyPutsBabyInTheCorner
AH! I'M HAVING A NEW NIECE/NEPHEW IN JULY!! (WE DON'T KNOW WHICH BECAUSE SISTER DIDN'T FIND OUT BECAUSE SHE IS ACTIVELY TRYING TO ANNOY ME AND HAVE SELF-CONTROL AT ME.) STIIILLLLL!!!! JOY THE WORLD!
Thank you for celebrating this day with me.  I know it's now a little bit Sister's day too, but let's please stay focused.  There are SO many kids in our family- and only one book. So I'm just saying.
Anyway – it wouldn't be a party without you, and I am so, so grateful for you. THANK YOU.
DC, VIRGINIA AND MARYLAND-  AMMA and I will SEE YOU TONIGHT!!!!!!!!  KANSAS CITY I'll see you TOMORROW!!! And DALLAS, see you on THURSDAY!!!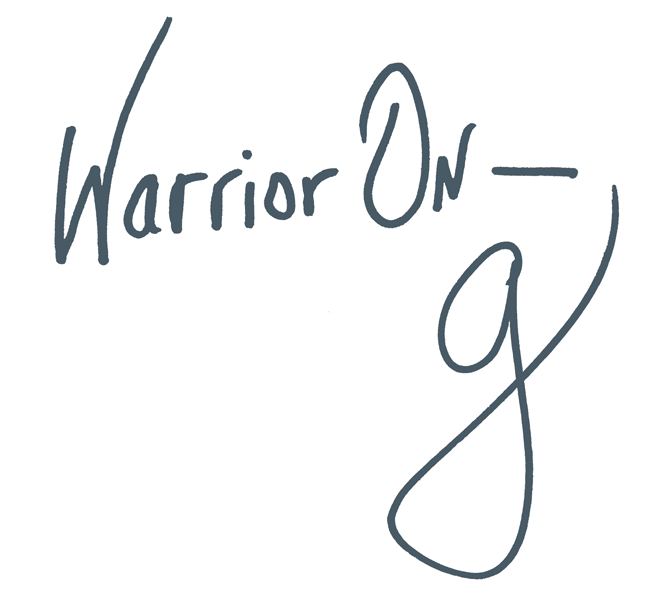 Author of the #1 New York Times Bestseller LOVE WARRIOR — ORDER HERE
Join the Momastery community on Facebook, Twitter, Instagram & Pinterest