You guys. Guess what?
There is an amazing organization called the National Multiple Sclerosis Society. They help raise funds for Multiple Sclerosis research. They are Helpers. Every year, the Southern New York Chapter of the National Multiple Sclerosis Society nominates a handful of books that that they believe have made the world a better place. Then they hold an awards ceremony in a very tall, important looking New York City building and all the authors and publishers and board members come and there is a cocktail party where people mingle and then there is the big, serious, fancy, awards ceremony.
They nominated Carry On, Warrior in the category of  "BEST  BOOK ABOUT RELATIONSHIPS." I had no idea Carry On, Warrior was about relationships until she got nominated. So cool, I thought. I wrote a book about relationships, apparently. Who knew?
They invited me to come to the mingle-y awards ceremony. You can guess how I felt: Excited and Terrified. Here is a short list of things that terrify me:
Spiders
Cooking In Front Of Other People (STOP STARING AT ME LIKE THAT IT'S NOT MY FAULT NOBODY EVER TAUGHT ME TO CUT A TOMATO, GAH!)
Mingling
I do not mingle. I am severely allergic to mingling. Whenever I am at a mingling thing and someone is talking to me all I can think about is how sorry I feel for this person who is currently stuck mingling with the worst mingler in the world, me.  Mingling is nothing but sweat-ville for me. BUT I HAD TO GO. Because this was a huge honor to be amidst all of these LOVE writers. And because I am working on My Brave. So I put on six layers of clinical strength deodorant and I went. Obviously, I brought Sister.
I am fairly certain that no one – not me, not my editor, not Sister- NO ONE thought we had a chance at winning this thing. Whenever I get nominated for something, I smile and assume I got nominated because I'm nice. I know. Gag. But it's the truth. Every writer is absolutely certain that she's a giant fraud and anything lovely that happens to her is mostly a mistake or some sort of act of mercy. So you just go to things and wait for everyone to finally figure out that you don't belong anywhere near this fancy place and ask you to go home. Which you figure will be ten percent humiliating and one hundred percent a gigantic relief. 
So I went. I mingled and by mingled I mean I stood in a corner and drank six glasses of water so I'd look busy and I sweated. Then it was time to stop mingling and head into the awards ceremony room, thank you Jesus.
There were ten categories of nominees. ALMOST ALL OF THE BOOKS NOMINATED WERE MY FAVORITE BOOKS OF THE YEAR.  Meredith Vieira and Arianna Huffington and Lee Woodruff were the emcees for the event. So, no big deal. Just some ragamuffin ladies they wrangled up, really. These rock stars announced the categories, then said something lovely about each book, and then the envelope was carried onto the stage. Then: VOILA! The winning title was read and a very poised, sophisticated author would walk up on stage and give a lovely, calm, classy acceptance speech.
I sat in my seat during all of this fanciness THANKING GOD that I wouldn't have to go up there and practicing my, "IT'S OKAY! IT'S  TOTALLY FINE! It was an honor to be nominated!" face.
But then Lee Woodruff introduced the Best Book about Relationships category. She read the titles and the covers of our books flashed big and bright on the mega-sized screen on stage. And then the envelope came. And then she opened it and she said: "CARRY ON, WARRIOR."
I looked at Sister and said, "What? That's our book, I think. I think she said our book. What did she say? I'm going to pee." And Sister whisper-yelled at me: OH MY GOD WHY ARE YOU STILL SITTING? GO! EVERYONE IS STARING AT YOU. GO! PEE LATER!"
So then I had to walk up on stage without falling even once and say things. I have no idea what I said. Zero, none. I blacked out completely, just like the good bad old days.
But I asked Sister later what I said up there and she said I started with:  "WHAT IS GOING ON HERE? WHAT?? WHAT ON EARTH KEEPS GOING ON?? I just have always felt so damn lucky to be able to READ books and then I got to WRITE a book and now apparently I'm on stage winning an AWARD for my book and THIS IS GETTING RIDICULOUS, HONESTLY. MY PARENTS ARE GOING TO FREAK OUT. SISTER DO YOU BELIEVE THIS? THE MONKEES ARE GONNA DIE! THEY ARE JUST GOING TO DIE."
It was an unusual acceptance speech, they tell me.
One of the board members came up to me after the ceremony and said: "Hi. And Oh my GOD. ARE YOU LIKE THIS ALL THE TIME?
I'm afraid so, I said.
Meredith Vieira, who is the most charming, wise, humble, kind soul on the planet- kept looking at me with her head cocked to the side. I think she was trying to figure me out and maybe wondering why I kept talking about dead monkeys on stage. I just wanted to say: "It's okay. It's just really all too long of a story. Even for you, Meredith."
Books for a Better Life asked me to write a paragraph about: "What this award means to you" for their Facebook page. Here's mine:
"I think this award means that some very smart, book-y people liked my book. This stuns me. It also means that I have won my first award- not just my first book award, my first any kind of award. My parents are "tickled." That's my mom's word, not mine. It also means that I have a new kitchen table centerpiece. I keep my award statue thing right there in case my family wants to talk about it. Some more. We talk about my award statue A LOT. Every day since the ceremony, so far. And it also means that now when my husband disagrees with me I can say to him, "PEOPLE VOTED THAT I AM THE BEST IN THE WORLD AT RELATIONSHIPS. When you win one of these I will consider your input again. BUT FOR NOW, THE EXPERTS HAVE SPOKEN. I WIN AT RELATIONSHIPS. FOR VERIFICATION PLEASE SEE KITCHEN TABLE AWARD STATUE." So it's just going really well for me since the awards ceremony. THANK YOU, Books For A Better Life!!!!! "
The point is this: Carry On, Warrior Won the Best Relationship Book of 2013.
It might be a fluke or an act of mercy or because I'm really nice. Still not sure.
What I AM SURE OF is that this list of nominated books is something you NEED TO KEEP. Because I have read most of them and the panel got it RIGHT. THESE BOOKS MAKE THE WORLD A BETTER PLACE.
I am honored that our little Warrior gets to hang out with these world changers and I pray that their Kind and Brave continues to rub off on her as she heads back into the world on April 8th with even LESS ARMOR. IN PAPERBACK. YIKES.
Godspeed, Sweet Carry On, Warrior. Stay Weak.
Love,
G
PS  Check out the other Books for a Better Life Finalists.  Amazing books, all of them.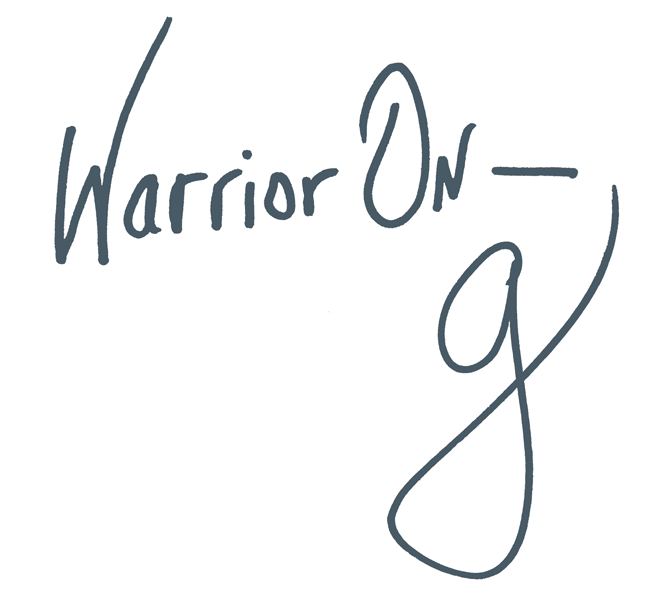 Author of the #1 New York Times Bestseller LOVE WARRIOR — ORDER HERE
Join the Momastery community on Facebook, Twitter, Instagram & Pinterest