I feel a little stirring lately. I'm feeling CURIOUS about something – and curiosity is the universe's invitation.
I think I'm ready to dip my toe into the waters of international poverty activism. I'm nervous about it, though. Since I don't know what the hell I'm doing.  I'll definitely say all the wrong things. And because every time I try to be an activist of any kind I always prove to be more of a distractivist. It's always: OH MY GOD THE PAIN THE DEVASTATION I AM GOING TO DO ALL THE THINGS TO SAVE THE WORLD FOREVER AND EVER AND OH LOOK, A BIRD! I'M THIRSTY. I should go to Target. NEW PILLOWCASES!  Sigh.
Still. Even so. This seems like the Next Right Thing, so I'm going to start asking questions and paying attention: slowly and careful and with great humility and all of my ridiculousness and ignorance and distraction and privilege. And then I'm just going to occasionally read and share stories about what I learn with you. I'm a storyteller, so I'll just start activating that way.
To be very clear –  I know you and I know you're ALREADY DOING ENOUGH – too much, likely. So I won't add anything to your plate. Every once in a while we'll just read a special story together and  maybe let our hearts and minds open wider and soften deeper. That's all.  We're just going to try to let it in. And then maybe miracles will happen or maybe the sharing and reading and opening and softening are miracles enough.
Or maybe it'll work like this: Maybe we'll read a story about a guy building schools all over the world or an organization working to get kids clean drinking water and that'll get us thinking. Maybe instead of succumbing to guilt or despair we'll choose gratitude instead. And maybe that gratitude will offer us a new perspective on our day. Maybe we'll take it easier on ourselves because we'll realize:  Our Kids Are Fine. There are kids who really, really aren't- but since our kids have food and water and school and at least one person who loves them- they'll probably be okay. So maybe we'll relax a little. And that relaxing gratitude will allow us to offer an extra smile to a tired mama or a lonely grandpa or a struggling cashier at the mall later. And maybe that's enough. So that's the way we'll do it- we'll subtract worries before we add them. This is our kind of activism. It is slow but real. It is small but true.
Here are two heart-opening things for you today. Toe in the water.
1. PENCILS OF PROMISE
I just finished Adam Braun's book, The Promise of a Pencil. This guy. He builds schools all over the world for otherwise invisible children, you guys. And he writes about his passions and his BIG LOVE for the world so beautifully. He writes about small decisions his parents made raising him that led him down the road of reckless Love he walks everyday. Also he's gorgeous but that is not valid at all here, Glennon, because he is engaged and you are MARRIED and THIS IS ABOUT THE CHILDREN. For theloveofallthatisholyFocusUpDISTRACTIVIST! Anyway -I believe in Adam and I ordered his book because it's GOOD, and because he is Good and  because every penny Pencils of Promise makes goes back into the schools Adam builds. He's a builder of goodness, this guy.
2. WORLD WATER DAY
You know how I feel about water. Water and books. Just give me water in any form and books of any kind and a jar of peanut butter (crunchy, please) and come back in a year to check on me.
Turns out that kids are dying right now all over the globe because they don't have clean water to drink. We all know it but we don't say it much because well, it's all just so excruciatingly impossible to think about. Let's try something different. Let's try saying it and see what happens. Let's resist the instinct to hide from the brutal and remember that ALL THE BEAUTY IN THE WORLD HAPPENS WHEN FOLKS RUN TOWARDS THE BRUTAL INSTEAD OF AWAY.
As a small way of running towards the brutal, I've accepted an invitation. A relief and development organization called Church World Service has invited me to come and learn about World Water Day by being part of a live, online discussion they are having about water on Saturday.  A  Google+ "Hangout." Church World Service is an organization made up of some amazing people doing extraordinary work, so I've decided I can do this.  I can Hangout. I can hangout and ask questions of these inspiring people doing the on-the-ground work across the globe to get families clean water to drink. I can be ignorant and distracted and privileged and still activate a little.
And you can join me. The Hangout is scheduled for 7 pm EDT on Saturday, March 22, but you can check it out now and RSVP to let us know that you want to be a part of it, too.  Let's mark World Water Day by listening and asking questions and learning a little bit about this emergency and what we can do to help. I'll tell you right now we can't fix it. But that's not our job, is it? Our job is to keep our hearts open and soft so that we'll be ready when the ONE LITTLE THING we CAN DO makes itself known.
That's all for today. Thanks for getting your toes wet with me.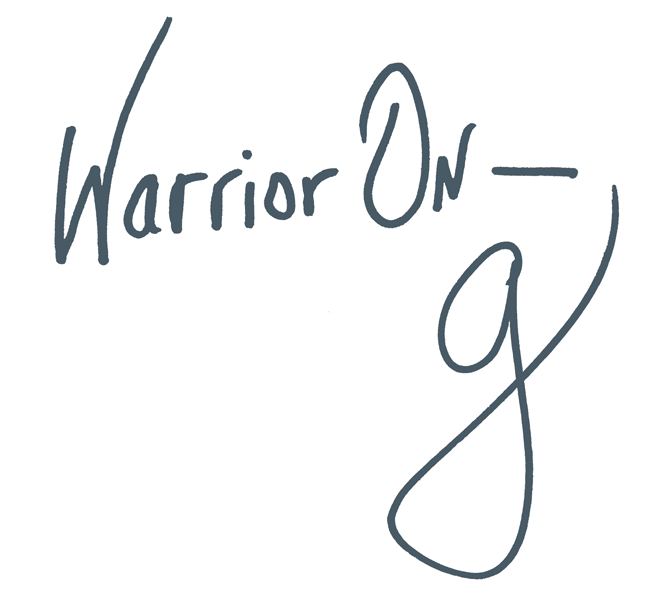 Author of the #1 New York Times Bestseller LOVE WARRIOR — ORDER HERE
Join the Momastery community on Facebook, Twitter, Instagram & Pinterest