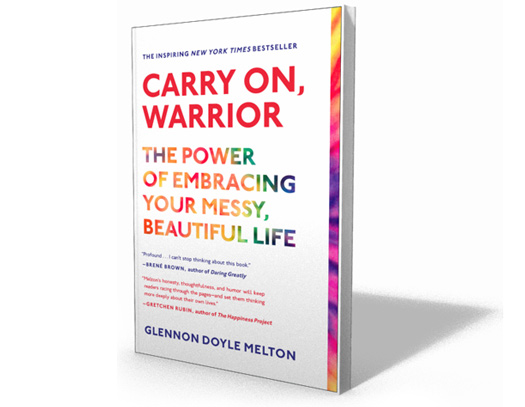 Friends. Our new-old book is about to get herself reborn.  Carry On, Warrior is being released in paperback on April 8, and is available for Pre-order Now.
In the publishing world, much of the magic, apparently, happens with the paperback release. And you guys – you are my magic makers. I need you today. It's hard for me to say I NEED YOU. It's so much easier to ask WHAT DO YOU NEED? But you have generously asked me thousands of times during the past 5 years: how can I support you and Momastery?
Today's the day. Here's how:  Please pre-order Carry On, Warrior: The Power of Embracing Your Messy, Beautiful Life today. 
There she is. Isn't she lovely?  There are so many reasons you will love her, let me count the ways . . .
TOP FIVE REASONS YOU SHOULD PRE-ORDER THE BOOK TODAY:
SHE'S GOOD.  Our Carry On, Warrior is changing people's lives. She was a Good Reads Finalist for Best Memoir of 2013 and nominated by Books for a Better Life as the Best Relationship book of 2013. She's earned more than 500 five-star reviews on Amazon and most importantly, she's helping people laugh and break open and she's inspiring and comforting her readers. I am so proud that she keeps wandering the world, whispering to stressed out folks:  HEY, FRIEND. GIVE YOURSELF A BREAK, ALREADY. She is a powerful little love ninja and I'm so glad she's on the loose.
SHE'S NEW. This paperback has a whole lot of new material. She has a brand new essay that didn't appear in the hardback and 15 pages of Q&A with me on a wide range of new and untapped topics. Also, I wrote my VERY OWN Reading  Guide – not just for book clubs (which it will be PERFECT for) but also to help individual readers kick-start truth-y, real conversations with the folks in their lives.
SHE'S A HOPE SPREADER.  Carry On, Warrior has a NEW COVER — which is the Happiest Most Celebratory Cover you ever did see — and she has a new subtitle: THE POWER OF EMBRACING YOUR MESSY, BEAUTIFUL LIFE. I changed the subtitle from "Thoughts on Life Unarmed" because . . . well, because people kept asking me if my book was about gun control. But also because YES! MESSY BEAUTIFUL! The POWER IS IN THE AND/BOTH! The HOPE IS IN THE AND/BOTH! Life and relationships are messy AND BEAUTIFUL. We don't have to work so hard shining them up – we just need to look harder for the beauty in the mess. Because it's there.
SHE'S AFFORDABLE. Since she is currently on pre-sale promotion, Carry On, Warrior is likely cheaper today than she'll ever be again (less than $11 at national retailers!).
YOUR ORDER IS REALLY, INCREDIBLY IMPORTANT TO MOMASTERY'S FUTURE AND MY WRITING FUTURE. My dentist has a sign on her wall that says "Ignore your teeth and they'll go away." Same goes for writers. We have to show up for our writers so they can keep showing up for us.  What this community does today in terms of presales sends a direct message to the publishing world. I would love for that message to be: This writer's community supports her, so you should too.
Please do not convince yourself that since you are just one person, your purchase won't matter. In publishing today –  EVERY BOOK SALE MATTERS. Let us not forget that Momastery has been built on the power of one joining other ones to make a difference.  Please imagine that the publishing world is the jungle and We Monkees are the Whos. Today each one of us needs to chant as loud as she can- We are Here! We are here! We are here! So that the publishing world keeps believing in the power and future of our community.
SO . . .
If you can, buy twelve books and stack your gift-giving reserve for Mother's Day, end of the school year teachers' gifts, or baby shower gifts!
If you can, buy ten books for your book club! (I am going to Skype into the book club meeting of the first 25 reading groups that pre-order ten or more books today — Get more information here.)

If you can, buy three books for your neighbor, sister, and mama.
If you can, buy four books and drop them off at a therapist's office, recovery center or children's hospital- anywhere that folks need to be reminded that even when Life is Messy, There is Beauty to be Found. And that Warriors Carry On.
If you can, Buy one book and Pass It On.
If you can, buy twenty books and send them to us! We'll get them to mamas who NEED Carry On, Warrior's hopeful message but can't afford to buy her (email us at [email protected]).
If you can, buy one thousand books and create a kitchen island out of books (worth a try- I saw it on a DIY show once).
Whatever you can do, just please, please use your voice and your money today to say: I believe in your work, G.  I believe in this community.  And I want it to continue.
Thank you, friends. It's an honor to serve you and be served by you.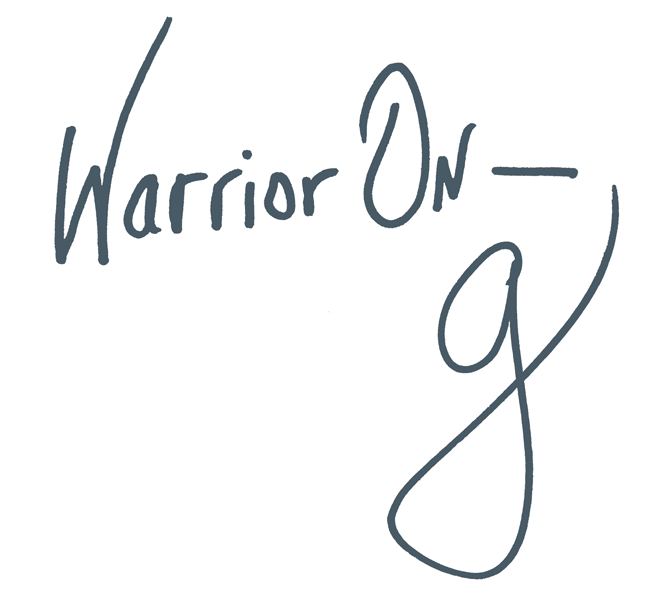 Author of the #1 New York Times Bestseller LOVE WARRIOR — ORDER HERE
Join the Momastery community on Facebook, Twitter, Instagram & Pinterest