This is the fifth and final day of the Sacred Scared Series.
This series is about refusing to be ashamed of our humanity. The world is changed by scared people who JUST GO AHEAD AND SHOW UP SCARED AND FULLY HUMAN instead of waiting  to morph into some sort of superhero before they start living. World changers show up, with their insecurity looming and their knees shaking – long before anybody gives them permission to show up. Don't wait for permission and don't wait for perfection. Do what you need to do.  Fail wildly and try again. Fail again and try again, again. Keep failing and trying 'till you die. THAT'S THE STUFF.  All the magic and connection and excitement and LIFE is in the flailing and failing with other messy, beautiful, brave folks. Trust me on that one. Love, G
***************************************
Meet Shauna.  Shauna Niequist is the ludicrously successful, bestselling author of something like 40 million books. She's a hugely sought after speaker and big time world changer.
And Shauna is afraid that she's a fraud.
Oh, heavens. Even my greatest insecurity is sort of run-of-the-mill and non-spectacular: I don't feel secure, ever. I don't feel enough, ever.
I don't know that I have ever in my life felt pretty enough, talented enough, good enough, any kind of enough there ever could be. I don't have that. I can't imagine that. I'm always steeled for the moment I'll be measured and found wanting, no matter the criteria, no matter the scale. Whatever good is, I'm not that. Whatever first place is, I'm coming in last. Whatever it means to win, I'm not one of those girls who wins.
In my heart, in my secret heart, I know I'm irreparably flawed, put together at the factory all wrong, with shoddy workmanship. In my heart, I know I'm a lemon.
I knew that writing books wouldn't make me feel enough—other writers had told me. And they were right. My mind logs every bad review and less than interested face in a crowd, but my heart immediately discards kind words or positive reviews. Publishing feels just like the rest of my life, but louder: people say nice things but I can't hear them, and my failings ring in my ears, deafening.
It is truly hilarious-slash-awful that my job now requires me to stand on stages, wear microphones, stand next to people while they take pictures and post them on Instagram. I don't want to be on a stage, amplified, photographed. I want to be invisible. I want to be under your radar, so you can't see me or make fun of me or find about the real me, the one who's sure she's about to screw things up.
If you picture my life like a photo, sometimes I wish that we could keep everything the same, but photoshop me out, and photoshop someone better in. The outsides of my life—all the other things in the photo–are so good: the people I walk through life with, the work I'm honored to do, the experiences we share along the way. I'm scared the person who might wreck it all is me. I feel like someone else would do a better job of living my life, like the outsides of my life are really special and lovely, but the person on the inside is always messing it up. The raw materials of the life I'm building would yield something so much more spectacular in someone else's hands.
That other person, that better person would be so much less emotional, less sensitive, less easily hurt. That person would be strategic and disciplined and marketing-minded. That other person would remember birthdays. That other person wouldn't be so scared all the time. That's maybe the core of it: that other person wouldn't feel so profoundly not enough. That other person wouldn't constantly feel like they're about to be found out, kicked out, left out.
I believed for a long time that losing weight was the last key to the last lock, that a lifetime of shame and self-loathing would vanish if I could just get my act together and wear size whatever pants. And now I do. And I feel proud of my hard work, and I like shopping better than I did before…but wouldn't you know it, that not enough feeling found all sorts of new places to land—it's a shell game.
My greatest insecurity—that's the question? It's that I'm fundamentally not enough for my life. Some people, it seems, have a sense of place and belonging in the universe, a sense that they were made just right, that they belong here on the earth without pushing and trying and tap dancing. I don't have that feeling. I can't imagine what that's like. The closest I get to that feeling is when I'm with people who love me, and when I pray. That's why I do a lot of both, because when I'm with people who love me and see me, and when I pray and listen for God's voice, sometimes for a split second I feel secure. Sometimes, for a heartbeat, I feel enough. I'll  take it.
 ***************************************
And now meet Sarah Bessey. Sarah is an author and a speaker and a mama and wife. She's also a woman of deep faith and because of her deep faith-  she is a feminist. She is a believer in women and a fighter for women and she is- well, she's just one of the best we've got.
And Sarah's afraid she's not thin enough.
When Glennon approached us about this project, I knew exactly what I had to write about. And so I nearly said no. I put off writing this paragraph until the last possible moment, bargained with myself, justified my silence. But instead, I'm here. I'm here and I'm admitting that I carry shame and guilt about being overweight. I despise full body photographs of myself. I resent my friends who are thin when they talk about "needing to lose weight" — if they need to lose weight, what must they think of me?  I ignore the size on my jeans. I wear black to camouflage my tummy. I avoid catching a glimpse of myself in the mirror after a shower. I change with the lights out. I battle with resenting my own body and the way it has changed over the years.  I feel so achingly and painfully average, a stereotype, like the chubby misfit mama. And it's so much worse when I am around other Christian women leaders because they are so well put together, so beautiful, so seemingly effortlessly thin, so motivated, and I want to hide.   I know better – I do!  But apparently sometimes I don't. I know I'm overweight – trust me – but for me, it's not really about the weight, it's about how I am often awash in shame and self-loathing about it. Our culture tells me that I am only loveable or sexy if I look like a thin movie star, there is no room for my softness, and sometimes, God forgive me, I believe them. I elevate popular culture's opinion of me over what I know about being fearfully and wonderfully made, over my husband's love and desire for me, over my logic, over my own convictions. over my beliefs about who I am in Christ.  I'm still overcoming the lies and some days, let me be honest, some days I am not an overcomer. And so I have boundaries set up. Not only boundaries about my health and wellness and good habits, but boundaries about what I can say and what I can't say – even to myself. I enforce kindness to my own body, about how I think about myself and talk about myself. For instance, I am not allowed to call myself fat, never. I am not allowed to criticize other women's appearance.  I want so much to spare my daughters from this shame. I know that they will sing my songs first, and so that is why I make such an effort to sing a song of wonder and beauty about diverse expressions of womanhood as a form of resistance to the lies of our world. But sometimes, I can't manage to sing anything beautiful to my own self.
***********************
And there you have it, friends. You can be a STAR and be a "fraud." You can be a FEMINIST and worry about your weight.  You can be brave and afraid. YOU ARE A HUMAN- YOU CONTAIN MULTITUDES*.  YOU DO NOT HAVE TO BE EITHER/OR – YOU CAN BE AND/ BOTH/ALL. And you can SHOW UP and BRING IT ALL AND USE IT ALL in service to yourself and others.
In short and in sum: BA- BAM!
Love, G
*Whitman, sort of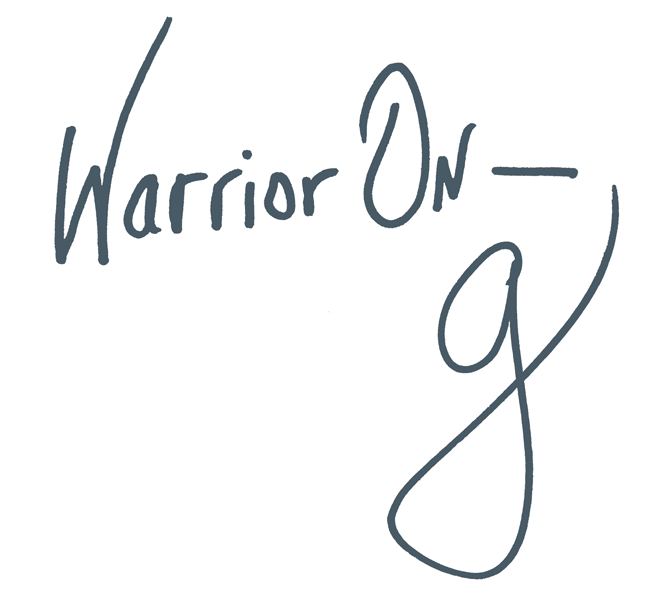 Author of the #1 New York Times Bestseller LOVE WARRIOR — ORDER HERE
Join the Momastery community on Facebook, Twitter, Instagram & Pinterest